August 20, 2011 -
Barry Dorey
Could Gabbert fall down the Jags' depth chart?
As Terry McCormick pointed out earlier today, Blaine Gabbert has not closed the gap on veteran David Garrard in the Jacksonville quarterback derby. In fact, in my mind he may be falling to third on the depth chart after a strong 4th quarter showing by Luke McCown as he led the Jags to a come-from-behind victory.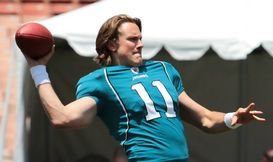 Blaine Gabbert may have lost playing time to Luke McCown.
Gabbert did not play poorly, but he didn't do anything to excite me either — he looked like a rookie quarterback. He had a few nice throws but his overall game was very inconsistent. He did not show the ability to sustain drives and his accuracy was inconsistent.
In the second half he made a nice throw for about 25 yards on a post but then the drive stalled and they kicked a field goal. On the following kickoff, Atlanta fumbled to give Jacksonville the ball on the Atlanta 13 and Gabbert went 1 for 2 for 4 yards and again they kicked a field goal. The one thing I saw on tape when Gabbert was at Missouri and again last night was when he was pressured he would bail on the play too early, retreat and then throw the ball away. He did this at least three times last night. He is not patient enough in the pocket, does not step up and is slow to find his secondary receivers. There were less than five throws where I saw him throw to a secondary receiver. On the three good downfield throws he made, they were all to the first read.
Gabbert played a little more than a half and completed 11 of 23 for 96 yards and had 1 rush for 9 yards. His accuracy was inconsistent but he also had two passes dropped. What showed that he is still a long ways away from being a starter occurred in the fourth quarter. McCown came in and looked much sharper and made quick decisions. McCown was only in for two series yet he completed 8 of 9 for 86 yards and the go-ahead TD. His first drive was an 8-play, 75-yard drive culminated by a 12-yard touchdown pass. On his next series, Jacksonville got the ball with 3:38 left on the clock and a 2-point lead. The Jags were able to run out the clock mainly because McCown was able to convert a 3rd and 16 with a 20-yard throw down the right sideline. McCown showed that he has a much better command of the game. Yes, we still have two preseason games left for Gabbert to improve but time is running out….at least on being the starter for game one.