September 06, 2010 -
Greg Gabriel
Cutdown fallout in an uncapped year
Cutdown day is not a fun time for NFL teams. Decisions are made that shape the franchise for not only the current year but for years to come. This year, unlike any year in the last decade, more high draft picks from the last two to three years were cut. Why have we seen more cuts this year than other years?
Money.
We are in an uncapped year, so if you have a player with a longterm contract, the team doing the cutting does not take the cap hit it would have taken in previous years. As one agent pointed out to me yesterday, clubs have more "get out of jail free" cards than ever before. Depending on what happens with the CBA negotiations, this may be the only year we will see this happen.
Let me explain. For discussion purposes, we will use simple contract numbers. Let's say a club drafted a player in the first round three years ago. When he signed his contract, he received a six-year deal with a $6 million signing bonus. The salaries for that contract were 400 K, 500 K, 600 K, 700 K, 800 K, and $ 1 million. In the first year of that contract, even though the player received $6.4 million, the cap value for that year is $1.4 million. Why? Because even though the signing bonus was paid up front, it is amortized over the length of the deal. That means the $6 million bonus in cap dollars is $1 million a year for 6 years.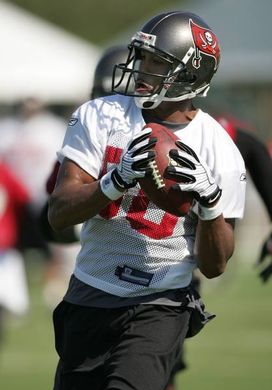 ICONWR Mark Clayton was let go by Tampa Bay.
Now let's say the club cuts that player right before the start of his fourth season. The club would take a cap hit of $3 million. This happens because every dollar paid out to a player has to be accounted for. In this case, $3 million of the player's signing bonus had not been accounted for, so it gets charged to the team in the year the player is cut or traded. Because he wasn't paid his salary for that year, the team does not get charged for it.
The difference this year is because there is no salary cap, a team can "afford " the accelerated cap hit and not have to worry about going over the cap with "dead money." This year, we have seen former first-, second- and third-round draft choices cut when they still had a number of years left on their original rookie deals. The clubs that are doing the cutting feel that the player is not going to work out for them for whatever reason. I'm sure that in previous seasons this may not have happened.
This brings us to another point. Was it a wise decision to cut some of the players that were cut? Time will tell, but I have seen a number of players get cut from one team and go on and have very productive careers with another club. The final 53-man roster is not always the best 53 players. Sometimes you have to keep an extra player at a position because of injury to a player at another position. You may go into training camp with the thought that you were going to keep 2 quarterbacks, 5 running backs, 6 wide receivers and 8 offensive linemen on the final 53-man roster. During the preseason, a quarterback gets hurt and because of that the decision is made to keep 3 QBs instead of 2. You have to get that player somewhere, so in order to keep 3 QBs you may have to keep only 5 WRs or 4 RBs. This means you end up cutting a player that you originally wanted to keep.
It isn't easy making those final decisions. There are players you like but because they aren't quite ready for primetime you have to expose them to the waiver wire. You hope that another team doesn't claim that player so you can sign him to your practice squad. But that doesn't always happen. I can tell you from experience that the meetings that clubs have trying to decide the final roster are not fun meetings. The discussions can get very heated. If a club decides to cut a player that you wanted to keep and then that player goes onto a productive career somewhere else it can be hard to take.
The club's scouting department spends a lot of man hours scouting the player, so they want to make sure the player has received a fair chance to develop. When you draft a player you should have a plan spelled out on how you are going to develop that player; how long it will take and what is needed for him to reach his ceiling as a player. To give up on a player too soon especially when he has some rare God-given talents is wrong. It's up to the general manager to make sure the original plan is adhered to. If the GM does not follow the plan then he isn't very good at doing his job.
Click here to purchase the Total Access Pass/Fantasy Draft Guide from the NFP.