October 08, 2011 -
Barry Dorey
Davis was well ahead of the times
It's a sad day not only in the National Football League, but in sports all over. Al Davis, the principle owner of the Oakland Raiders, died earlier this morning.
Much of what the National Football League is today is because of Davis. Back in the 60's, 70's and 80's, he was way ahead of the curve in terms of coaching and scouting. Yes, the league caught up and in many ways passed him by, but we have Mr. Davis to thank for the way things are today in the NFL.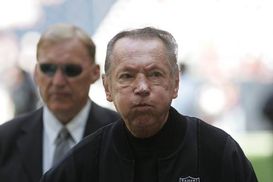 Al Davis was certainly innovative during his time with the Raiders.
In 1989, Davis hired Art Shell as the first African–American coach in the NFL. While he was considered a person with foresight in 1989, today no one gives it a second thought when a franchise hires a minority head coach.
In scouting, Davis had a simple philosophy: draft speed. And to this day, the Raiders always drafted some of the fastest players in each draft class. One thing became clear: if you wanted to win in the NFL you had to have team speed and the Raiders teams had an abundance of it.
I only had the opportunity to meet Mr. Davis one time and that was at the Combine in Indianapolis years ago. He used to sit in the first row near the start of the 40-yard dash. Most of the time he would sit with Bill Parcells and Gil Brandt, discussing players and happenings in the league. One day I went over to say hello to Parcells and he introduced me to Al. To say I was in awe was an understatement. I always had a huge amount of respect for Mr. Davis because he did things the way he wanted, regardless of what others thought or the consequences. Until recently he had a very successful way of doing things. Not everyone can say he won 3 Super Bowls!
Over the years I have developed good relationships with many in the Raiders organization, and to the person they all had great things to say about Davis. One thing was apparent: once a Raider, always a Raider! If you were a player with the Raiders, Davis took care of you. He loved his team and the people who worked for him. Mr. Davis' loss is not only a loss to the Raiders organization but to everyone connected with the NFL. Our thoughts and prayers go out to Mr. Davis and his family.