September 19, 2014 -
Greg Gabriel
Devin's big night
Devin Hester already held the NFL record for most kick returns for touchdowns entering Thursday night's divisional showdown with the Tampa Bay Buccaneers. But the record he wanted even more—most total returns for touchdowns—was held by his mentor and close friend Deion Sanders. Sanders' record included both kick and interception returns for touchdowns.
During the pregame warmups Thursday night, Sanders assured Hester that he would soon get the opportunity to break the record. Hester replied that he wanted it to happen during Thursday night's game because Sanders was present and they were in the building where Sanders had starred as a player.
It didn't take Hester long to achieve his goal, as he returned a punt 62 yards for a touchdown during the second quarter. That return gave Hester 20 overall returns for touchdowns in his career. Hester is still at the top of his game and I'm sure he will add to that total before his career is over.
Hester was very emotional after that touchdown when he returned to the Atlanta bench. Not only had he finally set the return record, but he did it while Sanders was watching and against the coach who gave Hester the opportunity to be a great return man as a rookie in 2006. Tampa Bay head coach Lovie Smith was the Bears head coach when Hester was drafted out of Miami. The ironic thing is that if there is one coach in the world who should know not to kick the ball to Devin Hester, it's Lovie Smith. After all, Hester had 18 return touchdowns while playing for Smith.
While the two were in Chicago together, Smith would say how he didn't understand why teams would consistently kick the ball to Hester. It was a recipe for disaster, yet Smith created his own disaster last night by punting the ball to Hester.
Post-game interview
If any of you stayed up to watch Thursday night's post-game interview, you saw great television with the emotional and sincere interaction between Hester and Sanders. Sanders talked as if he was a proud "older brother" and Hester added how much he appreciated Sanders' mentoring when he was getting ready for the draft and as a young player.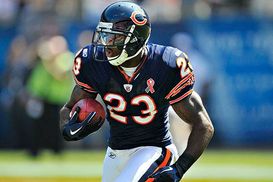 Lovie Smith saw first hand how dangerous Devin Hester could be during his time in Chicago, yet Smith kicked it to him anyway on Thursday night.
Sanders and Hester met when Hester was in his final year at the University of Miami. Hester knew he was going to leave Miami as an underclassman and had been interviewing Eugene Parker to be his agent. Parker was already the agent for Sanders and suggested to Hester that the two of them talk. It was Parker who set up their first phone conversation. As Hester explained last night, that first conversation took place as Hester was preparing to play a game at North Carolina State.
That first conversation led to many more, and Sanders ended up working with Hester as Devin prepared for the Combine and private workouts. That was the beginning of a very close and lasting friendship.
The draft
Last spring I wrote an article about how the Bears wound up drafting Hester, so I won't repeat it. I was Chicago's College Scouting Director at the time and our main objective for the 2006 draft was to find a way to get Hester.
We traded out of the first round that year and with the extra selections we acquired, the Bears were able to draft Devin in the second round.
Hester was a man without a position during his time at Miami. He had played running back, wide receiver and defensive back. He was moved around so much that he was unable to establish himself at any one position. The consistent thing he did was return kicks, and he did that far better than any other player I had ever seen before.
During Hester's rookie year, he was our main returner while also serving as a backup corner. It didn't take long for Hester to show his greatness as a returner. In his first NFL game he returned a punt for a touchdown against Green Bay.
As a rookie, Hester would often play receiver for the scout team during practice. What we saw was his raw ability as a receiver. With his speed and quickness, our defensive backs had trouble staying with him in practice. After the season ended, we decided to move Devin to offense. The thinking was that Devin was so good with the ball in his hands we needed to find a way for him to get more touches. We felt that the more Hester touched the ball, the more scoring chances he would get.
Hester became an adequate NFL receiver and even led the team in receptions one season. While he didn't turn out to be as outstanding as we had hoped as a receiver, he still made many excellent plays and defenses had to account for him.
Later in his career, it seemed as if playing receiver was hurting his return work and Hester's role as a receiver was cut back. When Marc Trestman became the Bears head coach in 2013, Hester's days as a receiver were over.
Listening to Hester last night, his diminished role as a receiver made him unhappy. Being that he became a free agent after the 2013 season, he decided it was time to move on. He eventually signed with Atlanta when the Falcons assured him that he would be the primary return man and would play receiver.
The Falcons use Hester as a complementary receiver and through three games he has seven catches. On Thursday night against Tampa he also ran a reverse for a 20-yard touchdown. Hester is extremely happy with the role he is playing in Atlanta. The Falcons put him in position to make plays and there still isn't a player in the league with better open field run skills.
Is he Hall of Fame worthy?
Thursday night after Hester's touchdown return, there was debate on twitter as to whether or not Hester would eventually land in the Hall of Fame. I understand that I'm biased, as I was involved in drafting Hester, but to me it's a no-brainer.
For years Hester has been the greatest return man the game has ever seen. His presence on the gridiron changed field position. When teams decided not to kick to him, it consistently led to Chicago getting excellent field position to start drives. It didn't matter if he returned a kick, just by being on the field gave the Bears better field position. That means he was a game changer and game changers get into the Hall of Fame. Hester's production as a returner is like no one else before him.
Through last night, Hester has returned kickoffs a total of 5,672 yards. His punt return total is 3,317 yards and, of course, he's scored 19 touchdowns (his 20th touchdown came on a missed field goal return).
On Thursday night some people were saying Hester was a horrible receiver. 224 catches for 2,933 yards and 14 touchdowns is a long way from being horrible. Hester has just under 12,000 total yards and 35 touchdowns for his career. Those numbers will get better as he still has a few more years left.
Will Devin Hester be in the Hall of Fame? It's a stone cold lock. Devin Hester is a specialist and the best one the game has ever seen.
Follow Greg on Twitter: @greggabe