April 03, 2012 -
Greg Gabriel
Do we really know the exact score of Claiborne's Wonderlic?
The Mo Claiborne test score story has taken on a life of its own today. Because of that there are some things I want to add to my original post.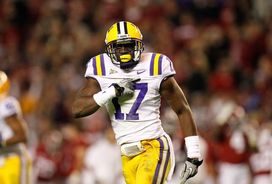 ICONMo Claiborne's Wonderlic score has been a topic of conversation as we approach the draft.
First, though it was reported on Pro Football Talk earlier today that Claiborne scored a 4 on his Wonderlic test at the Combine, we have no assurance that Claiborne's score was actually a 4. I don't know that to be true nor am I sure the people at Pro Football Talk do either.
The scores are sent in a secure manner to either the President or General Manager of each club. The League has stated that the scores are to be kept private and, in many cases, the scouts at most clubs don't know the scores. If someone leaked that score to Pro Football Talk or other media outlets how can we be sure that the score leaked was the actual score? I can guarantee you that the player doesn't know what his score was. Unless the person who leaked the scores actually faxed, scanned or copied all the scores we have no idea what in fact the actual score was. Anyone can tell a media person that "so and so" received a certain score, but how do we know for sure that is true. You won't find anyone from the NFL or a club releasing any of the scores. I'm not saying what was reported was true or false, we just don't know.
Looking at the Claiborne case, it should be noted that when you watch tape of LSU, you see a player that plays smart. He doesn't break assignments and he plays smart football. With 30 years of experience in scouting, I have no problem in saying that Claiborne should be a very good NFL player. Rather than criticize him like some have on other sites for maybe having a low test score, they should be praising him because he has shown the courage to overcome a disability and still do well at his chosen profession. To me, that reveals a pretty smart kid.