August 26, 2011 -
Barry Dorey
Does a club need to use a first-round pick on a QB?
With four quarterbacks being taken in the first round of April's NFL Draft, many believe that in order to get a good quarterback he has to be taken in the first round. I went back and looked at every draft from 2000 through 2010 to see how many first-round quarterbacks have had productive careers and how many have busted. By "bust" we mean "has not played to the level expected by where he was drafted." It was an interesting exercise which I will share with you.
In 2000 only one quarterback was drafted in the first round and that was Chad Pennington. He didn't have a great career but he was successful and turned out to be a good pick. The best quarterback taken in that draft was Tom Brady, who New England took in the sixth round and I don't need to bore you with what he has done.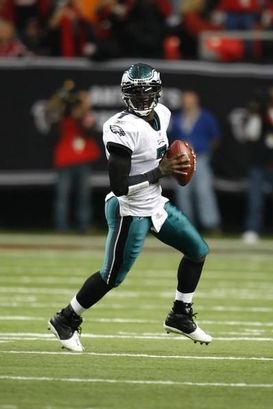 ICONMichael Vick has revived his career in Philly.
In 2001, Michael Vick was the only first-round QB taken. Obviously he has had an up and down career but it seems as if he may be playing his best football now. The best quarterback taken in that draft was Drew Brees, who was the taken in the second round. By today's standards he would have been a first-round pick because he was the 32nd player drafted.
In 2002 there were three quarterbacks drafted in the first round. David Carr was the first overall pick and is now a backup in New York. Joey Harrington was taken third overall and did nothing. Patrick Ramsey has been a career backup. The most productive quarterback from that class was Davis Garrard, who Jacksonville took in the fourth round.
2003 had four quarterbacks drafted in the first round led by 1st overall pick Carson Palmer. In the last few years Palmer has not played as well as he did early in his career but he has been a Pro Bowl player. The next QB taken was Byron Leftwitch. He had a few years as a starter but has never been more than a journeyman. Up next was Kyle Boller and it's fair to say he has busted. Rex Grossman was the 4th QB taken in the opening round. He also has had an up and down career but he did lead the Bears to the 2006 NFC Championship. He is trying to resurrect his career in Washington now. The only other quarterback worth noting in that draft was Chris Simms, who was drafted in the 3rd round.
2005 also saw some productive quarterbacks drafted early but the first overall pick, Alex Smith, is still trying to find his game and has not done much to date. If he doesn't progress this year he will surely be labeled a bust. The next quarterback taken in the first round in '05 was Aaron Rodgers. If the draft was done over he would easily be the first pick. Jason Campbell was the third quarterback drafted in the first round that year and while he has had his moments he has to be classified as a journeyman to date. Three other quarterbacks drafted in 2005 have also been fairly productive. Kyle Orton, drafted by Chicago and later traded to Denver as part of the Jay Cutler deal, went in the fourth round. Matt Cassell, who led Kansas City to the playoffs last year, went in the 7th as did Ryan Fitzpatrick with Buffalo. Neither of those two players is with the team who drafted them. Cassell was picked by New England and Fitzgerald was drafted by St. Louis
The first two quarterbacks drafted in 2006 were Vince Young and Matt Leinart. Neither has been a consistent player and both are backups. Jay Cutler put up some great numbers in Denver but while he has had production in Chicago, it's fair to say that he has not been consistent. In the 2nd round, the Viking drafted Tarvaris Jackson who is now with Seattle and it remains to be seen if he will ever be a consistent starter. I doubt it!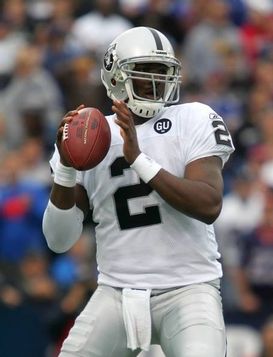 ICONJaMarcus Russell will go down as one of the league's all-time busts.
2007 was not a good year for first-round quarterbacks. First overall pick JaMarcus Russell has been one of the all-time busts. Cleveland traded up to draft Brady Quinn and he has also been a disappointment. In the second round Philadelphia drafted Kevin Kolb and it remains to be seen if he will become a good pro. The jury is still out because he has yet to play a lot of football, but has done some good things when given the opportunity. Arizona gave up a ransom to get him in trade after the lockout so we will soon find out.
At this time both 2008 and 2009 first-round quarterbacks look like they will be successful. In '08, Matt Ryan and Joe Flacco were taken in the first round. Flacco is very solid and Ryan looks as if he will be a great player. The only other quarterback taken that draft who has had significant playing time is Chad Henne, but he has been inconsistent at best. The three first-round QB's in '09 all look to be very solid picks at this time. Matt Stafford has had some injury problems but when healthy has played well. Mark Sanchez is a winner and just starting to come into his own and Josh Freeman has gotten better with every game. At the time there were some who felt Freeman was a bit of a reach but I'm sure that because of his success, clubs felt comfortable taking the four quarterbacks in the first round this year.
Only two quarterbacks were drafted in the first round in 2010. The first overall pick, Sam Bradford, had an outstanding rookie year and because of his play many are picking the Rams to be the favorite in the NFC West. Unfortunately, many in the media are already labeling Tim Tebow a "bust" because he may not even be the primary backup in Denver. In the second round Carolina took Jimmy Clausen, who has to be looked at as a disappointment because Carolina came back and drafted Cam Newton this year. The quarterback drafted last year who may turn out to be a great player is Colt McCoy in Cleveland. He lasted until the 3rd round and I'm still trying to figure out why!
In the eleven drafts since 2000, 32 quarterbacks have been drafted in the first round. It's far too early to even begin to analyze this year's group so lets put the number at 28. Through the 2010 season only 5 have become what I would call outstanding players. They are Carson Palmer, Eli Manning, Phillip Rivers, Ben Roethlisberger, and Aaron Rodgers. There is another group of 8 who still may become outstanding and they are Michael Vick, Jay Cutler, Mark Sanchez, Matt Ryan, Matt Stafford, Josh Freeman, Joe Flacco and Sam Bradford. Those who have had inconsistent or underachieving careers have been David Carr, Patrick Ramsey, Rex Grossman, Alex Smith and Jason Campbell. The players the media considers "busts" are Joey Harrington, Kyle Boller, J.P. Losman, Vince Young, Matt Leinart, JaMarcus Russell, Byron Leftwitch and Brady Quinn. Chad Pennington had a solid career.
Those not taken in the first round who have been excellent players are of course Tom Brady and Drew Brees. The next group of good solid quarterbacks not taken in the first is Kyle Orton, Davis Garrard, Matt Cassell, Ryan Fitzpatrick and of course the jury is out on Kevin Kolb. Just looking at percentages, if Tebow doesn't succeed, roughly half of the quarterbacks taken in the first round have been inconsistent, underachieved or busted. If you look at that in relation to the number of players taken in the first round at other positions I would bet it correlates. Because of the value of the position, clubs feel that in order to at least have a chance to draft a potentially great quarterback they have to take him in the first round. Might that cause clubs to overdraft or overevaluate a player? Yes, but given the value the quarterback has, clubs feel they have to take that chance.