November 01, 2011 -
Barry Dorey
Does ESPN's Bayless know what he's talking about?
I spend most of my day on Monday and Tuesday watching tape of the weekend's games. But while taking a little break from watching tape yesterday I watched a little of ESPN's "First Take." I only saw two segments, both of which included Skip Bayless having his usual arguments with another analyst and both times he was way off with his "facts." In fact, he was so far off I wonder if he did any research at all.
In the first segment I watched the discussion was between Bayless and Cris Carter about whether or not Tim Tebow is a legitimate NFL quarterback. I'm not going to make an argument either way for this post, only comment on what Bayless said.
In the argument Bayless stated that Tebow cannot succeed as an NFL quarterback if he has to play in Denver's conventional NFL offense. He said he needs to play in a shotgun like he did in college where he can utilize his athleticism and is more accurate. He then said that as long as he plays under center as he does in Denver's offense he will continue to struggle. He also stated that all you have to do is look through the game's play by play and you will see most of the pass plays started from under center. When I heard this I knew that he hadn't watched the game and was basing his argument only on what he read. I did watch the game and I watched it again after I saw the discussion.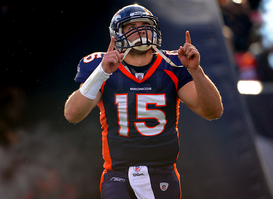 Tim Tebow remains the most polarizing NFL player.
Bayless says most of Tebow's passes were from under center. That's just wrong. Tebow attempted 28 passes while playing from a shotgun and 12 passes from under center. One of the "shotgun" throws won't count in the final stats because there was an interference penalty on Detroit. Denver also called 15 running plays from the shotgun — 9 of those were for a running back and 6 were designed running plays for Tebow, some of which were "option" plays.
Tebow was sacked 7 times in the game, 5 of those sacks came from the shotgun formation. What I came away with after watching the game was Denver is doing all they can to play into Tebow's strengths and that Bayless' "argument" with Carter bordered on fraud because he didn't have a clue what he was talking about. And this was on national television for viewers to watch? Give me a break.
In the other segment I watched the discussion centered on whether Andrew Luck is a better quarterback than John Elway coming out of college. Bayless' argument was baseless. In his argument he said Luck couldn't be as good as Elway because Elway was in 5 Super Bowls. No one can even argue that, but Elway wasn't in 5 Super Bowls while in college! After Luck is out of the league we can make that argument as who was the better pro. Bayless also stated that Luck has poor throwing mechanics and throws from a "crouched" position.
Well, Luck's throwing mechanics are damn near perfect and what he does is consistently stay in a "football position" with his knees bent just about 100 percent of the time. He is not a straight legged thrower like many QB's. Also, as far as college careers go, in the four years Elway was at Stanford they never went to a bowl game and he lost more games than he won. His won/loss record was 20-23. Andrew Luck has been Stanford's quarterback for less than 3 full seasons yet his won loss record is 28-5 and Stanford has been to a bowl game each year. Elway completed 62 percent of his passes in 4 years at Stanford while Luck has completed 68 percent of his passes. Elway threw for 77 TDs and 39 interceptions in four seasons, Luck has 68 TDs and 16 interceptions in less than 3. The only thing that I will say that Elway has over Luck as a collegian is arm strength. Elway had one of the strongest arms I have ever seen.
The bottom line is that ESPN uses a person who doesn't do his homework and in many cases has no clue what he is talking about and gives him a daily format to flap his jaws about various sports topics. On top of that he tries to overpower the people he has his "discussions" with in a very obnoxious, arrogant way. In today's program it was Cris Carter, who has forgotten more football than Bayless will know in three lifetimes. That's just wrong.