February 03, 2012 -
Greg Gabriel
Does Reese get enough credit?
Jerry Reese is in his fifth year as general manager of the New York Giants. During that span the Giants have been to two Super Bowls (winning one so far) and been to the playoffs three times. That's a record that's as good as any in football yet I seldom if ever hear about Jerry. We read about other GM's who supposedly do a great job but who can match Reese's record? Let's take a look at his career.
Reese started with the Giants in 1994 as an area scout. I was a scout on the Giants staff at that time and got to know Jerry very well. You could tell Jerry wanted to be the best because he asked a lot of questions and they were always questions that pertained to scouting and how to do things better. He is a very smart and intuitive person and he showed an ability to pick things up quickly. Many people think scouting is a very glamorous job. It isn't. It's extremely hard work and the ones that succeed are the scouts who are self- motivated and have a strong passion for the game.
A scout has to be his own boss; when he's on the road he makes his own schedule and has to figure out how to get his work done in a timely and proficient way. He also has to have the ability to find and understand talent. Jerry has all those traits. Scouting, just like playing, can be very instinctive and if you don't have the right instincts you won't succeed. I always found Jerry to be greatly instinctive and have a very progressive thought process. He can see through the BS and find the player. In some cases it takes scouts years to pick up the nuances of scouting. That wasn't the case with Reese. Inside of two years you could see in our meetings that Jerry knew what he was talking about and his opinion mattered.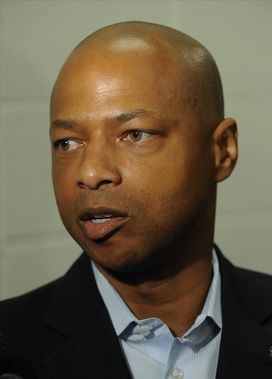 Jerry Reese has been a huge part of the Giants' recent run of success.
Reese spent five years as an area scout before being promoted to assistant director of pro scouting with the Giants. This move really helped Jerry's career. Not only was he proficient at scouting college talent, but he learned and became very good at scouting at the pro level. Being a pro scout is much different than a college scout. The pro scout not only has to do advance work on upcoming opponents but he also has to study current professional players who may be available in free agency, trades or on a waiver claim. When you scout college talent, you are looking at raw traits and projecting. When you are looking at current pro players the thought process is different. The player as already made it to the "show," so now the evaluation is how good is he as a pro and does he have the traits needed to play in your scheme.
Just like in college scouting, Reese picked up pro scouting very quickly. It was because of his intuitive nature that then-Giants GM Ernie Accorsi promoted Reese to Director of Player Personnel–College Scouting in 2002. As Scouting Director, the Giants made a number of excellent choices. In his first year as Director, they choose Osi Umenyiora, Visanthe Shiancoe and David Diehl. The following year with the 4th pick in the Draft the Giants chose Phillip Rivers and immediately traded him to San Diego for 1st overall pick Eli Manning. Chris Snee and Derrick Ward were also part of that draft. The next year, the Giants chose Justin Tuck, Brandon Jacobs and Corey Webster. All of these players have had significant roles in the Giants success. It was because of his success as a Scouting Director that Reese was appointed GM in January 2007.
As GM, the Giants not only continued having success in their drafting but also began signing prominent role players as free agents. Some of the Giants draft picks in those years have been All-Pro receiver Hakeem Hicks, running back Ahmad Bradshaw and All-Pro defensive end Jason Pierre-Paul. The free agents have been players such as linebacker Michael Boley, safety Antrel Rolle and defensive tackles Chris Canty and Rocky Bernard.
There is not a player on this year's edition of the New York Giants who Jerry Reese did not have a part in drafting or signing. Yet we seldom see him get any of the credit. Sure, head coach Tom Coughlin does an outstanding job preparing this team but without the expertise of Reese many of these players wouldn't be on the roster. Reese's record as a player personnel executive in the league is second to none. Two Super Bowl appearances in five seasons is no easy task. The Giants fans and ownership has one person to thank: Jerry Reese.