May 08, 2011 -
Greg Gabriel
Draft analysis: AFC North
In recent years, the AFC North has been dominated by Pittsburgh and Baltimore. Last year Cleveland played well the second half of the year and will continue to improve. And if Cincinnati can find a way to keep Carson Palmer, the Bengals are on the rise. They have put together two consecutive good drafts.
Baltimore Ravens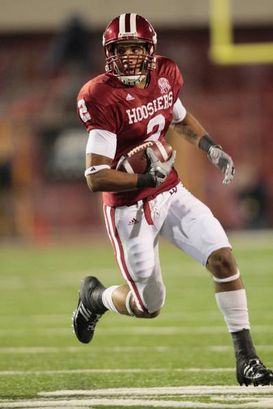 ICONThe Ravens picked up another offensive weapon in Tandon Doss.
The Ravens made a risky pick but also one that could pay major dividends when they drafted corner Jimmy Smith. There are some scouts I know who feel Smith was the second-best corner in the draft. He has all the tools, height, speed, explosiveness and cover skills to be an excellent pro. Now he just has to focus and with the Ravens having a strong veteran locker room hopefully that is not a problem. The Ravens had a need for a young speed wide receiver and they may have found him with 2nd round pick Torrey Smith. Smith has the vertical speed to stretch the field and open things up for Anquan Boldin underneath. Jah Reid is a huge right tackle who showed consistent improvement in 2010. He has been a 3-year starter but is still raw and needs to develop his lower body strength. Still, he is a great kid and a competitor and will be a starter on the right side before long. Tandon Doss is a big sure-handed possession receiver. He knows how to get open with the underneath routes and will compete for the ball in traffic. In some ways he is a young Boldin.
Chykie Brown has the speed and suddenness needed to play corner in the NFL, but he needs to become a more physical player. His tackling is average and he is not aggressive in run support. While he has the physical tools to play corner, his instincts and ball skills are questionable. He will be a work in progress. I don't see Pernell McPhee as a real fit for Baltimore's defense. He lacks the size and power to be a 5 technique and isn't athletic enough to play on his feet. Tyrod Taylor is an interesting guy. He is very athletic and has good arm strength but he is going to have to learn to play from under center. The Ravens may try to use him at another position. Anthony Allen looked like a good prospect in 2009 but got too heavy last year and didn't look as explosive. If he can drop 10 pounds the Ravens may have found themselves a player.
Cincinnati Bengals
The Bengals always seem to catch some heat from the media after every draft. I feel their last two drafts have been very good both in the talent they have drafted and in filling needs. Their first pick, receiver A.J. Green, was either the first or second receiver on almost all clubs' draft boards. He is tall and fluid with excellent hands. He gives the Bengals a big play receiver and they can finally get rid of Chad Ochocinco and Terrell Owens, who cause nothing but problems with their selfish attitudes. Carson Palmer wants out and none of us know how it will play out over the next few months, but because of the problem the Bengals had to get a quarterback. Andy Dalton is a smart and mature player who should turn into a very reliable pro. Donte Moch played down in college and will be asked to play on his feet with the Bengals. It's not an easy conversion but because he is such a strong pass rusher he can be utilized as a situational pass rusher as he makes the conversion. Clint Boling played tackle in college and the Bengals will most likely move him inside to guard. He is smart, patient and plays with good intensity. He should become an early starter. Robert Sands played free safety at West Virginia but looks to be more of a strong safety in the pros. He has exceptional size and is athletic for such a tall guy. He is a physical player with good tackling skills, traits that should make him a good special teams player while he adjusts to the NFL game. Ryan Whalen has size and excellent hands but lacks speed. He has a knack for getting open versus zone coverage. I see him as a possession receiver who will also have to show up on special teams. Korey Lindsey and Jay Finley are developmental types.
Pittsburgh Steelers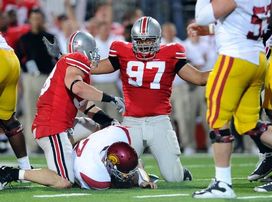 ICONNew Steeler Cam Heyward needs to improve his pass rushing skills.
The Steelers under Kevin Colbert always seem to do a good job and this year was no different. Cam Heyward is a big, strong 5 technique who is best against the run but still needs to improve his pass rush skills. He is a high-character guy who should keep improving. Marcus Gilbert is a huge man with fairly good quickness and feet. He has the ability to play tackle or guard, but he needs to play with more consistency and intensity. He can be a good pro if Pittsburgh pushes the right button.
The Steelers took corners with each of their next two picks. Curtis Brown had a good career at Texas. He plays faster than he timed at the combine and has good cover skills as well as special teams play. He needs to become more physical in run support and develop his off man coverage. Cortez Allen is a tall press corner who still needs to develop his off and zone cover skills. This is typical with tall, small-school corners. He has all the traits to develop into a good 2nd or 3rd corner with coaching.
Chris Carter played down at Fresno State and will have to make the conversion to playing on his feet. The Steelers have done a good job with players like this in the past. Carter has some strong pass rush traits. Keith Williams has a chance to make it as a reserve offensive lineman because he has size, strength and power but he is going to have to play with better bend. Baron Batch is a developmental type.
Cleveland Browns
Phil Taylor can be the ideal anchor for the Browns defensive line. He had a good senior season and an outstanding week at the Senior Bowl. For a big guy he moves really well and can make plays versus both the run and pass. Jabaal Sheard does not have great size but he plays with strength, power and has a good motor. He is a good fit for what defensive coordinator Dick Jauron looks for in a left end. Greg Little is an interesting prospect, he was highly recruited out of high school and played both wide receiver and running back while at North Carolina. He did not play in 2010 because he got caught up in the agent scandal but he is very talented. He has exceptional size (6-2 and 230 pounds) with good speed (4.53). Because he played two positions he is still a bit raw but has great upside. This could turn out to be a great pick if Little puts it all together. Jordan Cameron looks the part and has top speed and athletic ability but is very raw as a football player. He started out as a basketball player at BYU then transferred to a junior college to play football. He is still raw as a player and really needs to upgrade his blocking. This is a boom or bust type pick.
Owen Marecic played both fullback and linebacker for Stanford. He is an old throwback type tough guy. He will have to play fullback in the NFL because he does not have the speed to play linebacker. He is a strong lead blocker and a good inside runner. Jason Pinkston is a former tackle who will have to play inside at guard. He has some toughness but is going to have to improve his strength. There are some who question his passion for the game.