May 17, 2011 -
Greg Gabriel
Draft Analysis: AFC South
Indianapolis, with Peyton Manning, has ruled the AFC South for years. No other team in the division has a quarterback that even comes close to Manning and maybe that is why two of the division teams (Jacksonville and Tennessee) drafted quarterbacks in the first round. It will be a few years before we know if they were good moves, but at the same time, when those quarterbacks start to develop it may be around the same time Manning is ready to retire. Here's a look at the drafts from AFC South teams.
Houston Texans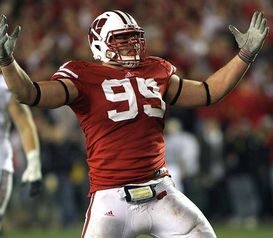 ICONJ.J. Watt will give new DC Wade Phillips another weapon for his unit.
The Texans have a new defensive staff headed by Wade Phillips as defensive coordinator. He will install a 3-4 scheme and so the Texans had to find the right players for that scheme. First pick J.J. Watt was a great pick. He is a natural 5-technique with size, strength, power and athleticism. He plays hard every down. With Mario Williams' possible move to outside linebacker it will be interesting to see if they line up side by side. Second pick, Brooks Reed, will make the transition to OLB. He is a high motor pass rusher who has similar football character to Watt. Those two will bring a high level of competitiveness to the Texans defense.
Houston struggled in the secondary last season so they went into the draft looking to upgrade the talent. Their next three picks were all defensive backs. In Brandon Harris they don't get a corner with elite size and speed but they get a very consistent player with good cover skills, instincts and toughness. Rashad Carmichael is another smallish corner with good cover skills, instincts and ball skills. He had 10 interceptions the last two years at Virginia Tech. Safety Shiloh Keo lacks great timed speed, but he is very quick to go along with top instincts. He will be best at strong safety and has the ability to play down low. With Matt Leinart being a free agent, the Texans have a need at quarterback. T.J. Yates from North Carolina showed improvement in 2010 and has the traits to be a solid NFL backup. Offensive lineman Derek Newton and OLB Cheta Ozougwu both have some talent but will need a year on the practice squad.
Indianapolis Colts
The weak link of the Colts offense was the offensive line. They have not found a suitable replacement for Tarik Glenn since his retirement in July 2007. This year they may have finally found him in Anthony Castonzo of Boston College. Some felt Castonzo was the best tackle in the draft. He is excellent in pass protection and keeps improving as a run blocker. Their second pick was tackle Ben Ijalana from Villanova. Ijalana is a tad under 6-4 but has extremely long arms to go along with quickness and bend. While he played tackle in college he may be moved to guard with the Colts. Third-round pick Drake Nevis from LSU is a perfect fit for the Colts defense. He lacks height but he is a quick penetrator who defends the run and rushes the passer equally well. He plays with excellent strength and explosion and is a top competitor. Running back Delone Carter is a physical inside runner who will be best if used in a rotation. Like many backs coming out of college he will need to improve his pass blocking. Chris Rucker is a talented corner who is best in press coverage. He doesn't play with the same confidence when in off or zone. He has had some off-field issues, so he may need to be monitored.
Jacksonville Jaguars
I have written a lot about Jags first-round pick Blaine Gabbert in the last few months. It's not that I don't like Gabbert, I just don't feel he is an elite prospect worthy of being drafted in the first round. I question his instincts and his deep accuracy. He played in a half-field offense and has never had to read the whole field as a college player. He seldom had more than a two-receiver progression and when both of those receivers were covered he seldom stepped up in the pocket and tried to make things happen. Instead he would retreat and finally roll out and dump the ball off. I'm not saying he won't develop into a good pro, but I am saying that he is a long ways away from being ready to start in the NFL.
In the third round, they selected William Rackley, the big offensive lineman from Lehigh University. Rackley dominated FCS competition as both a run and pass blocker; he is both strong and explosive. While he played tackle in college, he will move inside to guard in the NFL. Cecil Shorts was a highly productive Division III receiver from Mount Union. He has size and good hands to go along with adequate speed. He looked good at the East-West game practices before pulling a muscle. Still, the jump from Division III to the NFL is huge and it will take some time for him to develop.
Safety Chris Prosinski was not invited to the Combine, but that doesn't mean he can't play. The three-year starter had an excellent career at Wyoming. He has size, range, instincts and ball skills and I know a number of teams were looking to draft him in the middle rounds. He may be a starter before his rookie year is over. Rod Issac, on the other hand, seems to be more of a developmental type prospect. Overall, I like some of the players the Jags took, but I feel they drafted most of them a round too high.
Tennessee Titans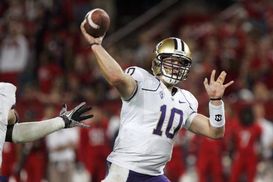 ICONCan Jake Locker be the franchise signal caller the Titans envision?
As with Gabbert, I have already written a lot about Titans first-round pick Jake Locker. Locker has some outstanding intangibles but I feel he lacks instincts and accuracy. I really question his feel for the game. I don't feel he was close to being a top-10 prospect. Time will tell if I'm right. Second-round pick Akeem Ayers would have been a great pick for a 3-4 team where his pass rush skills could be utilized. Unless Tennessee plans to play him down in passing situations his best traits may be wasted. Jurrell Casey is a natural nose tackle who will be an inside force for the Titans. Though short (6-0), he is strong and explosive and is quick to find the ball. Colin McCarthy is an intense, instinctive overachiever with a nose for the ball. He lacks great size, has very short arms and has had some injury problems but when he is on the field he is always full throttle. Jamie Harper is an interesting big back who can be a good complement to Chris Johnson. He played that role through college so he won't be doing anything he isn't used to. Karl Klug is a pumped-up 275-pound defensive lineman. He played inside at defensive tackle in college but lacks the bulk to play there in the NFL. He will have to be an end and I question if he has the explosive quickness needed to play end. Byron Stingley is a tall offensive tackle who lacks good bulk and power. He is not a real physical player and can have some trouble anchoring. Zach Clayton has some strength and power, plays hard but lacks top athleticism. Tommie Campbell is a developmental safety. Overall, like the Jacksonville draft, I like some of these players but feel most were drafted a round too high and I question if some fit their scheme.