May 24, 2011 -
Greg Gabriel
Draft Analysis: AFC West
The AFC West is a very competitive division with Kansas City and San Diego on top and Oakland improving. Denver has some good personnel but with a new coaching staff and a lockout going on they will be behind everyone else once the labor situation gets settled, and because they will be installing new systems it will take a while for them to catch up. Let's take a closer look at their drafts.
Denver Broncos
There are some who felt Von Miller may have been the best player in this draft. He is an outstanding pass rusher with explosive quickness off the edge. I felt he would be best suited as an OLB in a 3-4 scheme because of his combination of size, speed, athleticism and pass rush skills. Denver is moving from a 3-4 to a 4-3 but they will use multiple fronts. You will probably see Miller at SAM linebacker on 1st and 2nd down and then used as a pass rusher in obvious passing situations. He has good coverage skills so dropping into coverage should not be a problem.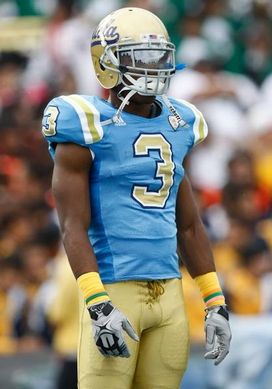 ICONRahim Moore only had one interception last season following a 10-pick campaign in 2009.
Going into the 2010 season many felt Rahim Moore was the best safety in the draft but his production fell off dramatically. He went from 10 interceptions in 2009 to only 1 in 2010. In watching tape I felt he lacked awareness in coverage — he was often late to react, but he still is a good run support player and a good tackler. Strong safety may be his best position but with Denver taking Quinton Carter in round 4, Moore may have to play free safety. Miami's Orlando Franklin can play either guard or tackle. Last year's draft pick Zane Beadles was drafted to play guard but ended up at tackle because of injuries. The new staff may move Beadles inside and install Franklin at right tackle. He is a massive man who can run and pass block and should be a fit at right tackle. Nate Irving was a very productive player early in his career at North Carolina State. After a serious car wreck he was never the same player. Some teams had him as a medical risk. While he is instinctive he lacks top play speed and a burst. It remains to be seen if he can get back to his old form.
Quinton Carter really looks the part. He has excellent size, is athletic and plays faster than he times. He is a physical run support safety and is best suited to play at the strong safety position. Julius Thomas has very limited playing experience having only played one year of college football, but he still was productive in his only year. He has tremendous upside, and the staff is going to have to be patient with him. He needs to upgrade his blocking skills but he shows a willingness. He has excellent hands and shows natural skills as a receiver. Mike Mohamed is a good late pick. He was very productive at Cal. While he may not be the fastest linebacker around, he makes plays because of his quick reactions.
The surprise was that tight end/H-back Virgil Green was still available in the 7th round. His workout at the combine was among the best at the position. He will be best as a move tight end type. He still needs some development but has much upside. Jeremy Beal is a tweener. He lacks great size to play defensive end and doesn't have the speed to play linebacker. As a college player he was more "hype" than production. Unless he produces on special teams, I can't see him making a roster.
Kansas City Chiefs
Almost everyone felt that Kansas City would draft an offensive lineman with its first pick but the team fooled the "experts" with their selection of Jonathan Baldwin, the big receiver from Pitt. A year ago, I felt Baldwin was just about in the same class as Julio Jones and A.J. Green but his production fell off in 2010 partly because of a new quarterback. Baldwin may have some "diva" to him but he is fast and explosive and can make big plays. Todd Haley won't put up with a diva attitude so Baldwin may be at the right place.
Rodney Hudson may be a bit small, but he is strong and explosive and understands the game. He should start early in his career and be a steady player. Justin Houston will probably play outside linebacker for Kansas City. He has all the physical traits to be a player but he has to develop consistency. Defensive coordinator Romeo Crennel has worked well with players like this in the past and should get the most out of Houston. Defensive end Allen Bailey has the size, strength and athleticism to excel as a 5 technique player. He had inconsistent production in 2010. Though he is athletic, you didn't always see him play with that athleticism. Some question his instincts. Corner Jilil Brown doesn't have the natural talent of Jimmy Smith but he may have been a more consistent performer at Colorado. He is a very steady player with size, good toughness and special teams potential.
Getting Ricky Stanzi in the fifth round was a steal. He is not a special player but he is very steady and showed improvement every year playing in a pro-style offense. It would not surprise me if he is the Chiefs starter by his third year. Gabe Miller has some pass rush talent and solid character — he may be a year away from contributing. Jerrell Powe is a pure nose tackle who has more bulk than the other Chiefs nose tackles. He has talent but has to lose some weight and get in better shape to keep up with the rigors of the pro game. Shane Bannon is a developmental tough guy who will have to make his mark on special teams.
Oakland Raiders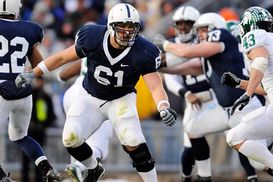 Steve Wisniewski has the family background to succeed at the next level.
The Raiders wanted to upgrade the interior of their offensive line and have done so with center/guard Stefen Wisniewski from Penn State. The Raiders will play him at center and he should be an instant starter. He will be coached by his uncle Steve Wisniewski.
One thing you can be sure of is that if the Raiders have a chance to draft speed they will do it. In Demarcus Van Dyke and Chimdi Chekwa they drafted two of the fastest corners in the draft. Van Dyke was never a full-time starter at Miami but got a lot of playing time. He totaled 22 starts over his career. His biggest weakness is tackling and run support and if he gets stronger he should vastly improve in that area. Chekwa has some tightness in his hips and has to learn to play lower but he has good press cover skills.
In between those picks the Raiders took Joe Barksdale from LSU. Barksdale started two years at right tackle and one year at left tackle while at LSU. The Raiders may move him inside to guard. In Taiwin Jones, the Raiders drafted an undersized but extremely fast running back. Jones isn't ready for full-time duty but he can be a valuable rotation player and return man. He has very good hands. Denarius Moore fits what the Raiders look for at receiver. He has adequate size and very good speed. He had a strong 2010 with 47 catches for 981 yards, averaging just under 21 yards per catch. Oakland needed a pure blocking "Y" tight end and got one in Richard Gordon from Miami. Players like this don't show up on the stat line, but really help the run game. The Raiders feel David Ausberry from USC can be a unique guy. He has great size, good speed and hands and may be a combination wide receiver/move tight end. Because of his size he can create mismatches in the red zone.
San Diego Chargers
On tape, Corey Liuget was a fun guy to watch. He is a top competitor and a playmaker. He lacks ideal height but he has explosive quickness and great play strength. M any scouts felt Marcus Gilchrist was more of a safety than a corner. He has corner size and the physicality of a strong safety. He should be able to play over the slot. He is the type of energetic player you want on your team. When watching tape Jonas Mouton did not look like a second-round pick to me. He will have to be an inside linebacker in the Chargers 3-4 scheme. He lacks speed and is not real physical. Receiver Vincent Brown might not test as well as some of the receivers in the draft but he is a very productive player. He ran 4.57 at his pro day which is just average speed but he has very good body control, knows how to get open and has excellent hands.
Shareece Wright is another very physical defensive back. He has good press cover skills and is excellent in run support. He will work well with Marcus Gilchrist. Jordan Todman will be a good complement to last year's first-round pick Ryan Matthews. He lacks great size but he is a tough and instinctive inside runner. He adds to an already strong San Diego running back group. Going into the 2010 college season Steve Shilling looked like he may be a third to fourth-round pick. He did not have a good senior season, spending too much time on the ground and looking top heavy. Still, he has good toughness and has a chance to be a good backup type. Andrew Gachkar is a tough overachiever who may need a year on the practice squad.