May 05, 2011 -
Greg Gabriel
Draft analysis: NFC East
The NFC East is always a very competitive division. How quickly some of this year's draft picks contribute could have an effect on next season's division race. Let's take a look:
Dallas Cowboys
The offensive line play has been the weakness of the Dallas offense for the last few years. Marc Colombo is tough and gritty, but injuries have robbed him of mobility, so an upgrade was imperative. With their first pick, the Cowboys took Tyron Smith from USC. Many "draftniks" say he lacks instincts; I have seen five tapes from the 2010 season and that was never apparent. He was by far the best tackle in the draft and has the traits to play either the left or right side. In 2009, I thought Bruce Carter had the tools to be a first-round pick but he just didn't show up that much on 2010 tape. Still, he is very athletic and has good instincts. If he reverts back to his play in 2009 the Cowboys found themselves a good player.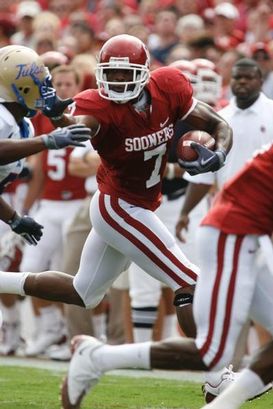 ICONDeMarco Murray will have to answer questions about his toughness.
I know DeMarco Murray tests out to be a top athlete, but you don't see that on tape. He is not very creative and I question how tough he is. David Arkin is a tough, strong and physical small-college offensive lineman. He can do for Dallas what Jahri Evans did for New Orleans. I have seen Josh Thomas play a few times and though he is athletic, he doesn't make a lot of plays. He lacks top instincts and ball skills. To me he is more a developmental type. Receiver Dwayne Harris does not have the natural physical tools that some of the receivers drafted before him have, but he is a sure-handed playmaker who knows how to get open. Shaun Chapas is similar to last year's free agent Chris Gronkowski, but he doesn't have Gronkowski's athletic ability. It will be an interesting camp battle for the Cowboys fullback spot.
New York Giants
I have already written about how I liked the early part of the Giants draft. Looking at the whole thing, the Giants did a very good job. The Giants getting Prince Amukamara with the 19th pick was one of the surprises of the first round. He should step in and start right away. Another surprise was Marvin Austin being available at pick 52. Though he is not as big as some of the Giant defensive tackles, he is more explosive and athletic. He upgrades their inside pass rush. Jerrel Jernigan will be a slot receiver with home run ability and also helps the Giant return game.
James Brewer still needs some development but he has size. Pat Flaherty is one of the best offensive line coaches in the league and will do a great job developing Brewer. I like the Greg Jones pick. He is an ideal Mike linebacker with top instincts and excellent tackling ability. Tyler Sash lacks top measurables, but he is smart and instinctive. Because of those instincts he plays faster than he times. He will eventually quarterback the Giant defense. Linebacker Jacquian Williams lacks size but he can run, has a good motor and will have an impact on special teams. Early in his college career Da'Rel Scott looked like he may be a top back but his play leveled off. He has some traits but needs to get tougher.
Philadelphia Eagles
Offensive lineman Danny Watkins was an excellent pick. Though he already is 26 years old he is mature and ready to play. He has top football character to go along with size and strength. He should step in right away at guard. Jaiquawn Jarrett has very good instincts and is extremely physical but while saying that I felt he was a reach for the second round. The Eagles drafted Nate Allen last year in the second round and Allen was a far superior player. Jarrett is a natural strong safety with instincts and tackling ability. He lacks speed (4.66) but because of his instincts he plays faster. He could have some trouble in coverage at the NFL level.
Getting a corner was one of the Eagles biggest needs and I'm surprised they waited until the third round to address it. Curtis Marsh has excellent size and speed but is still raw and will need some development. He is best with press coverage. This is a position that the Eagles will still have to address when free agency opens up. Casey Mathews has great genes but he is not the player his father was and his brother is. He is physical and has very good instincts but lacks good timed and playing speed. I see him as a backup and special teams player. Alex Henery was the best placekicker in college football and should replace David Akers. I don't see any of the other Eagle draft choices as having eventual starter potential. Dion Lewis is an undersized situational back. Julian Vandervelde is very strong and competitive but is he tall enough at 6-1? Jason Kelse has some height but lacks bulk and growth potential. Linebacker Brian Rolle is very interesting. He also lacks height (5-9) but is an instinctive playmaker. I see him becoming a core special teams player who can also get you out of a game if a starter goes down with an injury.
Washington Redskins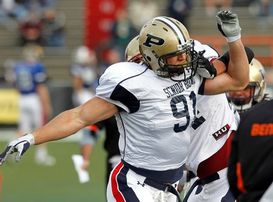 Ryan Kerrigan will give the Redskins another pass rusher off the edge.
The Redskins came into the draft without picks in the third and fourth round and by trading down a few times they were able to pick up third and fourth-round picks and twelve picks overall. The Redskins needed another edge pass rusher to pair with Brian Orakpo and got one in Ryan Kerrigan. Kerrigan is a relentless competitor who comes to play. Jarvis Jenkins may have been a bit of a reach. He has good size for a nose tackle and plays the run well. He shows good play strength but only did 17 reps of the bench at the Combine. He runs well and has good change of direction but he is not explosive. I felt he was more of a third-round type. While I felt Jenkins was a reach, I thought third-round selection wide receiver Leonard Hankerson was an excellent value pick. He could have very easily gone in the second round. He has size, speed and is productive. He should start early in his career. Running back was an important need for Washington and Roy Helu is a good fit for Mike Shanahan's offense. He is a quick one-cut runner with breakaway speed and good hands. He is going to have to improve his pass blocking if he wants to be an every down back in the NFL.
The Redskins definitely had a good feel for Nebraska players, taking three of them in a row. Safety Dejon Gomes I felt was a reach. He has limited athleticism and marginal hands. He can play the run but is inconsistent in coverage. Receiver Niles Paul was a good pick. He has size and speed to go along with adequate hands. He needs to improve his route running ability but he should be a good special teams player while he learns. Of the remaining 6 picks there are only a few that I feel have a chance to contribute. Receiver Brandyn Thompson is undersized but he has speed and good hands to go along with NFL return skills. Running back Evan Royster can be a good backup, providing he puts football as his top priority. There are some scouts who questioned his football character and how important the game is to him. Chris Neild is a tough guy and but plays tall and is a limited athlete. All the others look like developmental practice squad types.