May 10, 2011 -
Greg Gabriel
Draft analysis: NFC North
In 2010, the NFC North produced the two teams that played for the NFC Championship, Green Bay and Chicago. Both teams should also be strong again in 2011 but Detroit has slowly been building a strong team with two consecutive very good drafts. Let's take a look at what each club did in this past draft.
Chicago Bears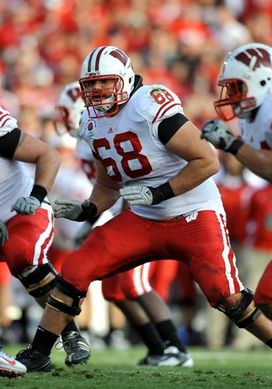 ICONGabe Carimi has size, strength, athleticism and a nasty disposition.
The Bears went into the draft wanting to get an offensive lineman, a defensive lineman, a safety, a corner and a wide receiver. They filled the first three needs with their first three picks. In Gabe Carimi, they got an excellent tackle who was a four-year starter at Wisconsin. He has size, strength, is a good athlete and plays with a nasty disposition. When watching tape I felt he was the best run blocking tackle in the draft and when he played against top players he rose to the occasion. In second-round pick Stephen Paea the Bears got not only the strongest player ever at the Combine (49 reps of 225) but a player with a very quick first step who is a top run stopper and an improving pass rusher.
Safety Chris Conte was a player who came on strong in his senior year after he moved from corner to safety. He is a tall, rangy player with top instincts and range. Cal hired former NFL defensive coordinator Clancy Pendergast last season and Conte blossomed under him. Pendergast did a great job selling Conte to NFL scouts and coaches and in the weeks leading up to the draft — he became a "hot" prospect. Two scouting directors told me he was one of the two best safeties in this draft. Quarterback Nathan Enderle did not have great stats, but Bears offensive coordinator Mike Martz went to Idaho to work out Enderle and was impressed. Enderle's game fits what Martz likes to do. Two of the Bears veteran outside linebackers are free agents so it was imperative that the Bears draft a young linebacker. From an athletic standpoint, J.T. Thomas is a fit. He will play on special teams while he learns the Bears defense. The Bears will have to go the free agent route to find a wide receiver.
Detroit Lions
I have already written how much I like the Nick Fairley pick. He gives the Lions another dominant inside player. In his junior year, he started to show what he could do with 11.5 sacks. It will be fun watching how teams try to block both Ndamukong Suh and Fairley. Titus Young makes Calvin Johnson a better player. The Lions needed a deep threat to take the pressure off Johnson. Young is quick and fast with good hands and very good run after the catch ability. Just as Young makes Johnson better, Mikel Leshoure makes Jahvid Best a better player. In my mind Best would be best utilized as a rotational player. Leshoure, because of his size and power, is an excellent complement to Best. Doug Hogue is an athletic fit for what Detroit does on defense. He is a former running back who is still learning how to play linebacker. He will be a good special teams player while he develops. Johnny Culbreath is a developmental tackle who may need a year on the practice squad. The Lions still need to acquire a starting corner and will have to do that when free agency begins.
Green Bay Packers
The world champs always seem to do a good job drafting every year. Last year the Packers replaced Mark Tauscher with first-round pick Bryan Bulaga. Chad Clifton does not have a lot of playing time left and his replacement will be this year's first-round pick, Derek Sherrod. He is a tall, long tackle with pass and run block talent. Playing in the SEC more than gets him ready for the NFL. Green Bay does a great job finding receivers who are fits in Mike McCarthy's offense, and Randall Cobb is just that. He has speed to go along with great body control and excellent hands. Just like the present Packer receivers, he is excellent after the catch.
There are some who thought running back Alex Green was a bit of a reach, but he is another back who fits what Green Bay does on offense. He has size and good run instincts to go along with pass catching ability. Like most college backs he will need to develop his pass blocking skills. Tall, long corners are hard to find, so when you get an opportunity to draft one, you have to jump at it. Davon House has a lot of talent but like most tall corners he is going to have to learn to play lower and develop his foot work. With his length he can be very effective in press coverage. D.J. Williams is a pure move tight end who, because of his height, can also line up some as a fullback. He is a good move blocker with consistent hands and run after ability — a solid pick.
Green Bay had three sixth-round picks and two seventh-round picks. They all show flashes of talent, but seem to be more developmental types.
Minnesota Vikings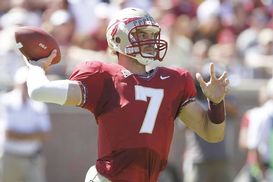 The Vikings believe Christian Ponder is their future under center.
We all know that Minnesota needed to draft a quarterback, but as I have already written, taking Christian Ponder with the twelfth pick was a reach. I also feel that Tennessee taking Jake Locker and Jacksonville drafting Blaine Gabbert were reaches.
Ponder is a talented quarterback, and he is smart and can make plays with his feet. But I question his arm strength, accuracy and he shows some questionable decision making. I would have no problem taking him in the second round. I also understand that in the NFL, if a team has a strong need at quarterback those teams sometimes overdraft players at that position.
In Kyle Rudolph the Vikings got a player who if not for some nagging injuries the last two years could very well have been a first-round pick. He was clearly the best tight end in the draft and can block and catch. Christian Ballard had some character concerns following the Combine, but he had a better senior year than teammate Adrian Clayborn, who went in the first round. He has the traits to play both inside and outside in the Vikings defensive scheme and will give them another pass rusher on the line. Brandon Burton is a fairly tall corner with some man to man cover skills but is inconsistent versus the run. This was a need pick for the Vikings.
Demarcus Love isn't nearly as good as his preseason hype but getting him in the 6th round could be a bargain. He has size and run blocking ability. Though he played tackle in college he is best suited to play inside for the Vikings. Brandon Fusco is an interesting small-college offensive lineman. He flashed when going up against better competition at the Senior Bowl. He has size, competes and has some athleticism but is still raw. Ross Homan showed excellent athletic ability at the Combine. He should be a good special teams player while he develops his linebacker skills.