May 13, 2011 -
Greg Gabriel
Draft analysis: NFC South
The NFC South has two of the best teams in the conference in Atlanta and New Orleans. Last year Tampa Bay showed great improvement and should be even better this year. Carolina is in a rebuilding mode and if the lockout doesn't end soon they will be further behind because the new staff has yet to have a chance to implement new offenses and defenses. Let's take a look at how these teams drafted this year.
Atlanta Falcons
The Falcons gave up five draft choices to move up from the 27th slot to the 6th slot in the first round. They gave Cleveland their first, second and fourth round picks in this draft and their first and fourth round picks in next year's draft. In my opinion the only reason they make that trade is if they feel they are one player away from winning a championship. In Julio Jones they got a great receiver. I felt he was the best receiver in the draft and by selecting him they have made Roddy White a better player. Jones is bigger, faster and more physical than A.J. Green of Georgia, who went to Cincinnati. Also, by making that selection, they gave up a chance to fill some glaring needs on defense especially at linebacker and defensive end. They must feel that once free agency starts they will have an opportunity to sign some players at those positions.
Akeem Dent is a big run-stuffing inside linebacker who can struggle in coverage and playing in space. He is strong and explosive but lacks top awareness. Jacquizz Rodgers is a small back who is more quick than fast. He is very competitive and plays bigger than he measures but still lacks top power. He is strictly a situational back with some return skills. There are a lot of special teams coaches who felt Matt Bosher was the best punter in the draft. He is a combo kicker who can punt, kick off and kick field goals. Andrew Jackson and Cliff Mathews are developmental types.
New Orleans Saints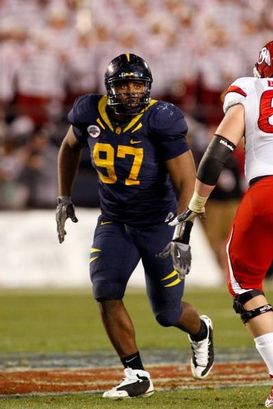 ICONCam Jordan should fit nicely into Gregg Williams' scheme.
Defensive end Cam Jordan was a great pick for defensive coordinator Gregg Williams' scheme. He is athletic with a great motor and outstanding football character. He can be a base left end and can play either inside or out in pass rush situations. Trading up to get Mark Ingram was a great move. Ingram was the best back in the draft and can play every down. If the Saints decide to keep Reggie Bush he will be a good complement. Getting Martez Wilson in the third round was a good pick. He played both inside and outside linebacker in college but seems more suited to play outside for the Saints. His instincts are still developing but he has pass rush skills and Williams loves pass rushers. Corner Johnny Patrick comes with mixed reviews. Most feel he has cover skills and ball skills but I've had scouts differ on his run support ability. All agree he came on in his senior year. He is a quicker than fast type with good flexibility. He has some character flaws that need to be monitored. A year ago, Greg Romeus looked like he may be a high pick but he then suffered a back injury and then a torn ACL. He may have to spend a year on NFI rehabbing, but when healthy the Saints may have gotten themselves a player. Nate Bussey is a developmental type player.
Carolina Panthers
In Cam Newton, the Panthers have the proverbial boom or bust pick. He has some rare traits and is highly competitive on the field but there have been some off field concerns that can/may affect his play. The pick was risky but it could pay some huge dividends. Terrell McClain is a stout run stopper with some pass rush ability. He is more suited for the nose but can play either defensive tackle position. Sione Fua is another short, stout run stopper with a high motor. Though short, he has long arms and is very strong. Some scouts I have talked to differ in their opinion on him. Some feel he is just too limited. He should be best playing on the nose. Brandon Hogan is another risk/reward pick. He is coming off an ACL injury and may not be ready for the start of camp. Not having team facilities open to players right now doesn't help his rehab. Hogan is fast and sudden with good ball skills. He needs to be more consistent when supporting the run. He has had some off field concerns as well. Kealoha Pilares is another player coming off an injury. He lacks great size and is not a burner but he can get open and has terrific hands and can run after the catch. He will probably be a slot receiver. Lawrence Wilson lacks size (6-0 and 229 pounds) and has adequate speed but is highly instinctive and a playmaker. He will be best off at Will linebacker. Both Zach Williams and Lee Ziemba are solid seventh round picks. Both are highly competitive players with a degree of toughness. Williams can play both center and guard while Ziemba should be a backup tackle.
Tampa Bay Buccaneers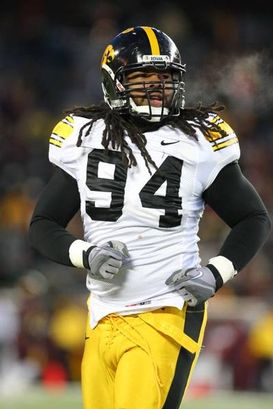 ICONWill Adrian Clayborn be productive at the next level?
I was surprised that the Bucs took Adrian Clayborn in the first round. While he was a highly productive player in college his production went down as a senior. He has Erb's Palsey on his right side and it limits the range of motion and strength of his right arm. That's why he didn't bench for teams at the combine or his pro day. Because of the medical issue, he can only play on the right side. I felt when watching 2010 tape that Big Ten teams figured out how to block him and that's why his production fell. If college teams can stop a player, there should be no trouble stopping him in the NFL. While I thought drafting Clayborn was a risky move, getting Da'Quan Bowers in the second round was a steal. Six weeks before the draft he was looked at as a sure top 5 pick. His knee problems hurt his stock but I know of teams that didn't think it was that much of an issue. The problem isn't if he can play, it's how long his career will be because of degenerative arthritis. Still, he is a highly productive player with top skills and will help the Bucs early.
Mason Foster is an instinctive linebacker who should be able to play Mike or Will in the Bucs defensive scheme. Luke Stocker is a consistent all around tight end. He is a solid blocker and a good receiver. Don't be surprised if he is a starter by his second year in the league. If Ahmad Black was a little taller and faster he might have been a second round pick. He is one of the most instinctive and productive safeties in the draft. He doesn't have the measurables, but he is one heck of a player. Allen Bradford lacks top speed and explosiveness but he is a powerful and instinctive inside runner who can be a valuable backup. Anthony Gaitor is a small corner who plays small but he has quickness and shows some man cover skills. He would be best utilized as a nickel corner but he will have to prove he can play on special teams. Daniel Hardy is a converted wide receiver who lacks the size, bulk and power to be a blocker at the next level. He has to be an H-Back type. He has had durability concerns in college and if that carries over to the pros he will have no chance to stick.