May 20, 2011 -
Greg Gabriel
Draft Analysis: NFC West
Going into the draft, many of the draftniks felt San Francisco and Arizona would draft quarterbacks with their first-round picks. They instead did the right thing and didn't overdraft one of the quarterbacks and took players that have a chance to start and be solid players right from the get go. Here is a look at how the NFC West drafted.
Arizona Cardinals
Arizona's biggest need was to find a quarterback. Since they didn't draft one then they must feel sure that they will land a veteran once free agency opens up. Is there already a deal in place? Time will tell.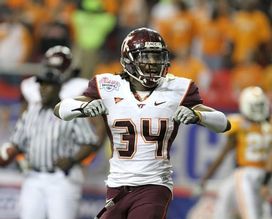 ICONRyan Williams could help boost Arizona's rushing attack.
In the first round, the Cardinals got the best corner in the draft when they selected Patrick Peterson. Not only does Peterson have great size, speed and man to man cover skills but he also has outstanding return skills. Pairing him with Dominique Rodgers-Cromartie gives Arizona a potentially great corner combo. The Cards have been unhappy with their running game and by drafting Virginia Tech's Ryan Williams they got an instinctive strong runner who can make big plays. Robert Housler was one of the most athletic tight ends in the draft. He is an instant deep threat and will be best utilized if used as a flexed tight end or H-Back. While he is a willing blocker he still needs to improve his inline blocking skills.
Sam Acho was a down defensive end at Texas and will be asked to convert to outside linebacker in their 3-4 scheme. From that position he can still use his pass rush skills. Like many smaller defensive ends who make the conversion he will need to develop his coverage skills. Anthony Sherman is a pure old-fashioned fullback who will give the Cardinals a good lead blocker and special teams player. Quan Sturdivant looked like he may be a high-round player in 2009 and then his play fell off in 2010. If he can return to his 2009 form the Cards may have gotten themselves a starting inside linebacker in the 6th round. A potential great pick!
David Carter was a one-year starter at UCLA. He has the size to be a 5 technique but he has a tendency to play tall and get neutralized. He will have to learn to play with better bend. At this time he looks more like a practice squad candidate. Demarco Sampson has size and very good hands but lacks speed. He is better versus zone coverage than man. He needs to get in and out of cuts quicker.
St. Louis Rams
In Robert Quinn, the Rams got maybe the most talented pass rusher in the draft. Because he missed all of 2010 he will be rusty. With his combination of size and speed he gives the Rams something they don't have on the defensive line. From a medical standpoint, there always has to be a concern. Quinn has a benign tumor in his brain that has been there for years, and he has played with it without problems. Still, some clubs took him off their board because of the possible risk. He will have to be monitored his whole career.
Lance Kendricks will be used as a move tight end. He lacks the size and the blocking skills to play in-line, but he has speed, hands and the ability to uncover. Injuries took a toll on the Ram receivers last year and so drafting Austin Pettis was a need pick. He is a possession receiver with size and hands. He plays faster than he times and because of his size can create mismatches. The Rams came back in the fourth round and took another big receiver in Greg Salas of Hawaii. Salas is similar to Pettis and extremely tough with great hands.
The Rams turned to defense for their remaining four picks. Safety Jermale Hines is a tough run support box safety. He has great size (6-1 and 219 pounds) but marginal speed (4.64) and can struggle in deep coverage. Corner Mikail Baker has only been a defensive back for two years. Many teams had him as a free agent and he comes with durability concerns. Jabara Williams is an interesting pick. He lacks good bulk (6-2 and 226 pounds) but has the frame to get bigger and has speed and body control. He played inside linebacker in college but will have to move outside for the Rams. He will have to make his mark on special teams while he develops but has a chance to become a player. Jonathan Nelson has experience at both corner and safety. His size says corner but his skill set says safety. He flashes talent but has inconsistent production. He may need a year on the practice squad.
San Francisco 49ers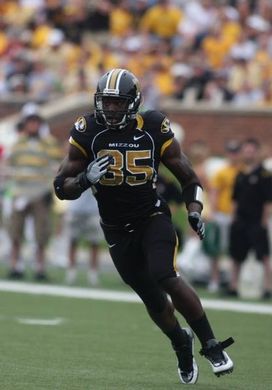 ICONAldon Smith will move to outside linebacker in San Fran's 3-4 scheme.
First pick defensive end Aldon Smith will be used at outside linebacker in the 49ers 3-4 scheme. Though he played down in college he is very athletic with good speed. The best thing he does is rush the passer. Some compare him to Dallas Cowboy star DeMarcus Ware. He has similar size, athletic ability and pass rush skills to Ware when he came out of Troy State. If he performs anywhere close to the way Ware has performed it will be a great pick. Second-round pick Colin Kaepernick is a risky choice. Obviously head coach Jim Harbaugh, who is a very good developer of quarterbacks, likes him. But he needs a lot of work to be ready to play in the NFL. He played in a spread offense and only had to read one side of the field. He is very athletic and has a strong arm but his accuracy and ball placement are very average. Harbaugh is going to have to adjust his offense to fit Kaepernick's skills.
San Francisco had a huge need at corner and didn't address the issue until the third round when they took Chris Culliver from South Carolina. Culliver has great size and can run. While he shows better than average cover skills, he is inconsistent versus the run and is not a strong tackler. He has had shoulder problems and did not lift at the combine. Kendall Hunter has to be a situational back. Though tough and competitive he is only 5-7 and 200 pounds. He is a good receiver and could replace Brian Westbrook as their rotational back with Frank Gore. Daniel Kilgore played tackle last year in college but will have to move inside for the 49ers. He is a strong tough guy with some versatility. Ron Johnson is a tall receiver with some speed but plays more like a possession receiver. He averaged less than 11 yards per catch in 2010. He needs to work on his concentration because he drops a lot of catchable balls. Safety Colin Jones lacks speed and is best as a run defender, he may need time on the practice squad. Bruce Miller is an undersized defensive end who will move to outside linebacker. He has a good pass rush skills to go along with a strong competitive nature. Mike Person is another college tackle who projects inside to guard. He may lack the size and strength to play now and may need a year on the practice squad. Corner Curtis Holcomb is a developmental player.
Seattle Seahawks
Seattle had to upgrade its offensive line and the team's first two picks were both O-linemen. The surprise was taking James Carpenter with their first pick over Gabe Carimi and Derek Sherrod, both of whom were the next two tackles taken by Chicago and Green Bay respectively. Carpenter kept getting better during his senior season and had a strong Senior Bowl week but in my opinion he wasn't in the same class as Carimi or Sherrod. Third-round pick John Moffitt is a tough overachiever who can run block but he is a bit limited as an athlete. Still, he has eventual starter potential.
Seattle had two picks in the fourth round. With the first they took outside linebacker K.J. Wright of Mississippi State. Wright was a three-year starter an d has size, strength, athleticism and good speed. He is a consistent player versus both the run and pass and showed some pass rush skills in college. Receiver Kris Durham got a chance to shine at Georgia when A.J. Green was suspended. He is a big (6-5) possession receiver who will create mismatches because of his height. Corner Richard Sherman is an extremely tall corner (6-2) who will need to develop his footwork and play with better bend. He has talent but is raw. Some scouts I talked to had Mark LeGree as a free agent. He has size and speed but is not a big hitter and some question his instincts. Byron Maxwell is another big corner with speed. He has press man cover skills but can struggle in off and zone. He has flashed good special teams potential. Lazarius Livingston and Malcom Smith are developmental types.