July 27, 2010 -
Greg Gabriel
Examining Notre Dame
Practice for the upcoming season begins in a few weeks for Notre Dame, and the way I see it, things are looking up in South Bend.
The biggest change, of course, is the hiring of new head coach Brian Kelly. Kelly has been a winner at his three previous stops as a head coach, having great success at Grand Valley State, Central Michigan and Cincinnati. Look for more of the same at Notre Dame.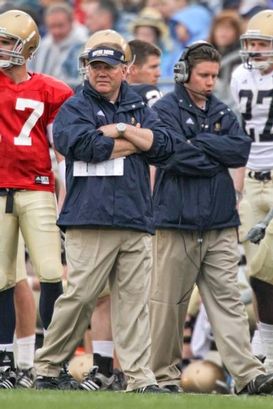 ICONBrian Kelly has brought his spread offense to South Bend.
Kelly will run a spread offense in South Bend — unlike the pro-style system that former coach Charlie Weis ran. It will be interesting to see how the players adapt to the new scheme.
The offense has many returning starters and players with a lot of quality playing time. However, the position of most importance — quarterback — has virtually no experience. Dayne Crist was a highly recruited player coming out of high school, but he is coming off of a knee injury that has yet to be truly tested. It was thought that he would miss spring practice, but he was able to participate and that should help his development.
There is no experience behind Crist, however. The backups are Nate Montana (son of Joe), a non-scholarship player who ended up playing at a JC last year to get game experience, early enrollee Tommy Rees and another freshman, Andrew Hendrix, from Cincinnati.
The line has strength inside. Senior Chris Stewart, who has a chance to be a high draft choice, starts at one guard. The other guard spot is occupied by junior Trevor Robinson. The center will either be sophomore Braxston Cave or Dan Wenger. Wenger has started numerous games in the past. The tackles are inexperienced but were highly recruited — redshirt freshman Zach Martin and junior Taylor Dever. It is an inexperienced group behind them, however. It would not be a surprise if Robinson is moved to tackle and redshirt freshman Chris Watt is moved to guard.
There are some intriguing players at the skill positions. There may not be a bell cow at running back, but there is a group of four that is very talented. Armando Allen, Robert Hughes, Jonas Gray and Cierre Wood all bring a little something different to the table. Allen and Wood are the big-play types.
The tight end position is very strong. Junior Kyle Rudolph is one of the better tight ends in the country, and he has a solid backup in Mike Ragone.
The wide receiver corps is also full of talent. Junior Michael Floyd, like Rudolph, is one of the best in the country and a true playmaker. The other two starters will come from a group of five. True freshman and early enrollee Tai-ler Jones had an outstanding spring. The others are Duval Kamara, Shaquelle Evans, former RB Theo Riddick and sophomore Roby Toma. There is an abundance of size and speed in this highly recruited group — with the exception of Toma, who looks like a pure slot receiver.
The defense will be switching to a 3-4 scheme under Bob Diaco from the 4-3 that former coordinator Jon Tenuta ran. That may seem like a big change, but most of the juniors and seniors on the defense were recruited to play in a 3-4 scheme.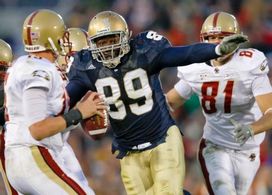 ICONDE Kapron Lewis-Moore
The defensive line has size and talent led by juniors Ethan Johnson and Kapron Lewis-Moore at end. Senior Ian Williams lines up at the nose tackle position. Both Johnson and Lewis-Moore can be solid pass rushers.
At inside linebacker there is a future star in sophomore Manti Te'o. The other inside linebacker will either be sophomore Carlo Calbrese or junior Anthony McDonald. The outside linebackers are senior Brian Smith on one side and either Kerry Neal or Darius Fleming on the other. Fleming has the most talent as an edge pass rusher
In the secondary, there could be a three-way battle for the starting corner jobs between Darrin Walls, Gary Gray and Robert Blanton. All have started games during their career. The safety position has talent but not as much experience. Senior Harrison Smith has been a starter at both linebacker and safety during his career. The other safety should be junior Jamoris Slaughter. At this point, the Irish seem to lack a pure ball hawk.
Overall, this will be an interesting team to watch. The media is not expecting much, but with their schedule, nine wins is possible if they stay injury free. Things are certainly looking up at the Golden Dome.
Ready for fantasy football? Click here to purchase the Total Access Pass/ Draft Guide from the NFP.