October 07, 2011 -
Greg Gabriel
Five candidates for NFL head coaching jobs in 2012
Yes, I know the season is only four games old, but reality is if this year is like most others, there may be about five or six head coaching jobs available for 2012. With that in mind, here is a list of five coaches who I feel has what it takes to be a head coach in the NFL. Some of these names will be obvious to you and others may be a surprise.
Gregg Williams – New Orleans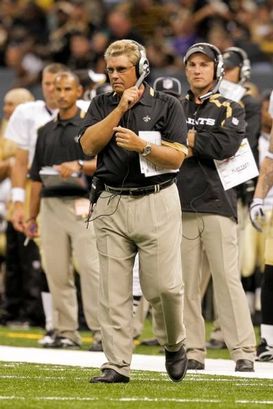 ICONGregg Williams was the head coach of the Bills from 2001 through 2003.
In baseball, basketball and hockey you see a lot of recycling of head coaches but for some reason you don't see it that often in the NFL. It's almost like you get one chance and if it doesn't work out, you're done. I can't say I agree with that theory mainly because if a coach had rough time on his first try, he may have learned why it went wrong and how to do it better. Gregg Williams was the head coach in Buffalo from 2001 through 2003. His record was only 17-31, but was it his fault? I say no, mainly because Williams has had so much success since he left Buffalo. Back in the early 1990's, the Cleveland Browns hired a young defensive coordinator by the name of Bill Belichick, and it didn't work out. But Belichick got his second chance in New England and has become one of the great head coaches of all time! I'm not saying that if Williams is given a second chance it will turn out like Belichick's, but I do know that he is an outstanding, innovative coach whom players respond to. Since leaving Buffalo, Williams has had the opportunity to work with Joe Gibbs and Sean Payton and those experiences have had to make him a better coach.
Dave Toub – Chicago
Some of you will look at this name and say "but he's only a special teams coach." Yes, that's true, but he is one of the best special teams coaches in all of football and has been for the last eight years. Before Toub went to Chicago he was the assistant special teams coach in Philadelphia under a coach by the name of John Harbaugh. Harbaugh has gone from being a special teams coordinator to one of the better head coaches in the league. So there is precedent in the league for that type of advancement. Also, it must be pointed out that there is a Hall of Fame coach named Marv Levy who was a top special teams coach before becoming a head coach.
During the period that Toub has been the Bears special teams coordinator there have been numerous rule changes designed to limit what can be done on teams, yet Toub's units are consistently ranked near or at the top in the league. Under his guidance, Devin Hester has become the top return man of all time with 15 returns for touchdowns in less than six full seasons. Sure, Hester is a gifted return man, but Toub's schemes may have a little to do with it.
Perry Fewell – New York Giants
Fewell will be one of the "hot" names for a head coaching position after this season. He has already had numerous head coaching interviews and like Ron Rivera the last few years, has been the bridesmaid too many times. Fewell has been a coordinator in Buffalo and New York and done an excellent job at both stops. He is highly respected by his players, fellow coaches and front office people. As a coordinator he runs an aggressive scheme which I like, and has done a great job adjusting to overcome injuries to key players. While in Buffalo he was named "interim" head coach for the last few games of the 2009 season and the Bills played their best football of that season under his leadership. There is not a doubt in my mind that Fewell will be an excellent head coach in the league.
Greg Olson – Tampa Bay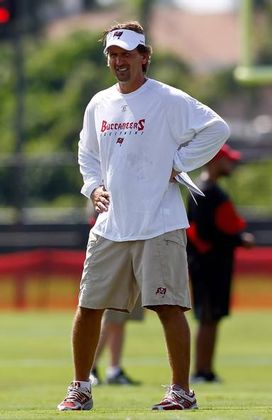 Greg Olson has served as Bucs offensive coordinator the past three seasons.
This is Olson's 11th year in the NFL and 6th year as a coordinator. He has been Tampa Bay's coordinator the last three years and under his guidance we have seen the development of quarterback Josh Freeman, running back LaGarrette Blount and receiver Mike Williams. He runs a balanced but high-powered offense that is capable of putting a lot of points on the board. Like the other coaches on this list, Olson is highly respected by players, coaches and front office personnel. Having worked with Olson for a couple years in Chicago, I know how he pays attention to detail, is an excellent motivator and works well with young players. Don't be surprised when you see this name on a number of head coaching short lists after this season.
Todd Bowles – Miami
Bowles is the assistant head coach and secondary coach for the Miami Dolphins and has been there for four seasons. In 2009 with a very young group, his pass defense was ranked 8th in the NFL. Before he was with Miami, he worked as the secondary coach in Dallas under Bill Parcells. Enough said! The Parcells tree has produced many top coaches in the NFL. Granted, with the season Miami is having, it's not real good for Bowles' resume, but you could say the same thing three years ago when Raheem Morris took over in Tampa Bay. Some coaches have what it takes, and Bowles is one of those coaches. Part of the reason for this is Bowles spent eight years as a player in the NFL and was a leader both on and off the field. He knows and understands today's NFL player.
Though he has never been a coordinator, Bowles has interviewed for head coaching jobs on at least three occasions in the past and by all reports has interviewed well. There are currently head coaches in the league who have never been NFL coordinators, so to say that is a prerequisite is wrong. The first name that comes to mind is Andy Reid in Philly. Tampa Bay coach Raheem Morris and Tennessee coach Mike Munchak also never held an NFL coordinator position and though they haven't been head coaches for an extended period, they have had success. Bowles may join that group.