March 13, 2012 -
Greg Gabriel
Free agency thoughts
By the time you read this Free Agency will have already started and I'm sure some big names will have already changed teams. As I wait for what I'm sure will be a crazy next few days I have gathered some thoughts on some of the popular topics of the last few weeks. My thinking is not in sync with much of the conventional wisdom we hear on The NFL Network and ESPN.
Peyton Manning
I for one feel Manning is one of the top 5 all-time quarterbacks. There are few that have the football character and work ethic of Manning. In saying that, I'm not sold that Manning will be able to play football again. I do believe he will sign a contract shortly and may try to play but I'm not convinced that he will be the same player we have grown to love the last 15 years. Manning has had four neck surgeries since he last stepped on the field. In the 16-18 months since his first surgery he has yet to throw the ball with the same velocity as he did before. There has to be obvious risk and he could be one hit away from a far more serious injury. Regardless, he is going to sign with someone and it we be wise for the team signing Manning to write an incentive-based contract with some injury protection. In saying that, it probably won't happen because there are too many clubs interested, which gives Manning and his agents leverage.
Kevin Boss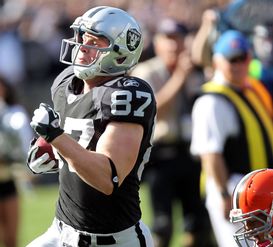 TE Kevin Boss will become an ex-Raider very soon.
The Raiders will be cutting tight end Kevin Boss today and it wouldn't surprise me if he ends up with the New York Giants. Boss was drafted by the Giants and developed by long time tight ends coach Mike Pope. He is a player the Giants didn't want to lose last year in free agency. It's a good fit for both the player and team.
Levi Brown and Eric Winston
Both Brown and Winston were informed yesterday that they will be cut. The reason being is their salaries are just too high for cap-strapped teams. Both of these players have been reliable starting tackles in the league and both are still young and far better players than many of the tackles in this draft. Expect both to be signed fairly quickly.
Are Ryan Tannehill and Brandon Weeden 1st-round picks?
Things have changed in the last few years in regards to drafting quarterbacks. Five or six years ago players like Ryan Tannehill and Brandon Weeden would have had no chance to get drafted in the first round. But today they may. I for one feel neither is worthy of a first-round pick. While Weeden is talented and has shown good accuracy and touch at Oklahoma State, he still will be 29 years old in October. I have seen tape of at least 5 games as well as watched him for 3 days at the Senior Bowl. He was average at best the week in Mobile and struggled in the game. He played in a half-field spread offense at Oklahoma State, and the transition to playing under center in a pro-style attack is huge. Most players are ending their careers at age 29 not starting one. It's just too risky a move to draft this player in the first round.
Yesterday on the NFL Network some of the analysts were talking about the possibility of Cleveland taking Tannehill with the 4th overall pick. That would be a huge mistake. I'll say this right now: Tannehill was nowhere near as good a quarterback at Texas A&M as Colt McCoy was at Texas. Tannehill has more size and speed and maybe a little better arm but that is it. While McCoy lacks size, his intangibles are far superior and is a better player than Tannehill. While Tannehill shows flashes of talent, he has also had some horrible games (Texas, Oklahoma, Oklahoma State). Because there is some upside I have no problem taking him sometime in the 2nd round. Some veteran NFL scouts have told me that they wouldn't want him until the 3rd or 4th round. The interesting thing will be if Miami does not sign a veteran quarterback and passes on Tannehill with their first pick. It will tell us all something. The Dolphins offensive coordinator is Mike Sherman, who was Tannehill's head coach at Texas A&M . Sherman knows Tannehill's strengths and weaknesses better than any scout or coach in the NFL. If he doesn't jump on the table for his own player it tells us he isn't worth a 1st-round pick.
We had a similar situation just 2 years ago. Pete Carroll had just become head coach in Seattle and they had a huge need for a safety. In the first round Carroll selected Earl Thomas, the safety from Texas over his own USC player Taylor Mays. Many of the draftniks were touting Mays because he ran so fast at the Combine. Carroll knew Mays was all hype and not really a good player. San Francisco drafted Mays in the second round and cut him after one season. Do you think Carroll knew what he was doing?