June 14, 2011 -
Greg Gabriel
Free agents who won't break the bank
Word has it that there could be an agreement on a new CBA by July 10. If that is the case, clubs will have about two weeks of free agency before the opening of training camps. While there will be players like Nnamdi Asomugha who will get a very large amount of money from either their current club or a new one, there are also some players who can be very helpful to clubs and they wouldn't cost their new team an arm and a leg to sign them. Let's take a look at a few of them.
Mewelde Moore – Pittsburgh
Moore is never going to be a number one back. He's strictly a backup, but he is a very accomplished receiver and still has the tools to be a very good 3rd down back in most offenses. He has averaged around 29 catches a year since he has been in the league and is good in pass protection. He will be 29 years old next month, so he still should have at least three solid years left.
Corey Graham - Chicago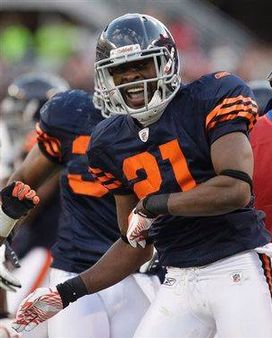 Corey Graham is a valuable 3rd corner and is a solid gunner on special teams.
Graham is an underrated player who has tools. He can be a good 3rd corner and is one of the better gunners in the league. He has been an excellent special teams player for the Bears his whole career. He has good size at 6-0 and 195 pounds and can run. When he has had the opportunity to start, he has played well. To go along with his playing ability, he has outstanding character and is great in the locker room.
Matt Light – New England
The Pats could still try and bring Light back, but they drafted Nate Solder in the first round and will want him to play. New England has a history of getting rid of players when they still have something left but not much. Light is 33 years old but he could give a team two good years to go along with solid leadership and the knowledge of how to win. He would be a great fit for a young team that needs some veteran leadership.
Jason Babin – Tennessee
Babin is an undersized defensive end who is a natural pass rusher. Because of his size (or lack there of) he cannot play in every scheme. He can be a solid situational pass rusher who will work well in a rotation. But remember, he has to be in the right defense to be effective.
Mark Clayton – St. Louis
Clayton got hurt in the 5th game last year and never really had a chance to show the Rams what kind of player he could be. In his first five years with the Ravens, he averaged 47 catches per year. He is a quicker than fast player who can run uncover versus both man and zone, has consistent hands and can get yards after the catch. He can be an excellent slot receiver.
Anthony Adams - Chicago
Adams might not come cheap. His tape is very good and he still has a lot of good football in him at 31 years old. While not tall (6-0) he is very thick with long arms. He is extremely quick off the ball and has excellent instincts. He is strong, explosive and has very good hand use. He will never be known as a pass rusher, but his play versus the run is very good. Like Graham, he is a character guy who is very good in the locker room. For a club that is looking for a natural nose tackle, this is the guy!
Note on Terrelle Pryor
I know Pryor has hired an agent and turned down the CFL, but it is not a lock that he will be playing in the NFL this season. First off, there isn't a supplemental draft as of now and even if there was, he doesn't meet the criteria that the NFL has used in the past for players to enter the supplemental draft. Pryor did not flunk out of school and he still has a year of college eligibility. He was suspended for five games this season but he still could have come back and played in the final seven games and a bowl game. He also could have transferred down to a school at a lower level of competition and played this year or just transferred to another FBS school and sit out the year.
In the past, players in the supplemental draft had lost the ability to finish their college career because of grades or other circumstances. For Pryor to be in a supplemental draft the league office would have to change their requirements. I'm not saying they won't but do they want to? That could be setting a bad precedent. Just because a player wants to play in the NFL doesn't mean the league has to let him in. Remember, the NFL was taken to court back when Mike Williams and Maurice Clarett wanted to enter the draft and won. The circumstances for Pryor are far different, but the league could make Pryor sue to get into the NFL this year.