July 30, 2010 -
Greg Gabriel
Friday's thoughts and hunches
*As many NFL teams are struggling to get all their draft choices signed, I can't help but think what a great job Bears chief negotiator Cliff Stein does. All of the Bears picks from the April draft were signed by June 1, and then supplemental draft choice Harvey Unga was signed within 10 days of being drafted.
Cliff is very proactive in negotiations. Before the Bears make a draft selection, Stein gets the player's agent on the phone and works out parameters for a deal. He tells the agent that he wants a deal done by a certain date and that he wants, in most cases (all but first-round players), a four-year deal. If the agent agrees to those parameters, then the Bears call the player and make the selection. It's been about four years in a row that Stein has had all the Bears draft choices signed way before the draftees of the other 31 teams.
*Congratulations to Kevin Colbert of the Steelers on his contract extension. Kevin is one of the best personnel men in the league. Year after year he very quietly does an outstanding job and he is very well-respected around the league. Pittsburgh did the right thing extending Kevin.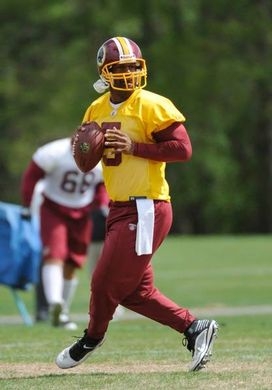 ICONWill the Eagles regret shipping out Donovan McNabb?
*Before the season is five games old, the Eagles will find out that Kevin Kolb is not the QB they think he is. They will regret trading Donovan McNabb and will be in the market for a QB next offseason.
*The teams that HAVE to win this year:
NFC: Chicago, Tampa Bay, New York Giants, Philadelphia and San Francisco.
AFC: Oakland, San Diego, Jacksonville, Cleveland and Cincinnati.
*Some mid-round rookies who will play early and contribute:
DC Jerome Murphy in St. Louis
DC Myron Lewis in Tampa Bay
DS Morgan Burnett in Green Bay
DT Earl Mitchell in Houston
WR Jacoby Ford in Oakland
DC Alterraun Verner in Tennessee
LB Rod Muckelroy in Cincinnati
*With USC being hit with a huge punishment by the NCAA, UCLA will become the dominant college team in Los Angeles. It won't be long before they challenge for the Pac-10 championship on a yearly basis. They will also land the recruits that they have lost to USC the last 10 years.
*I would like to see TCU land in a BCS football conference. Gary Patterson is one of the top college coaches in the country. He has built a consistently strong program. It would be nice to see them end up in the Big 12 replacing Colorado or Nebraska.
*Utah going to the Pac-10 is going to help both the school and the conference.
*Some college teams that have to win in 2010:
ACC: Maryland and Clemson
SEC: South Carolina and Georgia
Big 12: Texas A&M and Oklahoma St
Pac-10: Arizona and Arizona St.
*Finally, don't count me as member of the 'T.O. has turned it around' club. He has been a distraction at almost every stop in his career and will continue to be. How does a guy who just agreed to a contract miss his flight to join his new team?
Ready for fantasy football? Click here to purchase the 2010 Total Access Pass/Draft Guide from the NFP.