August 19, 2010 -
Greg Gabriel
Golden Dome report
Every week at the National Football Post, Greg Gabriel will deliver the Golden Dome report — a discussion of the latest news and happenings around Notre Dame football.
As Notre Dame gets ready for its season opener against Purdue, there have been some subtle changes to the depth chart.
On defense, there is a good battle going on for the starting linebacker spots. Two jobs seem secure. Sophomore Manti Te'o is a lock at one of the inside linebacker spots. Te'o, a highly regarded recruit from Hawaii, may be the best defensive player on the roster. He has all the tools to be a star. At the other inside linebacker spot, there is a battle between junior Anthony McDonald and sophomore Carlo Calabrese. Expect both to get playing time early in the season until one establishes himself as the sure starter.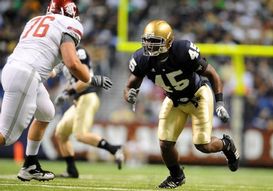 ICONDarius Fleming will start at one of the OLB spots for the Irish.
Darius Fleming seems set at one of the outside linebacker spots, but there is a three-way competition going on for the starting job on the other side. Senior Brian Smith, who has been a solid starter in the past, is battling fellow senior Kerry Neal and junior Steve Filer. At this point in camp, a clear-cut winner has not emerged.
There have been no changes on the starting defensive line. Juniors Ethan Johnson and Kapron Lewis-Moore are the ends and senior Ian Williams is at nose tackle. That is a strong group. The depth is good with junior Sean Cwyner, senior Erneka Nwankwo and sophomore Tyler Stockton. Freshman Louis Nix has had his moments, but at 350 pounds he may have to shed some weight. Still, he is a very talented prospect.
There are no changes in the secondary, but while the talent is strong there are not a lot of numbers. With freshman E.J. Banks leaving the team because of academic issues, there are only four scholarship corners, so the Irish really can't afford any injuries in the secondary.
On offense, Dayne Crist is the solid but inexperienced quarterback, backed up by freshman Tommy Rees and junior Nate Montana. The Irish do not plan on signing a QB in the upcoming recruiting class, so they hope to redshirt the other two freshman QBs, Andrew Hendrix and Luke Massa.
Armando Allen will be the starting running back. Sophomore Cierre Wood has had a strong camp and will most likely be the primary backup. The other two RBs who will get playing time are Jonas Gray and Robert Hughes.</p>
The line is pretty much set, but there still is some competition going on. Senior Dan Wenger and junior Braxton Cave are in a battle for the center position. Also, redshirt freshman Chris Watt has looked so good that they are playing him at multiple positions in order to get him on the field.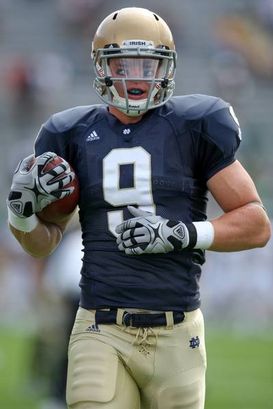 ICONStar TE Kyle Rudolph.
At tight end, Kyle Rudolph has missed a lot of practice time with a hamstring injury, and primary backup Mike Ragone was overcome by heat and has not done much the last four days. That has helped the development of redshirt freshman Tyler Eifert; he has looked good filling in for Rudolph and Ragone.
The coaches felt that they had a strong group of receivers and they do. There are six players competing for playing time. Michael Floyd is the star of the group. Former running back Theo Riddick will be in the slot. Four players are engulfed in a strong competition for the other job. They are freshman T.J. Jones, senior Duval Kamara, sophomore Shaquille Evans and junior John Goodman. There is both size and speed in this group — with a lot of big-play potential.
Things are looking up for the Irish, but they have a tough early season schedule with Purdue, Michigan, Michigan State, Stanford and Boston College. Like most teams, staying injury-free will be a determining factor in how well they do.
Click here to purchase the Total Access Pass / Fantasy Draft Guide from the NFP and receive a free Deuce Brand watch while supplies last.