September 23, 2010 -
Greg Gabriel
Golden Dome report
Notre Dame has started the season a disappointing 1–2. To many alumni and subway alumni this is unacceptable. Reality is this team is better than last year's team, but it doesn't have the top talent to challenge elite schools yet.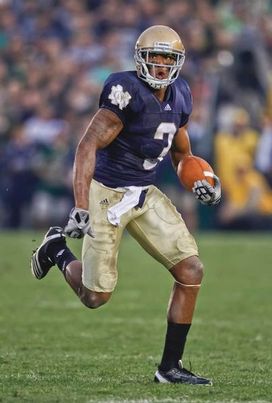 ICONWR Michael Floyd is a potential first-round draft pick.
In this year's senior class there are no players rated to go in the first three rounds of next April's draft. The junior class has two potential first-round players in wide receiver Michael Floyd and tight end Kyle Rudolph. The overall talent just isn't there yet. The one thing that is very noticeable when watching Notre Dame is team speed and overall depth especially on defense. Their perimeter players have average speed at best. Their lack of depth on defense also stands out. Elite schools play many of their two-deep players on defense every game. Starters usually play about 60 percent of the plays with their backups playing 40 percent. This does two things: it develops young players and keeps the starters fresh. Last week in the Michigan State game, most of the defensive starters played the entire game. This shows in the fourth quarter when the starters just don't have the energy to make as many plays as they would like.
Let's look at the good news. This Notre Dame team plays hard. There is no lack of hustle. They have an outstanding coaching staff that gets the most out of each player. If a player isn't giving all he has…he sits.
With a new coaching staff, starting out slow is not unusual. The fans just need a little patience. Looking at some of the top programs over the last decade I found this:
Alabama
Nick Saban took over Alabama in 2007. The year before, Alabama finished with a 6-7 record. In Saban's first year, the Tide only went 7–6 with an invite to the Independence Bowl. Saban was able to weed out the players who didn't fit and in 2008 they went 12–2. Last year, they of course had an undefeated season and won the national championship.
LSU
Before Alabama, Saban was at LSU. His first year in Baton Rouge was 2000. The year before, LSU went 3–8. In his first year, LSU finished with an 8–4 record. The record improved to 10-3 in 2001, but they slipped to 8–5 in 2003. They finally broke out in 2004 with a 13–1 season.
USC
In 2000 USC had a 5–7 record and Paul Hackett was replaced by Pete Carroll. Carroll's first year was not spectacular. The finished with a 6–6 record, but the following year USC was 11–2 and in Carroll's third season in Troy they won 12 games.
Suffice to say, it takes a couple of years to build a solid program. But if built properly, it leads to consistent winning.
There is one common denominator in the USC, LSU and Alabama programs. Each year they have top recruiting classes. They recruit elite athletes and then develop them. The position they play in high school isn't necessarily the position they play in college. They have great success with this formula. From the looks of things that is just what Notre Dame is doing with the upcoming recruiting class.
Stanford week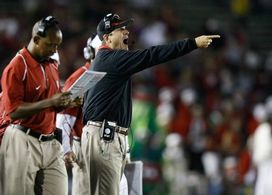 ICONStanford head coach Jim Harbaugh
Notre Dame has another tough game this week facing 16th-ranked Stanford. Stanford's quarterback Andrew Luck may be the best NFL quarterback prospect in the nation. He has all the tools. He's big (6-4, 230), athletic and runs well. From a technical viewpoint he can set up quickly, sees the field, has a quick release and is very accurate.
Jim Harbaugh has done a great job turning Stanford's program around. In his first season (2007), Stanford only won 4 games but they have improved every year. They were 8-5 last year and are currently 3–0. As a scout, before Harbaugh took over, I was leery of Stanford players. Too many failed when they got to the NFL level. The mentality of the Stanford player has drastically changed since Harbaugh has been the coach. I used to question the toughness and passion of some of their players, how important was football to them. But not anymore. Stanford is one tough, physical football team. Many NFL teams have Harbaugh on their short list of prospective head coaches. If Stanford keeps winning, don't be surprised if Harbaugh joins his brother John on an NFL sideline in the next few years.
Click here to win cash today playing fantasy football with the NFP and FanDuel.