November 26, 2010 -
Greg Gabriel
Golden Dome report
A little more than two weeks ago, things did not look good for the Notre Dame football program. The Irish were coming off consecutive losses to Navy and Tulsa and it looked like a bowl appearance was a pipe dream.
How things have changed.
The Irish easily beat No. 5 Utah and followed that up with a convincing win in New York City against Army. Going into the Utah game, Notre Dame had to win two of their last three games in order to become bowl eligible. That goal has been accomplished and now the goal is to win their last three and put an end to the 9-game losing streak Notre Dame has suffered at the hands of USC. The last time the Irish beat USC was 2001 when Bob Davie was head coach.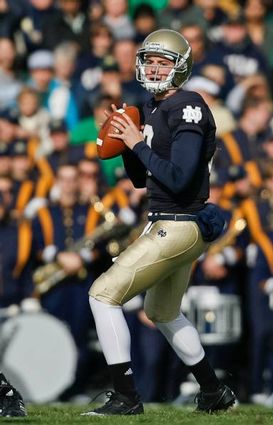 ICONTommy Rees looks to lead Notre Dame over USC.
Despite all the key injuries Notre Dame has suffered this year they have played remarkably well the last few weeks. With freshman Tommy Rees at quarterback they have been a little more conservative but also more effective on offense. The ground game has been as strong as it has been all season. The defense has been very consistent. Where they struggled versus the option in the Navy game, they shut it down against Army. The pass rush has improved and they have created turnovers. Along with Rees, Cierre Wood, Roby Toma and Tyler Eifert are all young players that have come up big in the last few weeks.
This year's USC team is not as strong as they have been in the past but they still have a very good offense led by quarterback Matt Barkley, who has thrown for over 2,500 yards and 25 TDs. Their run game is also strong with Marc Tyler and Allen Bradford. USC had been playing very well until last week when they were destroyed by Oregon State 36–7 in Corvallis.
Recruiting took another hit this week when Justice Hayes, a running back/slot receiver, backed out of his commitment and decided to accept a scholarship from Michigan. Notre Dame has plenty of prospects to fill Hayes' role so it may not be a big loss. Players such as Amir Carlisle, Savon Huggins and Cam McDaniel all have traits similar to Hayes. Carlisle is wavering on his commitment to Stanford and McDaniel is a player who has come on strong this year and could receive an offer from Notre Dame at any time.
In other news, kicker David Ruffer has been named as a finalist for the Lou Groza award as the country's best kicker. Ruffer has been excellent, kicking 20 field goals in a row. He is a good but not a top NFL prospect. While he has great accuracy with his kicks, his kickoffs are not consistently strong. Special teams coaches look for distance and hang time when they rate college kickers on kickoffs. Ruffer needs to improve in both those areas.
The weekend
Thanksgiving weekend is always one of the best weekends in the college football season because it's rivalry weekend.
By the time you read this you will already know that Texas A&M beat Texas. When I was a young scout I went to that game five years in a row and I will say that no matter what the teams' records are, that is one intense football game. On top of that, you can't beat the atmosphere surrounding the game. It's college football at its best.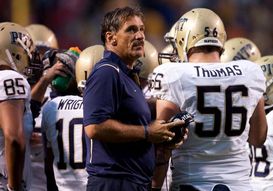 ICONCan Dave Wannstedt help Pitt deliver a win over West Virginia?
Also, the Pitt-West Virginia game will be just about over and Auburn-Alabama will have just kicked off. The game with the most national significance is Alabama-Auburn. With the game in Tuscaloosa, it gives the Tide a huge advantage. Auburn has to win this game to have a chance to play in the national championship game. If Auburn and Oregon win out, they will be the two teams playing in Glendale on January 10th. If either of those schools loses a game, it opens the door for TCU or Boise St to be in the game. Many fans might not like it because they believe that neither of those two schools is deserving but the fact is THIS year they are. Of course, if Boise State loses tonight at Nevada the Broncos are out also (and deserve to be).
By Saturday night or maybe Sunday morning we will know who will represent the Big Ten in the BCS. If Ohio State, Michigan State and Wisconsin all win there will be a three-way tie at the top of the Big Ten standings. If that is the case, the team with the highest BCS ranking gets the nod. Right now, that team is Wisconsin. If Ohio State loses to Michigan and Wisconsin and Michigan State both win then Michigan State wins the conference title based on its win against Wisconsin. If Michigan State loses and Ohio State and Wisconsin both win then Wisconsin gets the BCS nod based on its win against Ohio State. The last scenario is if Wisconsin loses and Ohio State and Michigan State win. If that's the case then it reverts back to whoever has the highest BCS ranking because Ohio State and Michigan State didn't play each other this year.
If Oregon beats Arizona or Oregon State they wrap up the Pac-10 title. Oregon's worry is staying undefeated. They win both games and they are a lock for the BSC title game. If they lose either game it opens the door for other teams.