October 29, 2010 -
Greg Gabriel
Golden Dome report
Before we talk about Notre Dame football on the field, the staff at National Football Post sends their thoughts and prayers to the family and friends of Notre Dame student Declan Sullivan, who died Wednesday in a horrible accident while taping football practice. Sullivan was taping from a hydraulic scissors lift in high winds when the accident occurred. According to reports, the wind gusts toppled over the scissors lift, crashing through a fence before it hit the ground. Sullivan died a short time later in a South Bend Hospital. Both the Notre Dame administration and the Indiana Occupational Safety and Health Administration are investigating the accident.
This week
Notre Dame faces 4-3 Tulsa this Saturday in South Bend. The Irish are coming off a 35-17 pounding at the hands of Navy. Not only did they lose the game, but they also lost starting nose tackle Ian Williams with an MCL injury. He may not be ready to play again until the USC game in late November. He will be replaced by Sean Cwyner. Cwyner has received a lot of playing time to date in a rotation with Williams. Hafis Williams moves over from end to play in the rotation with Cwyner. Williams was really out of place at defensive end; he has a prototypical nose tackle body at 6-1 and 300 pounds.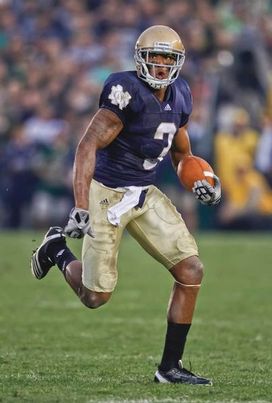 ICONMichael Floyd's return would provide the ND offense with a much-needed boost.
On the offensive side of the ball, junior receiver Michael Floyd looks like he will be able to play in Saturday's game. He was held out of the Navy game with a hamstring injury. With Kyle Rudolph already out for the season, Floyd is Notre Dame's best playmaker and the offense suffers when he is not in the game.
Just about the only good news for the Irish in last week's game was the play of freshman quarterback Tommy Rees. He replaced Dayne Crist in the second half and completed 6 of 7 passes for 79 yards. Notre Dame needs a reliable backup QB if Crist gets injured. Their two best young prospects at the position are both being redshirted this year so good play from Rees is encouraging.
Recruiting
The 2011 recruiting class took a hit when linebacker/defensive end Clay Burton decommitted earlier in the week to commit to Florida. This was not a total surprise because Burton's older brother, Trey, is on the Florida team. This makes two players from Florida that have decommitted in the last two weeks. Offensive tackle Jordan Preswood decommitted last week but Notre Dame is still in the picture with him. At the defensive end/outside linebacker position the Irish are still strong with Ishaq Williams from New York, Christian French from Cedar Rapids, Iowa and Brennan Scarlett from Portland, Oregon.
College weekend
As there are every week, there are some interesting college games this weekend. The Stanford at Washington game at first glance doesn't look very good but if your favorite NFL team needs a quarterback this game has two of the best in college football.
Stanford's Andrew Luck, though an underclassman, may be the most ready NFL QB in the country right now. He is very poised, a strong leader and has great instincts to go along with a good arm and great accuracy. Plus, he plays in a pro-style system. Washington's Jake Locker is not having the year he was hoping to have but he is very athletic, can make plays with his feet, has a very strong arm and is also a top leader. What hurts Locker is his supporting cast is not anywhere near what Luck has at Stanford. If Luck decides to come out, these two may be the first two quarterbacks taken in next April's draft.
Auburn at Ole Miss
Gene Chizik took over Auburn less than two years ago and in that time he has taken Auburn from also-ran status in the SEC to one of the top programs in the country. In 2009, Auburn went 8-5 including an Outback Bowl win against Northwestern. It was the first time in school history that a new coach led his team to a bowl game in his first year as coach. This year they are ranked 1st in the in the current BCS standings and ranked 3rd by both the AP and USA Today polls.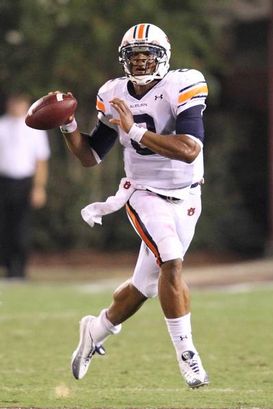 ICONCam Newton can beat you with his arm and his legs.
On offense, Auburn is led by quarterback Cam Newton, who is making a strong bid for the Heisman Trophy. The 6-6, 250-pound athlete started out at Florida and then transferred to Blinn Junior College where he led the team to the 2009 Junior College National Championship. Newton so far this year has run for 1,161 yards and 14 TDs while passing for 1,364 yards and 13 TDs. His completion percentage is 65 percent. With his size and athleticism he is unlike any QB prospect we have seen in years. Though a junior, this is his fourth year in college so he can come out early if he desires but it would be in his best interest to stay in school because he has only this year as a starter at the major college level.
On defense, junior defensive tackle Nick Fairley is the big playmaker. In just 8 games he already has 17 tackles for loss, which is 2nd in the country. The 6-5, 300-pound athlete has an explosive first step.
Oregon at USC
Oregon is playing some of the best football in the country right now. Currently ranked 1st by USA Today and the AP, the Ducks are 2nd in the BCS poll. If they want to be in the National Championship game, they have to beat USC in Los Angeles. Though undermanned by suspensions and transfers USC has also been playing good football and has a strong offense. They are led by sophomore quarterback Matt Barkley, who has already thrown for 20 TDs this year.
Michigan State at Iowa
Fifth-ranked Michigan State can all but wrap up the Big Ten title with a win at Iowa. Michigan State only has Minnesota, Purdue and Penn State after the Iowa contest. By the luck of the Big Ten schedule draw the Spartans don't play Ohio State this year. Iowa has a very solid and well-coached team but the Hawkeyes proved last week that they can be beaten in Iowa City.