October 15, 2010 -
Greg Gabriel
Golden Dome report
When you're sitting at 3-3, you can't call any game a sure thing. But Notre Dame plays probably the weakest team on its schedule this week when 2–3 Western Michigan visits South Bend Saturday afternoon.
The Irish will be without star tight end Kyle Rudolph for the rest of the season. He will undergo surgery on his injured hamstring shortly. There are some who feel that he may have played his last game at Notre Dame. I'm not so sure that is the best idea for him. There is no question that Rudolph is very talented and could be a high draft choice in next April's NFL draft, but the fact remains that this is the second year in a row that Rudolph's season has been cut short by injury. In 2009 he missed the last three games after undergoing shoulder surgery.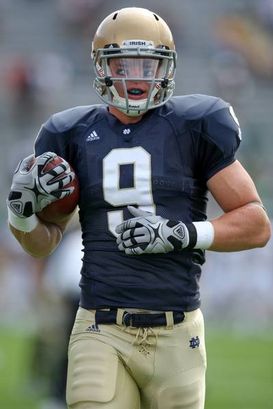 ICONWill Kyle Rudolph return to Notre Dame in 2011?
His durability or lack thereof will come into play with all NFL teams. The "experts" and player agents will all tell him and his family that he will be a high first-round pick. On talent alone they are right, but the injury issue now comes into play. The rehab from his surgery is said to be 4–6 months. That means at the earliest he would be ready for the combine and the latest right before the draft. That's if everything goes well.
The facts are this: if he decides to come out, he should be prepared to spend a lot of time in MRI machines while at the combine. The team doctors will examine his shoulder and hamstring thoroughly. If they find that the shoulder and hamstring are not in good working order then his draft stock could drop dramatically. I will say that some teams could say he's fine while others could find a risk. It's all on how they look at it.
The case for going back to Notre Dame right now is this: if he plays the year injury and symptom free then teams will be more apt to throw out the injury risk concern. It's a tough decision for a kid and his family to make. I would advise them to talk to people with no agenda, that way they are going to get fair opinions.
As far as the health of the rest of the Notre Dame team, running back Armando Allen will be a game-time decision with a hip flexor strain. Right tackle Taylor Dever will miss his second straight game with a hamstring and be replaced by Matt Romine.
Recruiting
On the recruiting front, offensive lineman Jordan Prestwood from Plant City, Florida decommited earlier this week and will visit Florida and Florida State. The Irish are still not out of the picture with Prestwood — he just wants to make sure he is making the right decision. Head coach Brian Kelly made an interesting statement this week, saying that nothing is final in recruiting until a prospect signs a letter of intent. A commitment means nothing more than that school is in the lead for the prospect's services. With that being said, Notre Dame recently offered tackle Nick Martin a scholarship. Martin is the younger brother of starting left tackle Zach Martin and has been committed to Kentucky for some time. Notre Dame's offer means that the younger Martin may be interested in looking at other schools.
Notre Dame only has three or four more scholarships available in this recruiting class and with the possible loss of Prestwood they need a couple more offensive linemen in this class. There are two defensive line commits that could end up playing on the offensive line. They are Tony Springmann from Fort Wayne, Indiana and Brad Carrico from Dublin, Ohio. Both have experience as offensive tackles. If Notre Dame gets commitments from two other defensive players that they are highly recruiting that could very well happen. The two players are Ishaq Williams, a defensive end from New York, and Christian French, an outside linebacker/defensive end from Iowa. Both are outstanding athletes and have been offered by some of the top programs in the country.
The Big Ten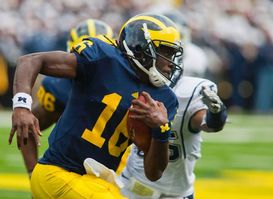 ICONCan Denard Robinson rebound from the loss to Michigan State?
It's a big weekend in the Big Ten. Iowa is at Michigan and Ohio State visits Wisconsin.
Michigan hopes to rebound from its loss to Michigan State. This has the makings of a great game. If Michigan quarterback Denard Robinson is truly a Heisman Trophy candidate then he has to come up big tomorrow against an Iowa team that is deep and extremely well coached.
Wisconsin figures to be the toughest game to date for Ohio State, and Madison is not an easy place to play. Terrelle Pryor is having an outstanding year for the Buckeyes. He has come a long way in the last two years. When he was starting as a freshman, he was just an athlete with a strong arm but little accuracy or touch. He has made dramatic improvement but still has a long way to go. While studying tape on him earlier this week, I noticed how he throws to his left a very high percentage of the time. When he does throw to his right he doesn't look comfortable doing so. He does not have a smooth delivery, he seems to push or aim the ball. While his accuracy has gotten better, his ball placement is just average. There are many times when his receivers have to wait for the pass or make a big adjustment to make the catch. Also, Pryor reads just half the field; you seldom see him try and read the whole field.
I know that Pryor has received a lot of positive press this year but I hope for his sake he doesn't get caught up in the reviews and decide to leave Ohio State early. He is NOT ready to play quarterback in the NFL. He needs another year of perfecting his skills. He is a great athlete and does a very good job running Ohio State's spread offense but the Big Ten is not the NFL. Tennessee Titans quarterback Vince Young is a similar athlete and ran a similar offense while at Texas. We all know how he struggled his first few years in Tennessee. The more snaps Pryor takes at Ohio State, the better his chances to succeed in the NFL.
Want to work in the NFL? Click here to register for the NFP's "Chalk Talk" session on October 22nd in Chicago.