November 19, 2010 -
Greg Gabriel
Golden Dome report
The Irish have a "home" game this week versus Army at the new Yankee Stadium. It will be the first football game ever played at the ball park. In recent years, Notre Dame has taken a "home" game to historic venues around the country each season.
The Irish are coming off a 28–3 win against then-15th ranked Utah last week in South Bend. It was the first time in four years that Notre Dame beat a ranked team. It was also the best and most complete game Notre Dame has played all year.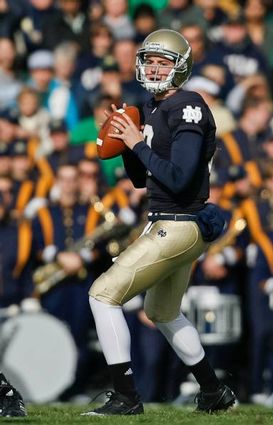 ICONTommy Rees has taken over for Dayne Crist as the Notre Dame starting QB.
Some of the bright spots in the win were quarterback Tommy Rees and running back Cierre Wood. The true freshman Rees won his first start and though his stats weren't that great, he played a very impressive game. He was very poised throughout and came up with some big plays. He only completed 13 of 20 passes for 129 yards but he also threw three touchdown passes and more important did not turn the ball over.
Wood, who has been a bit of a disappointment, played his best game with 19 carries for 71 yards and also caught 2 passes for 25 yards. The part of his game that doesn't show up in the stat sheet but does when tape is graded was his pass blocking. He did a much better job in protection than he has in the past. He was much more physical.
The defense came up big also, holding a potent Utah offense to only 265 yards of total offense. They also forced 2 turnovers.
Army cannot be taken lightly. The Black Knights have already won 6 games this year, making them bowl eligible for the first time since 1996 — also the last year Army had a winning record The Irish have traditionally had trouble with option teams and that's what Army runs. They are ranked 8th in rushing, averaging 273 yards per game on the ground. We already saw what Navy did to Notre Dame with a similar offense. This game is very important to the Irish program because a win makes them bowl eligible with just USC still to play.
Because this is a "home" game, Notre Dame will have some recruits attending. The most important recruits attending are defensive end Ishaq Williams, who is from Brooklyn, and running back Savon Huggins from Jersey City. Williams is a 4-star player and a perfect fit for Notre Dame's defensive scheme. He has also been offered by some of the best programs in the country, including Penn State, USC, Florida and Ohio State. Huggins is being recruited by many of the same schools. He would be an impact player for Notre Dame but there are many who feel he is a lock to go to Rutgers.
The college weekend
Of the ranked teams, Alabama got things started last night with its blowout win against Georgia State. This is Georgia State's first year of football and though they have a winning record against FCS competition they are just a good practice for Alabama. This game was their tune up for Auburn.
Tonight, Boise State plays at home versus Fresno State. Since Pat Hill has been coach at Fresno the Bulldogs have been a very consistent program and have beaten many schools from top conferences over the years. With a 6-4 record this is a formidable foe for Boise State. After Fresno, the Broncos have just 18th-ranked Nevada left on their schedule. Boise has to beat Nevada and hope that either Alabama beats Auburn or either Arizona or Oregon State beats Oregon to have a chance at playing in the national championship game.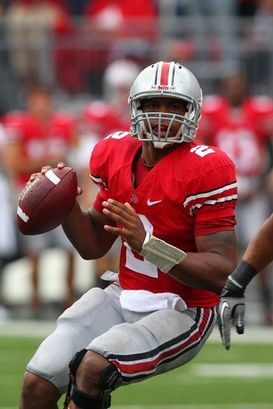 ICONQB Terrelle Pryor and the Buckeyes have a date with the Hawkeyes in Iowa City.
The title is still up for grabs in the Big Ten. Michigan State, Wisconsin and Ohio State are all tied with 5-1 conference records. Michigan State still plays Purdue and Penn State, Wisconsin has Michigan and Northwestern and Ohio State plays Iowa and Michigan. It's possible that all three finish with 7-1 conference records. If that is the case, the team that is highest in the BCS rankings will get the automatic Rose Bowl/BCS bid. At this point of the season we don't know who that would be because too many variables are involved.
In the ACC there are two important games between the No. 1 and No. 2 schools in each of their respective divisions.
Virginia Tech, which has come on in the last few weeks after a rough start, can clinch the Coastal division with a win at Miami. Miami needs the win to have any chance of getting to the conference championship game.
In the Atlantic division, Florida State is at Maryland. If Maryland wins tomorrow and next week vs North Carolina State the Terps are in the conference championship game. Maryland is the surprise team in the ACC. Most had them written off before the season but they have played extremely well and it was announced yesterday that head coach Ralph Friedgen will be back next year.
It may be a down year for the Big East as a whole but there are two meaningful games being played tomorrow. UConn plays at Syracuse. Syracuse needs a win and hope for Pitt to lose two out of their last three games for the Orange to win the Big East title. Not enough has been said about the remarkable job Doug Marrone has done at Syracuse. Last year he took over a team that had not had a winning season since 2004. They looked more like an FCS team than the FBS team. This year they are 7–3 and going to a bowl. From a talent viewpoint they are still undermanned but their coaching staff does a remarkable job. Congratulations!
Pitt plays at South Florida and needs to win two out of their last three to win the title. Next week they host traditional rival West Virginia and then close out their season at Cincinnati.
Finally, as a followup to last week, Penn trounced Harvard 34–14 to clinch at least a tie for the Ivy title. They play at Cornell tomorrow and a win or a Yale loss to Harvard gives Penn their second straight outright Ivy championship.