October 22, 2010 -
Greg Gabriel
Golden Dome report
Notre Dame travels to New Jersey this week to meet Navy at the New Meadowlands Stadium. This is the first of two games Notre Dame plays this year in the New York metropolitan area. The Irish play Army at the new Yankee Stadium on November 20.
The Irish, who already are without tight end Kyle Rudolph, may be without wide receiver Michael Floyd. Floyd has a nagging hamstring pull but he did participate in a little bit of practice on Thursday. It will be a game-time decision as to whether or not he plays. Slot receiver Theo Riddick, who is a New Jersey native, will also miss the game with a severely sprained ankle. He could miss a couple more weeks. On the defensive side, safety Jamoris Slaughter is questionable with a high ankle sprain and heel bruise but he did practice Thursday and looked much better.
If Floyd can't go, Duval Kumara will get the start. Kumara is a New Jersey native and was very productive early in his career. He looked like he may develop into a top receiver but then leveled off. He did not play in two of the last four games. Being this is a homecoming for Kumara (he grew up right down the road in Hoboken), I look for him to play with great effort.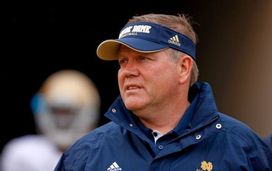 ICONNotre Dame head coach Brian Kelly
Future schedules
On Wednesday, Notre Dame released its 2011 and 2012 football schedules. In 2011 the team plays six homes games and a 7th against Maryland, listed as a home game but to be played at Fed Ex Field in Maryland. They open with a new opponent in South Florida. South Florida is coached by Skip Holtz, who is a former Notre Dame assistant and the son of Lou Holtz. The other "new" opponent to the schedule is Wake Forest. I can't remember the last time Notre Dame played Wake Forest and I covered Notre Dame as a scout for 27 years. The schedule:
Sept. 3 – South Florida
Sept.10 – at Michigan
Sept. 17 -- Michigan State
Sept. 29 – at Pitt
Oct. 1 – at Purdue
Oct. 8 – Air Force
Oct. 22 – USC
Oct. 29 – Navy
Nov. 5 – at Wake Forest
Nov. 12 – Maryland (Fed Ex Field)
Nov. 19 – Boston College
Nov. 20 – at Stanford
The 2012 schedule will be a real challenge with games against Miami, Oklahoma, BYU, USC and Stanford as well as their traditional Big Ten opponents Michigan, Michigan State and Purdue. The 2012 schedule:
Sept. 1 – Navy (Dublin, Ireland)
Sept. 8 – Purdue
Sept. 15 – at Michigan State
Sept. 22 – Michigan
Oct. 6 – Miami (Soldier Field)
Oct. 13 – Stanford
Oct. 29 – BYU
Oct. 27 – at Oklahoma
Nov. 3 – Pitt
Nov. 10 – at Boston College
Nov. 17 – Wake Forest
Nov. 24 – at USC
The weekend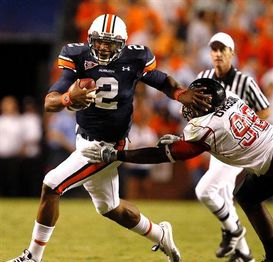 Auburn QB Cam Newton
In college football there are four games between ranked teams this weekend. They are LSU at Auburn, Wisconsin at Iowa, Nebraska at Oklahoma State and Oklahoma at Missouri.
With Wisconsin beating Ohio State last week, it's an open race in the Big Ten. Michigan State is the frontrunner but the Spartans have two very difficult road games left. They travel to Iowa next week and to Penn State on Nov. 27. If Iowa can get by Wisconsin this week and Michigan State next week it's the Hawkeyes' title to lose.
LSU and Auburn both have strong teams but with the game at Auburn they have to be favored. I have been to many SEC games over the years and the home-field advantage is huge.
If Nebraska has hopes to get to the Big 12 title game they have to win at Oklahoma State. It won't be easy. Oklahoma State is the surprise team in the conference with a 6–0 record and is averaging just about 50 points per game. I like the Cowboys to win at home.
NFL
In my eyes there are four meaningful games in the NFL this weekend. The biggest is Sunday night when Minnesota travels to Green Bay. Both teams have been a bit of a disappointment so far this year. The Vikings have won two of their last three and may be starting to get in gear. Green Bay has been hurt by injuries probably more than any other club. I like the Vikings.
The New York Giants visit Dallas on Monday. The Giants started slow but ever since the Sunday night game when they beat up on the Bears they have looked unstoppable. Dallas just can't get untracked. The Cowboys are the big disappointment of the season to date. Owner Jerry Jones was hoping his team could have a home-field advantage in the Super Bowl; now if they lose this week their playoff hopes are all but over. With their backs against the wall Dallas will pull out a close one.</p>
New England is at San Diego. The Chargers are another disappointing team, and they are beating themselves more than getting beat by their opponents. This is a must-win game for the Chargers and I feel that with a win they may be able to gather some momentum for the second half of the season.
The other big game as I see it is Pittsburgh at Miami. People thought the Steelers may struggle without quarterback Ben Roethlisberger for the first four games. But that wasn't the case going 3-1. Now with this being Roethlisberger's 3rd week of practice and second game the Steelers just might be moving into high gear.
Miami has had a strange season. The Dolphins have won all three road games and lost their two games at home. It looks like it may be 0-3 come Sunday night.