September 16, 2010 -
Greg Gabriel
Golden Dome report
Michigan steals win in South Bend
In last week's game against Michigan, Notre Dame started quickly, scoring on its first drive. But quarterback Dayne Crist injured his eye and did not play the remainder of the first half. That changed the complexion of the game.
Without Crist, the Irish offense came to a halt. They went from an attacking, quick-strike offense to a conservative, ball-control offense. With freshman Tommy Reese at QB for two series they failed to move the ball. Reese threw an interception on his first pass and was replaced by Nate Montana. Montana also looked timid in his first few series but did settle down and was able to move the ball a little bit. However, he did not put any points on the board. The problem was that neither was ready to play in a big-time college game like this. Last year at this time Reese was at Lake Forest High School and Montana was a backup at a junior college.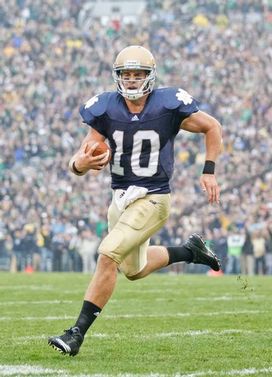 ICONNotre Dame needs QB Dayne Crist to stay healthy for a full season.
Crist returned to start the second half and ignited a Notre Dame rally. The Irish were able to score 17 points in the second half but came up short, losing 28-24. I have no problem saying that had he played the whole game, Notre Dame would have won. Crist is a very talented player with NFL potential. He has all the tools. He's big (6-4, 235 pounds), runs well with good body control and has a strong arm. He has a presence about himself. He seems very confident on the field and has some natural leadership ability.
It is obvious that if Notre Dame is going to do anything this year they have to have Crist. The inexperience of the backup quarterbacks will be too much for the Irish to overcome. Notre Dame has two other freshman quarterbacks, but head coach Brian Kelly wants to redshirt them. He may have to rethink that idea if Crist gets hurt again and has to miss significant time.
On the defensive side of the ball, the Irish had a difficult time with Michigan quarterback Denard Robinson. I have been scouting college football for almost 30 years and I can honestly say that Robinson had one of the greatest individual performances I have ever seen. He passed for 244 yards and a TD and rushed for 258 yards and 2 TDs. He is a special college player. It remains to be seen if that special talent translates into NFL potential.
When Wolverines head coach Rich Rodriguez was at West Virginia he had a similar player in Pat White. White did not possess the great athleticism that Robinson has but he could throw the ball better. White was a high draft choice for Miami (second round) but is out of the league after only one season. Robinson has an NFL future but I don't know at this time if it's at quarterback. He lacks NFL quarterback size at 6-feet and 185 pounds, but he is a remarkable athlete. Rodriguez was on the hot seat going into this season and Robinson is going to save his job.
Notre Dame recruiting
The Michigan game was a big recruiting weekend for Notre Dame. At least four highly recruited players attended the game. They were twin brothers Josh and George Atkinson, safety Wayne Lyons and defensive end Stephan Tuitt. Also, Notre Dame commits Jalen Brown and Brad Carrico made their official visits for the weekend. Tuitt, who is from Georgia, is a four-star player and is being recruited by schools such as Georgia Tech, Georgia, Auburn and Florida. Lyons, also a four-star, is from South Florida and is being recruited by Florida, UCLA, Tennessee and Michigan. Tuitt did not commit during the visit, but after going home and thinking about his choices, he decided to commit to Notre Dame on Wednesday.
The Atkinson brothers are the sons of former Oakland Raiders great George Atkinson. Their visit went so well they committed before they returned to California. Josh will play corner for Notre Dame and George will be a wide receiver. Notre Dame beat out schools such as USC, Oregon and UCLA for the Atkinson brothers.
This brings the total commits for next year's class to 19. Originally, Notre Dame had 20 scholarships to give but with the recent transfers of Derek Roback and Shaq Evans it is now believed that 22 scholarships are available. With three left, the Irish would still like to land a safety, wide receiver and another offensive lineman. That being said, there are a couple of commits who could play either offensive or defensive line in this class, so it could end up being another defensive lineman.
Next up: Michigan State
The Irish go on the road for the first time this season when they visit Michigan State Saturday night. The defense has to play better. Michigan had a 9-minute time of possession advantage over Notre Dame and had a total of 532 yards last Saturday. Michigan State does not have anyone like Denard Robinson but they have a balanced attack. Their ground game is led by sophomore Edwin Baker and freshman Le'Veon Bell. The two have rushed for almost 500 yards and averaged over 9 yards per carry in their first two games. Quarterback Kirk Cousins has passed for over 320 yards and completed 58% of his passes. As has been the case in the past, this will be a very physical game. Along with the defense, Crist has to stay healthy for Notre Dame to have a chance.
Click here to win cash today playing fantasy football with the NFP and FanDuel.