December 03, 2010 -
Greg Gabriel
Golden Dome report
The way things were going, many thought it would be impossible for Notre Dame to win its last three games and go to a postseason bowl. But impossible things have a way of happening in sports and now it looks like Notre Dame could face Maryland in the Champs Sports Bowl. There is an outside chance that the Irish could get an invitation to the Holiday Bowl. By Sunday evening, the details on whatever bowl game they go to will be worked out.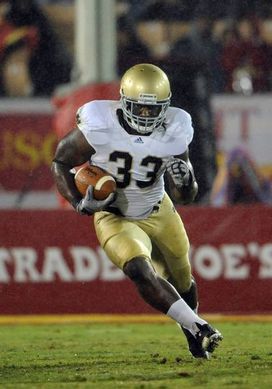 ICONRobert Hughes scored on a 5-yard run that helped lead the Irish to a win over USC.
Last week at USC, Notre Dame played probably its most physical game of the season in winning 20–16. Playing a good part of the game in a steady rain, the Irish held USC to 261 yards in total offense. The offense played a consistent ball control game but the highlight was a 7-play, 63-yard drive that ended with a 5-yard touchdown run by Robert Hughes that gave the Irish a 4-point lead with 2:23 left in the game. Hughes had 4 carries for 36 yards on that drive and ran with an attitude. He is one of a bunch of reserve players that came on strong the last third of the season. Others included defensive tackle Sean Cwynar, wide receiver Roby Toma and wide receiver Duval Kamara.
The three-game winning streak has had a positive effect on recruiting. The last month all we heard about was players de-committing. This week, Notre Dame has picked up commitments from two star offensive players. The first is quarterback Everett Golson from Myrtle Beach, South Carolina. Golson had been a commit to North Carolina but had a change of mind after a strong visit to Notre Dame. Depending on what recruiting service you look at, Golson is either a 3-star or 4-star player. The other commit is running back Cam McDaniel from Coppell, Texas in the Dallas/Fort Worth area. McDaniel is a 3- star recruit and after looking at his stats I wonder what it takes to be a 4-star player in the state of Texas. He has run for over 1800 yards and 31 touchdowns this season and his team is still playing in the state playoffs.
In other recruiting news, The Irish have set up visits for two other top recruits. Offensive tackle Troy Niklas from Anaheim, Ca. will visit in January. His final three schools are USC, Notre Dame and Stanford. Also, defensive end Ishaq Williams from Brooklyn, N.Y. will be visiting next week. If Notre Dame can keep the current momentum going they may end up with a top 10 recruiting class.
The weekend
This is conference championship week, and there are some great games on tap for Saturday. The marquee game is the SEC Championship game in Atlanta. Auburn faces South Carolina, and on paper it looks like an easy Auburn win but don't count South Carolina out. Auburn beat South Carolina back in September 35-27, but that game was at Auburn. South Carolina has played well the last 3 weeks, averaging almost 45 points per game in beating Florida, Clemson and Troy. After last week's come-from-behind win at Alabama, you can never count Auburn out. It should be an outstanding game. If Auburn wins they will be in the national championship game.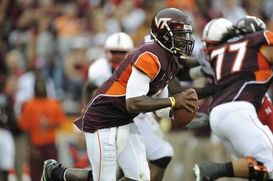 ICONCan Tyrod Taylor help deliver Virginia Tech another ACC title?
In the ACC Championship game, Virginia Tech plays Florida State in Charlotte, North Carolina. Both teams have played well of late, with Florida State on a three-game winning streak. The highlight of that streak was last week's 31-7 win over Florida.
Virginia Tech is looking like the team we all thought they would be back in August. They have won ten in a row and seem to get stronger every week. The winner gets a BCS bowl bid.
The Big 12 Championship game in Dallas is probably the most evenly matched game. Both teams are 10-2 and both lost to Texas A&M. At this point of the season I feel Oklahoma is the better team. Just like in the ACC Championship game the winner goes to a BCS bowl game but will not make it to the national championship game.
The Pac-10 does not have a championship game but Oregon still has to travel to Corvallis to play arch rival Oregon State. If the Ducks win they play for the national championship, but beating Oregon State is not a sure thing. Like Auburn-Alabama and Texas-Texas A&M, this is a bitter rivalry. Oregon State has beaten Oregon two of the last three times Oregon came to Corvallis.
Since the SEC Championship game and the Oregon-Oregon State game are playing just about opposite from one another, we should know who plays in the national championship game by 8:00 p.m. ET. If either Oregon or Auburn loses, then TCU will play in the final. I will get arguments from my friend Brown Chicken but I think that would be great for college football.