September 07, 2010 -
Greg Gabriel
Golden Dome report
Notre Dame's win against Purdue was a great start for new head coach Brian Kelly. There was a lot to like in the game. I thought the way the offense ran Kelly's fast-paced offense was impressive. With the offense getting plays off so quickly, it is difficult for the defense to make situational substitutions. This can create mismatches. In most cases, the defense has to play a nickel or dime package. This helps the run game, especially when you have open-field runners like Armando Allen and Cierre Wood. Get players like them in the open field and they are going to make something happen.
Notre Dame has two outstanding receivers in wideout Michael Floyd and tight end Kyle Rudolph. Two others, sophomore Theo Riddick and freshman T.J. Jones, are just learning the college game. Riddick was a running back as a freshman and is new at the receiver position. Jones caught a TD pass in his first game. Both of these players played well but will be much better as they gain experience.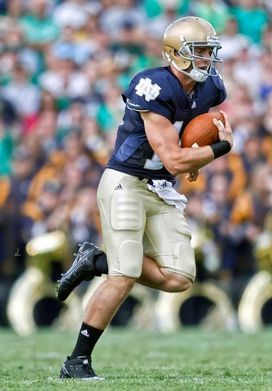 ICONDayne Crist is fully recovered from his ACL injury.
Dayne Crist had a good first start at quarterback. When you factor in that he is barely nine months removed from ACL surgery, you have to be impressed. He moved around very well. There were a few plays when he had to scramble, and he did so without hesitation while showing good run skills. While he completed 19 of 26, I thought his accuracy was average. His ball placement has to improve so his receivers can have a chance to make things happen after the catch. The good news was he didn't force throws or turn the ball over.
The defense played well. Bob Diaco's 3-4 scheme is new to many of these players, but they adapted well. This was not the same Purdue offense we have seen in past years. With new quarterback Robert Marve, the Boilermakers try to get to the perimeter. Many of his throws were from rollouts and he uses his athleticism to make plays with his feet. He had success.
The thing Notre Dame is missing on defense is great team speed. They have some guys who can run but the overall speed of the defense is average. You see Kelly trying to address this with his recruiting. The players he is recruiting seem to be longer, more athletic type players. Despite their lack of top defensive speed, they play and pursue hard. On top of that they are a very good tackling team.
This week the Irish play a much improved Michigan team. It's a big recruiting weekend with numerous big-name recruits in attendance who have not yet made their college choice. So a win is imperative. There are many who thought that Connecticut would get the best of Michigan last week. But sophomore quarterback Denard Robinson was a one-man wrecking crew for the Wolverines. I haven't seen a college quarterback who could run like him since Mike Vick was at Virginia Tech. Robinson ran for 197 yards and passed for 186 yards and a touchdown. Notre Dame has to find a way to keep him in the pocket and not let him break contain and get to the open field.
LSU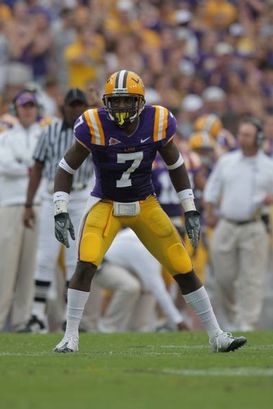 ICONCB Patrick Peterson had 257 total return yards against North Carolina.
The most exciting thing in last Saturday's LSU–North Carolina game was watching cornerback/return man Patrick Peterson return kicks. Peterson had 257 total return yards in the game, including an 87-yard punt return for a TD. His kick return ability was similar to Devin Hester's as a rookie. Much like Hester, the junior Peterson will have an instant impact for the NFL team that drafts him when he decides to come out.
North Carolina
According to numerous sources, if North Carolina assistant John Blake had not resigned or been fired then head coach Butch Davis' job may have been in jeopardy. There are many who feel that Blake had a part in the happenings that caused the NCAA investigation into the Carolina football program. Blake's resignation is a big loss for UNC. He is known as one of the better recruiters in college football.
Boise State and TCU
Both Boise State and TCU won their opening games this year, with both schools beating ranked teams. TCU beat 24th-ranked Oregon State in Dallas and Boise State beat a highly touted 10th-ranked Virginia Tech team at FedEx Field. In the recruiting rankings, both Boise State and TCU don't belong on the same field with the Oregon State's and Virginia Tech's of the world. But recruiting rankings don't win college games, coaching does. Both TCU and Boise State have two of the best coaching staffs in the country. Congratulations to both teams!
Click here to purchase the Total Access Pass/Fantasy Draft Guide from the NFP.