October 08, 2010 -
Greg Gabriel
Golden Dome report
Notre Dame goes into this week's game against Pittsburgh with a disappointing 2-3 record, but the Irish have a chance to turn things around over the next few weeks. After Pitt, the team plays Western Michigan, Navy and Tulsa.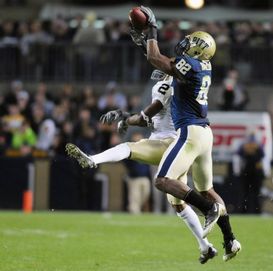 ICONWR Jon Baldwin has not had the impact on the Pitt offense this year many had anticipated.
Pitt comes in with a disappointing 2-2 record. The Panthers have had some injuries that have had a huge effect on their team. Their leading defensive player, end Greg Romeus, has not played since the opener because of back surgery. Sophomore running back Dion Lewis, who ran for almost 1,800 yards last year, has a bad shoulder and has run for only 143 yards so far in 2010. He missed last week's game. In addition, junior wide receiver Jon Baldwin, who is one of the premier receivers in the country, has only 15 catches in 4 games and has not dominated the way people thought he would. The Panthers won big last week with a 44–17 victory over Florida International, so they are just starting to put things together.
The Irish may not be at full strength. They had some injuries along the offensive line last week with three starters banged up. Center Braxton Cave has an ankle, guard Chris Stewart a contusion and right tackle Taylor Dever has a hamstring. At this time it looks like Cave and Stewart will play but it's 50/50 with Dever. If he can't go then either Andrew Nuss or Matt Romine will be the starter. Also on the injury front, senior center Dan Wenger, who suffered two concussions during training camp, has been ruled out for the rest of the season. Wenger has started 19 games over his career. It remains to be seen if he will be eligible for a 6th year.
Health-wise, the defense is in fairly good shape.
Other college games
Week 6 of the college season has some games which could have major implications on conference races. One of the biggest is Michigan State at Michigan. Michigan, one of the big surprises of the season, is 5–0 and led by quarterback Denard Robinson, who just may be the most exciting player in college football this year. Michigan State, also 5–0, is a very solid all-around team. The Spartans did a great job defeating Wisconsin last week 34–24 in a game without head coach Mark Dantonio. Dantonio will be back this week, but he will be coaching from the press box.
The way Michigan State has played while Dantonio recuperated could turn into a big boost for offensive coordinator Don Treadwell's career. Any school looking for a coach after this season should have Treadwell on their short list. He did an outstanding job running the team during Dantonio's absence.
Some other big games are Alabama at South Carolina, Arkansas vs. Texas A&M at Cowboys Stadium, LSU at Florida and Florida State at Miami. It will be interesting to see how Arkansas quarterback Ryan Mallett plays after that mediocre 2nd half performance against Alabama.
The NFL
First quarter awards
After four weeks, the surprise team is the Kansas City Chiefs. They are the only undefeated team left in the NFL. If they awarded a first quarter coach of the year surely it would have to be K.C. head coach Todd Haley. He and his staff have done an outstanding job getting their team ready.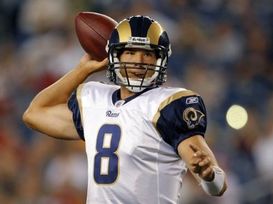 ICONRams rookie QB Sam Bradford
My first quarter rookie of the year is Rams quarterback Sam Bradford. The Rams have won two in a row and Bradford has thrown for 944 yard and 6 TDs. He seems to improve every week.
The quarter pole MVP has to be Green Bay linebacker Clay Matthews. He has dominated from his outside linebacker position. He leads the league with 7 sacks and every week offenses have to account for where he is.
Interesting games
One of the interesting games this week is Tennessee at Dallas. The Cowboys started slowly, losing their first two games before rebounding with a very strong win at Houston. Tennessee has to be a disappointment at 2-2. The Titans' once powerful run game has been average this year and Dallas can be tough to run against.
The Monday night game with Minnesota at the Jets promises to be good. Randy Moss makes his Vikings debut against a Jets defense that always seems to play him tough. The New York defense is one of the strongest in the league. Mark Sanchez has played excellent ball the last three games after a very average opening game.
Finally, Philadelphia visits San Francisco. The 49ers have a disappointing 0-4 record. They were the team that most thought would run away with the NFC West. They have outstanding young talent but have underachieved and have already replaced their offensive coordinator. The Eagles will be playing without Michael Vick, giving Kevin Kolb a chance to play the way Andy Reid thought he could when he traded Donovan McNabb to the Redskins.
Want to work in the NFL? Click here to register for the NFP's "Chalk Talk" session on October 22nd in Chicago.