November 05, 2010 -
Greg Gabriel
Golden Dome report
Notre Dame has a much-needed bye week this weekend. The Irish need the open week to get ready for Utah, Army and USC. ND has to win two of those three for a chance to play in a bowl game.
If they can get the needed two wins, they are going to have to do it with true freshman quarterback Tommy Rees under center. A year ago, Rees was quarterbacking Lake Forest High School against the likes of Libertyville High and now he has to beat Utah and USC. When starter Dayne Crist went down with a knee injury in the first quarter last week, Rees came in and completed 33 of 54 for 334 yards, 4 touchdowns and 3 interceptions. The last interception was on a play that should never have been called.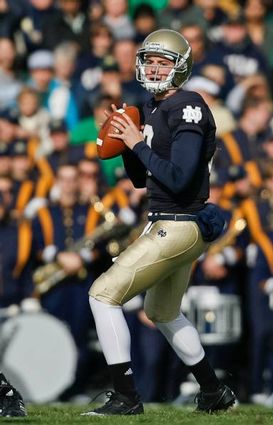 ICONNotre Dame QB Tommy Rees takes over for the injured Dayne Crist.
Notre Dame had a 2nd and 8 from the Tulsa 19 with less than a minute left. All they needed was a field goal to win and their kicker (David Ruffer) hasn't missed a field goal attempt all year. Instead of running the ball they threw into the end zone and it was picked. With a very inexperienced freshman playing quarterback, why do you make that call? It was a win that turned into a loss, and it may end up keeping them out of a bowl game.
Rees has come a long way since his first game experience against Michigan. In that game he had the deer in headlights look. Since then he has gotten significant playing time versus Navy and Tulsa and has looked much better. He is in much more control of his game. He lacks a big arm but he has good instincts and good movement skills to keep plays alive. He has shown good accuracy and ball placement.
The Irish offense has taken some big hits this fall. Lost for the season are Crist, tight end Kyle Rudolph, running back Armando Allen and center Dan Wenger. Allen had surgery on his hip and still may need a procedure on his other hip. That's a lot of front line players for any team to lose.
On the recruiting front, Notre Dame took another big hit early this week when four-star defensive end Aaron Lynch decommitted. He is the third recruit from the state of Florida that has reneged on his commitment in the last three weeks. A very highly recruited player, Lynch has not decided on a school other than it won't be Notre Dame. This means Notre Dame has five or six scholarships still available.
The weekend
It's unfortunate, but one of the best games in college football won't be seen by too many people this weekend.
Third-ranked TCU plays at fifth-ranked Utah, and the game will be on the CBS College Sports Network. If these two schools were in a BCS conference, the game would be nationally televised on a bigger network. The losers in this are college football fans. Many won't get a chance to see two excellent football teams. Next week, when Utah travels to Notre Dame, the nation will get a chance to see how good Utah is.
The team that is getting the shaft in the BCS poll is Boise State. If the Broncos go undefeated they deserve to play for the national championship. They are an excellent football team and one of the best-coached teams in America. It's a shame that just because they are not in an elite conference they get hurt in the polls. I can guarantee one thing: the teams ranked higher sure as hell don't want to play them.
After the TCU at Utah game, the other big game as far as the polls go is Alabama at LSU. Alabama is ranked 6th and LSU 10th. The fans in Baton Rouge will be all charged up for this one with Nick Saban back in town. They better have their fun before the game because when it's all over Alabama will be the winner.
The top two ranked teams should not have any difficulty holding onto their positions. Oregon is at home against 3-5 Washington, which will be without quarterback Jake Locker. Auburn plays FCS squad Chattanooga. Cam Newton may only get the first half to help his Heisman Trophy run.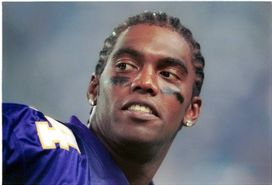 ICONOn the move to Tennessee...
In the NFL, Tennessee has a bye this week so we will have to wait a week for Randy Moss to make his debut. The Titans may be a perfect stop for Moss. Jeff Fisher is a no- nonsense type coach like Bill Belichick. It's been reported that Kenny Britt may miss 4-6 weeks, so Moss could be the perfect replacement to pick up the slack.
Speaking of Moss, how does Minnesota cut a guy three weeks after giving up a third-round draft choice for him? I guess third-round draft choices don't mean that much.
The two surprise big games this Sunday are Tampa Bay at Atlanta and Kansas City at Oakland. If you asked most experts in August I bet no one would have said that the Bucs would be 5-2 after seven games. Sunday's game is for first place in the NFC South at the halfway point.
The same can be said for Kansas City. The Chiefs are 5-2 because of the great job of Scott Pioli, Todd Haley and company. They are very consistent on both offense and defense. Right now, Oakland is playing as well as any team in the NFL. Darren McFadden is looking like the running back we thought he would be when he came out of Arkansas. The defense is playing inspired football, they are physical and coming up with big plays. These should be great games to watch.