November 12, 2010 -
Greg Gabriel
Golden Dome report
After a much-needed bye week, Notre Dame entertains Utah tomorrow. Utah, which had a great season going and was ranked in the top 5, was blitzed last week by TCU 47-7. It will be interesting to see how the Utes respond to that loss.
Notre Dame will be playing its first game without quarterback Dayne Crist, who was lost for the season against Tulsa with a knee injury. True freshman Tommy Rees gets the start at quarterback. Coach Brian Kelly wanted to redshirt freshman quarterback Andrew Hendrix, but now he has to be ready to play if something happens to Rees. Crist is the third key offensive starter with a season-ending injury after tight end Kyle Rudolph and running back Armando Allen. On top of that, receiver Michael Floyd has missed time and still may not be 100 percent. Sophomore receiver Theo Riddick has also missed a few games with an ankle injury. Needless to say, it's awfully hard to get your offense in gear when most of the key components are out, which has been the case this year with the Irish.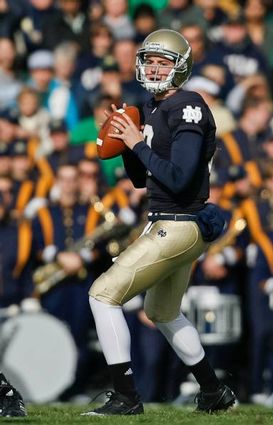 ICONTommy Rees takes over as Notre Dame's starting QB.
Notre Dame has to win two out of its last three games to have a shot at a bowl game. After Utah, Notre Dame travels to New York to meet Army and then to L.A. to face archrival USC. So to say tomorrow's game is a must win is an understatement.
In recruiting, the good news is that there were no de-commitments in the last week. The Irish will have a couple of big-time recruits at the game this week. One is quarterback Jacoby Brissett from West Palm Beach, Florida. The other is defensive end Brennan Scarlett from Portland, Oregon. After the de-commitments of Aaron Lynch and Clay Burton, Scarlett becomes a very important recruit. The Irish are competing with the likes of Oregon, USC and LSU for Scarlett.
It was thought that Notre Dame was not going to take a quarterback in this class but after Crist suffered severe knee injuries in each of the last two seasons, signing one has become more important. Brissett is also being recruited by Florida State, LSU, North Carolina and Wisconsin.
<strong>The college weekend
My personal crusade for Boise State goes on to the dismay of one of my readers. This week, the Broncos play Idaho, which should not be a problem. Boise has won 22 games in a row and 34 of their last 35. The Broncos have beaten every top 25 team they have played in the last three seasons except for a 1-point loss to TCU in the 2008 Poinsettia Bowl. All I can say is that if they finish the season unbeaten and they are not in the national championship game then something is drastically wrong with the system.
As usual, some of the best games in the country are being played down south in SEC country. Alabama, coming off its loss to LSU, entertains Mississippi State. State has its best team in years and is on a six-game winning streak. The next three games will determine what level bowl game the Bulldogs play in. After Alabama they play Arkansas and Ole Miss.
South Carolina plays at Florida with the winner claiming the SEC East. The loser will no longer be a candidate for a top bowl game.
Georgia is at Auburn. With all the publicity about quarterback Cam Newton's recruitment it will be interesting to see how Auburn plays. Because of all the rumors and innuendo surrounding Newton it looks as if he may be in next April's draft. Because this is his first year as a starter in major college football he needs another year of seasoning but he may not get that opportunity. If in fact he does come out, I have a bit of advice for him: when you get to the Combine and are going through scores of interviews make sure you tell the truth. When teams find out a player lied to them they drop the player on their value board very quickly.
Oregon, which occupies the number one spot in the nation, plays at Cal. This has been a down year for Cal so I see Oregon holding onto its top position. The Ducks still have two tough games on their schedule so it's no lock that they play in the national championship game. They host Arizona on Thanksgiving weekend and then travel to Oregon State in their season finale.
Penn FB Luke DeLuca
Finally, there is one BIG game on the east coast. Harvard plays at Penn. If Penn, which is undefeated in the Ivy League, wins this game they clinch at least a tie for their second straight Ivy League championship. One of the unsung stars of the Quakers team is Luke DeLuca, the son of one of my oldest and best friends Doug DeLuca. If any scouts have not taken a look at Luke they should — he is a tough blocking fullback and catches the ball out of the backfield fairly well. DeLuca is in his second year as a starter and was All-Ivy League in '09. His blocking in the Princeton game last week was dominant. He should be a good free agent for a team that uses a fullback.