October 01, 2010 -
Greg Gabriel
Golden Dome report
Notre Dame travels to Boston College for a Saturday night game on ABC this week. The Fighting Irish need a win badly after losing their last three games. In a schedule oddity, this will be BC's fourth straight home game. The Eagles have yet to play on the road in 2010. They opened with wins against Weber State and Kent State before being shut out last week by Virginia Tech in their ACC opener.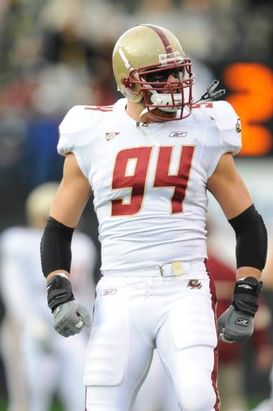 ICONMark Herzlich is back after battling a rare form of cancer in his leg.
The Irish do not know at this time who the BC quarterback will be. Dave Shinskie, who had been the starter, has been benched and either sophomore Mike Marscovetra or freshman Chase Rettig will get the call. Boston College has two interesting NFL prospects in offensive tackle Anthony Castenzo and linebacker Mark Herzlich. Castenzo plays left tackle and has the makings of a high draft choice. Herzlich missed all of 2009 with a rare form of cancer in his leg. He was thought to be a sure first-round pick before his illness. By all accounts he is playing well this year. I am looking forward to watching him play in this game.
Notre Dame hasn't made any starting lineup changes for this game. Both the offense and defense have played well in spurts but neither side of the ball has played with consistency since the opening game.
On the recruiting front, the Irish received a huge commitment earlier this week from receiver Devaris Daniels from suburban Chicago. Daniels is the son of Washington Redskins defensive end Phillip Daniels and was being recruited by some of the top programs in the country. He is a tall athlete with excellent speed. That brings the total number of commitments for next spring's recruiting class to 20. They only have a few more spots open.
Stanford at Oregon
There are some excellent games being played around the country this week with the headliner being 9th-ranked Stanford at 4th-ranked Oregon. Eugene, Ore. is a tough place to play and the stadium can get very loud. Stanford is coming off a big road win at Notre Dame and is led by quarterback Andrew Luck — who just may be the best QB in the country. He has size, is extremely poised and can make all the throws. This is the best and most physical Stanford team I have seen in years and I look for them to come away with the win.
Texas vs. Oklahoma
This game lost some of its luster when Texas was upset by UCLA last week. Still, the annual matchup brings out the best in both teams. Oklahoma is undefeated and ranked 8th but the Sooners are coming off of two very close games. They just squeaked by Air Force and Cincinnati by a combined five points. Texas may have looked past UCLA last week when the Longhorns were outplayed, so I look for them to rebound and give Oklahoma its first defeat.
Wisconsin at Michigan State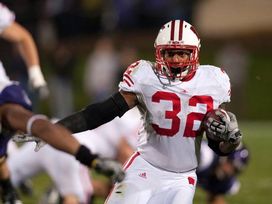 ICONWill John Clay find running room against the Spartans?
Michigan State head coach Mark Dantonio returns this week after missing the Northern Colorado game because of a mild heart attack suffered after the Notre Dame game. Dantonio will not be on the sidelines but up in the coaches booth for the contest. Though Wisconsin is ranked higher, I look for Michigan State to come out the winner. They have a solid all-around club and will do a good job keeping Wisconsin running back John Clay in check.
Florida at Alabama
Florida may be 4–0 and 7th-ranked but they are not as good as the Florida teams we have seen the last few years. With the game being played in Tuscaloosa, the Tide will win handily.
Just asking
One last thought on college football. There were reports this week in the New York Post and Dallas Morning News that TCU is being recruited by the Big East. With the Big 12 losing Nebraska and Colorado, why wouldn't the conference want to bring in TCU? To me it's a no brainer. They get a quality program and with it the Big 12 picks up the huge Dallas/Ft. Worth television market.
NFL
With the NFL entering week 4, there are four games I am looking forward to watching:
New England at Miami
Both teams are 2–1 — with their losses coming at the hands of the New York Jets. The Patriots just don't seem to be clicking on all cylinders yet. The defense has been inconsistent and some say they look slow. Last week the Patriots had a tough time with Buffalo giving up 30 points. The Dolphins are coming off a close loss to the Jets. With the game being in Miami, I can't see the Dolphins losing two in a row at home. Look for Miami to win a close one.
Baltimore at Pittsburgh
Just like the New England/Miami game, this will be a physical divisional game. Pittsburgh has been one of the surprises of the early season. Playing without suspended QB Ben Roethlisberger, they are 3–0. They are getting consistent QB play from Dennis Dixon and Charlie Batch. Dixon is still recovering from a knee injury and will not play this week. The Steelers run game has been impressive averaging about 150 yards per game.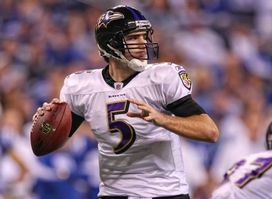 ICONRavens QB Joe Flacco has struggled thus far.
The Baltimore offense has been a disappointment so far this season. Quarterback Joe Flacco has thrown 5 interceptions and has a quarterback rating of 66. It's the defense that is playing extremely well. They are giving up less than 250 yards per game.
This will be a low-scoring game but I look for the Ravens offense to get untracked and pull an upset.
San Francisco at Atlanta
One of the big surprises of the season has been San Francisco's failure to win a game. The 49ers were the odds-on favorite to win the NFC West and now may not even make the playoffs. San Francisco has made a change at the offensive coordinator position with former quarterbacks coach Mike Johnson taking over. He plans to spread the field more this week.
Atlanta, coming off a huge overtime win at New Orleans, is on a roll. The Falcons have been consistent on both sides of the ball and I look for them to win. If that happens and the 49ers fall to 0-4, the Niners will virtually be out of the playoff race.
Chicago at New York Giants
The Bears are off to a strong start at 3–0, but they better not take the Giants lightly. This is a must game for the 1-2 Giants, and history shows that while under Tom Coughlin, the Giants have played well when their backs were to the wall. Eli Manning will have a big game but the Bears will win in a close game.
Click here to win cash today playing fantasy football with the NFP and FanDuel.