February 01, 2011 -
Greg Gabriel
Grading the Quarterbacks in the Senior Bowl
At the Senior Bowl, it is usually more important how a player practiced than how he plays in the game. Still, the game has importance — especially for the quarterbacks. Scouts and coaches want to see how the player takes what he learned during the week to the live game action. With that in mind, we will take a look at the performances of the six quarterbacks.
Greg McElroy – Alabama
McElroy played two series in the first half, but only one in the second half because he injured his thumb. There is nothing that happened in the game that will really affect where he is drafted. He followed up a strong career with a good week of practice and a solid game. He completed 5 of 8 passes for 36 yards with no touchdowns and no interceptions.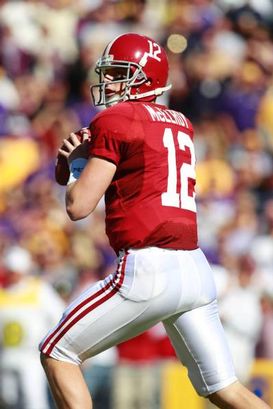 ICONGreg McElroy followed up a strong Alabama career with a good showing during Senior Bowl week.
McElroy does not have an outstanding trait other than he is a consistent winner. He is an average athlete with an average arm but he has very good instincts and is a very good leader. He is accurate on his throws and shows good timing. In the game he showed very good pocket awareness. He has a good feel for pass rushers and does a nice job stepping up in the pocket. The timing on his throws is good and his ball placement and accuracy is also above average. If he goes to the right team, he will end up being a starter in a few years and be a winning quarterback in the NFL.
Andy Dalton – TCU
Like McElroy, Dalton got banged up a little and played sparingly in the second half. Because of the offense he played in at TCU there will be a bit of a learning curve for Dalton. Still, he did a good job playing from under center taking snaps and setting up. This is an athletic guy with good run skills. He has an above average arm and is accurate. Like McElroy, he is a winner and a strong leader.
With the way they rotated the quarterbacks during the game, Dalton didn't get his first opportunity to play until the final minute of the first half. With his injury early in the second half he really didn't get much of an opportunity. He finished completing 3 of 7 passes for 22 yards with two drops. In that limited view he made some nice throws, most notably on a comeback and on a play when he was rolling left. Dalton has good feet and a good feel for pass rushers, showing above average ability to avoid rushers and step up in the pocket. He will probably be a mid-round pick that becomes an eventual starter and winning quarterback in the league.
Christian Ponder – Florida State
Ponder had a lot of questions to answer at the Senior Bowl. Scouts questioned his durability and more than a few told me that he just didn't get it done at the college level.
He had the tools but in games he didn't come up with the playmaking ability that his coaches thought he had. With that said, he had a fairly good week in Mobile. He had the strongest arm of the South quarterbacks and showed flashes of a very quick release.
In the game he completed 7 of 13 passes for 132 yards and 2 touchdowns. The two touchdown passes earned him MVP honors for the South squad.
While he came up with some big plays, I felt that his play was still a bit inconsistent. His accuracy and ball placement are just average. And he forced a few throws. He opened the game with a deep throw that was short and the receiver had to make a great adjustment to make the catch. Still he made some big plays when he had to.
This will be an interesting guy to watch over the next three months. I'm sure that between the combine, his pro day and private workouts he is going to be a very busy man.
Ricky Stanzi – Iowa
Stanzi had a strong week and followed that up with a good game. He completed 7 of 12 passes for 87 yards. Like McElroy, Stanzi doesn't have an outstanding physical trait but he wins a lot of games and has outstanding intangibles. He did as good a job as any of the quarterbacks picking up the offense. He has a strong presence on the field and is a good leader. He lacks a real strong arm but it is good enough. He shows good timing and his accuracy and ball placement are good. There was one play in the second quarter where he faced a 2nd and 25. He was heavily rushed on the play but he did a good job feeling the rush, rolled to his left and found the open man for a 27-yard gain. Plays like that make him a winner. One of the best things you can say about Stanzi is he plays within himself. He doesn't force things.
I see Stanzi as a solid mid-round pick who will watch and learn early in his career and eventually become a starter and a winning quarterback. This is a very solid prospect.
Jake Locker – Washington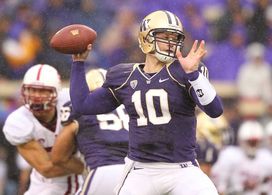 Jake Locker still needs a lot of work to reach his full potential.
Looking at how things developed during the season, Jake Locker made a mistake not coming out last year. At this time a year ago, he was looked at as a surefire first-round pick. Now it looks as if he would be lucky to get drafted in the first two rounds. He played very inconsistently this season and needed a strong week in Mobile. He didn't have it.
The one thing that stands out to me is he doesn't play with confidence. He is tentative with his reads and his timing is off. When getting ready to throw, he doesn't set his feet well and his ball often sails on him. He lacks consistent accuracy and ball placement. There were a few times in the game and during practice that he failed to hit wide open receivers.
The more I watch him the more I feel he lacks the top instincts needed to play quarterback. That is why he gets so tentative. He just doesn't trust what he sees. Still, he has talent but it's going to take a lot of work for him to reach his potential.
Colin Kaepernick – Nevada
This is an interesting guy. He is tall (6-4) but looks taller because he is so leggy. He has speed but I don't think he is an elite athlete. He has some straight line to him and is not extremely quick footed. He is a running threat because of his speed but at the same time he needs space because he lacks sudden quickness.
His arm strength is very good but he has a long delivery and doesn't get the ball out of his hand real quickly. You could see in practice that he is much more comfortable playing from the spread than under center. When playing under center his set-up quickness is only average. He takes long strides and needs to shorten them up. When he doesn't set his feet the ball sails on him. In the game he was 4 of 9 for 53 yards and an interception. He made some nice throws but was also off target on some.
Overall, this player is a real work in progress. It's going to take time and a lot of drill work to get him ready to be an NFL quarterback. Still, he has some excellent tools. I see him starting off as a third quarterback who will ascend to a two but I'm not convinced he will ever be a starter. Patience is the key with this player.
Want to work in the NFL? Click here to sign up for the NFP's "Chalk Talk at the Combine" Seminar February 25 in Indianapolis.