September 03, 2011 -
Barry Dorey
Griffin III becomes the 2011 season's first 'star'
Three years ago, I attended the Baylor-UConn game mainly because there were some interesting senior prospects playing in the game. While saying that, Baylor had a young true freshman quarterback by the name of Robert Griffin III. Griffin III had a pretty good night for a freshman, completing 14 of 25 for 298 yards and 3 touchdowns in a 31-28 loss. What was obvious to me was this was a star in the making. The one thing that stood out was his exceptional athletic ability and speed. Not only could he throw the ball well but he was a threat to make plays with his feet. When I looked at his player bio, I found out that he was in fact a track star in high school with a personal best of 13.3 in the 110 meter high hurdles and also had a run a sub-47 second 400 meters. Those are close to world-class times and he did it while in high school!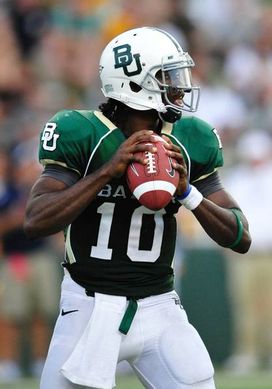 ICONRobert Griffin III starred in Baylor's win Friday night over TCU.
After that game I watched closely to see how he progressed as a player and while he made some freshman mistakes that year he played well. Big things were expected from him in '09 but he injured a knee in the third game of the season and took a medical redshirt. His play continued to improve in 2010 and he put up some big time numbers completing 304 of 454 passes for over 3,500 yards and 22 touchdowns.
Last night in a game versus TCU, Griffin III showed he is ready for prime time by completing 21 of 27 passes for 359 yards and 5 touchdowns with no interceptions. What he showed was a big arm and excellent deep ball accuracy and also the ability to put some touch on his passes. I also like the way the ball comes out of his hand.
Now I'm sure that some of the draftniks will say he put himself in position to be the No. 1 pick in next spring NFL Draft. I'm not ready to say that but I will say he has outstanding talent. It's way too early to project that far ahead; we still have to see how he plays week to week and if he leads Baylor to a big bowl game. Also, it has to be pointed out that he is a junior. While this is his 4th year in college, because he played only three games in 2009 he basically got that year back. So he is not eligible for the draft unless he decides to leave school early.
There is still a lot we don't know about Griffin III like his verified height and weight (I already know he's fast), how fast a learner he is and what kind of character he has. These questions will be answered in the coming weeks, but for now let's just say he is the first BIG STAR of the 2011 college season. That's not a bad start!