August 02, 2014 -
Greg Gabriel
Hall of Fame weekend has arrived
This year's Hall of Fame induction ceremony includes two players whom I had the privilege of evaluating when I was a young scout in the National Football League. Congratulations to Buffalo Bills wide receiver Andre Reed and New York Giants defensive end Michael Strahan.
Andre Reed
1984 was my first year as a full-time NFL scout. That season I worked as an area scout for National Football Scouting covering Michigan, Ohio and Indiana. My responsibilities also included cross-checking the northeast and one of those schools happened to be Kutztown in east central Pennsylvania.
Kutztown was not and is not a football power. They play in the Division II Pennsylvania State Athletic Conference along with such schools as Millersville, Bloomsburg and Edinboro. While that conference has produced a number of players who have gone on to have strong careers in the NFL, the conference as a whole may only have a few prospects per year. In 1984, Reed may have been the only prospect in the conference.
When I made my school visit to Kutztown, Reed's production was not what stood out. In 1984 there were no spread offenses and you didn't see a receiver get six or seven catches a game. It was more like three of four.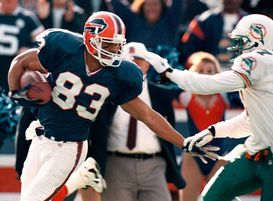 Reed finished his career with 951 receptions for 13,198 yards and 87 touchdowns.
In Reed's final year at Kutztown, the team had quarterback problems and used two different starters during the season. Neither quarterback could throw the ball downfield very far, so what you saw was Reed running a bunch of short routes like outs, slants and comebacks. What jumped out on film (yes, we were watching 16mm film back then) were Reed's hands and his run-after-catch skills.
When Reed got the ball in his hands he would quickly turn up field, at which point he looked more like a running back than a receiver. Reed had a quick burst and was a strong runner and could easily make the first man miss. What I liked about him was his competitiveness as a runner. Reed would lower his shoulder trying to break tackles and would seldom run out of bounds. In short, Reed dominated a lower level of competition and that's what a kid from a small school has to do.
The Combine that year was not in Indianapolis, but rather outdoors at Arizona State. All the drill work was done on grass and, if I recall correctly, Reed ran in the 4.53 range. Not a speedster, but fast enough. His Combine work was good, but wasn't enough to get him drafted in a premium round. Being from a Division II school and having average production got Reed drafted in the fourth round by the Buffalo Bills.
It's when Reed was in the NFL and received excellent coaching that the very talented but raw athlete began to flourish. Once he learned how to run NFL-type passing routes, Reed's athleticism and competitiveness took over. He finished his rookie season with 48 catches and four touchdowns.
It was 1986 when quarterback Jim Kelly joined the Bills that Andre Reed's career began to take off. He became Kelly's go-to receiver and was one of the top pass-catchers in the NFL during that era.
While I can honestly say that on the day I made a school visit to Kutztown in the fall of 1984, I was sure I was seeing a future NFL player and a prospect who could be a productive starter. But there is no way I thought Reed would grow into a Hall of Fame player. I'm just glad that in my first year as a scout, one of the players I evaluated went on to have such a strong career.
Michael Strahan
When I was a scout for the New York Giants, the main area I was responsible for covering was the Midwest. Twice each fall, Director of Player Personnel Tom Boisture would send me on a 10-day trip to different areas in order to cross-check players. In the fall of 1992, Tom sent me into Texas and Louisiana. One of the schools I was asked to cover was Texas Southern in Houston.
The week I was in the Houston area I made a school call to Texas Southern on a Friday and then stayed over to watch them play Grambling the following day. The game was at Rice Stadium and there was probably a crowd of approximately 45,000 people. What jumps out at me about the game was that the Texas Southern athletic department wasn't as strict as the major colleges were as far as making scouts stay in the press box. Because of that, I watched the entire game from the sidelines and had a great view of Michael Strahan on each play. The other thing that I remember most about that game was that boxer Evander Holyfield was standing next to me most of the time. Because I was a boxing fan back then, that was quite a thrill for me.
In college, Strahan jumped out at a scout on tape. He wasn't the biggest (about 6'4 – 255 in college) or fastest guy, but he had an extraordinarily quick first step and was explosively strong. He dominated I-AA competition and that is exactly what a top I-AA prospect has to do if he wants to play in the NFL. My final grade on Strahan was reflective of a low first round/high second round player.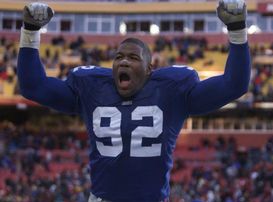 Strahan notched a career-high 22.5 sacks in 2001.
At the Combine that winter, Strahan didn't jump out, which was good for us. In 1993, we didn't have a first round pick, but we had Strahan rated as a low first rounder. We were hoping he would fall to us in the second round and he did.
When I was with the Giants and we were at training camp, each scout had to watch and evaluate a certain position. That year, I had the defensive backs, so I was not able to pay much attention to what Strahan was doing in camp.
About two days into camp, Jerry Shay (who was the director of college scouting at the time) asked me if I had seen Strahan at all. I told him no because I was watching the defensive backs. He said, "Go watch him…he is already the best defensive lineman we have." The next day I made it a point to watch the D-linemen and Strahan did jump out. He did this because of the same traits I saw in his college play: A quick first step and explosive strength. He also had very quick hands, which was unusual for a rookie from a smaller school.
As a group, the scouting staff all felt that Strahan should be a starter. The Giants head coach at the time was Dan Reeves and his line coach (Earl Leggett) didn't feel that way, so Strahan was used in the defensive line rotation, but didn't start any games. Strahan became a starter the following year and put up good numbers, but they weren't great. In 1994 he had 4.5 sacks and in 1995 he had 7.5. His numbers were similar in 1996.
It wasn't until the 1997 season that Strahan's career began to take off. That year, Jim Fassel was hired as head coach of the Giants. Fassel named John Fox the defensive coordinator and Denny Marcin the defensive line coach. I have no doubt in my mind that the combination of Fox and Marcin helped make Michael Strahan the player who will be inducted into the Hall of Fame.
In Strahan's first year working with Marcin he notched 14 sacks and then 15 the following year. He continued to put up numbers like that under their guidance. Fox and Marcin recognized Strahan's rare talents and found ways to utilize them in each game.
Strahan also matured as a person and became THE leader of the both the defense and the entire team. When I left New York to join Chicago following the 2001 Super Bowl, there was no doubt that the Giants were Michael Strahan's team and that he would be a future Hall of Fame player. It will be fun watching his i nduction.
Follow Greg on Twitter: @greggabe