July 29, 2013 -
Greg Gabriel
Has the RB position become devalued in the NFL?
In this past April's NFL Draft we didn't see a running back selected until Cincinnati selected Giovanni Bernard with the fifth pick of the second round. It was the first time in 49 years a running back was not drafted in the first round.
Two other running backs were also drafted in the second round: Montee Ball from Wisconsin and Eddie Lacy from Alabama. Is this a sign of things to come or an anomaly? In my opinion it could be a sign of things to come.
In the last eight drafts, 19 running backs have been drafted in the first round. Except for Adrian Peterson, most have had average careers. In 2012 Trent Richardson was the 3rd overall pick. He ran for 950 yards as a rookie but had problems with injuries (and still does). He's a very physical back who takes a pounding; because of that style he won't last long. If Cleveland's current brain trust (Joe Banner, Mike Lombardi) was there in 2012, I doubt they would have made the same selection at No. 3.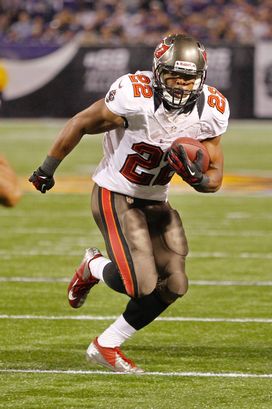 US PRESSWIREDoug Martin ran for 1,454 yards in 2012.
The 2012 first rounder with the most production in 2012 was Doug Martin, who Tampa Bay selected with the 31st pick. He ran for 1,454 yards. The most productive rookie running back last year was Washington's Alfred Morris, who ran for over 1,600 yards. He was a sixth round pick from tiny Florida Atlantic.
In 2011 Mark Ingram was the only back taken in the first round and it has taken him two seasons to rush for a total of 1,000 yards. In 2010, three running backs went in the first round. Ryan Mathews has had one 1,000-yard season in his 3-year career and has missed 10 games. C.J. Spiller, drafted by Buffalo, did not become a starter until last year when he ran for 1,200-plus yards. The Bills' best back during most of that period was Fred Jackson, who was an undrafted free agent. Jahvid Best was drafted by Detroit in the first round that year also and he is out of football because of concussions.
The year 2009 saw three running backs drafted in the first round (Knowshon Moreno, Donald Brown and Beanie Wells). Moreno had a strong rookie year but has done little since. The others have been journeymen with Wells currently being a free agent. The best back drafted that year was the Eagles' Shady McCoy, who went late in the 2nd round.
In 2008, three backs were again drafted in the first round with Oakland's Darren McFadden going fourth overall. At No. 23, Rashard Mendenhall went to Pittsburgh and Tennessee selected Chris Johnson at No. 24. Mendenhall has been up and down, Johnson has had an excellent career but the two most consistent overall backs drafted in '08 were Ray Rice and Matt Forte. Both went in the 2nd round. The 3rd round that year also saw Kansas City draft Jamaal Charles, who has had some great years because of his explosive speed.
The year 2007 saw the best running back in the last decade being drafted and that was Adrian Peterson, who the Vikings selected with the 7th overall pick. He is a future Hall of Famer and probably the only back drafted in the first round the last 10 years that will earn that honor.
When you look at last year's NFL rushing stats, of the top 12 rushers, only five were selected in the first round (Peterson, Doug Martin, C.J. Spiller, Chris Johnson and Marshawn Lynch). Two (Forte and Rice) were drafted in the second round and three (Charles, Stevan Ridley and Frank Gore) went in the 3rd round. Alfred Morris was a 6th-round pick and Houston's Arian Foster was an undrafted free agent (2009).
The running back position is as important as ever but the NFL game has changed in how backs are used. Colleges have used a rotation system for years trying to keep backs fresh and the NFL is going the same way. While most teams still have a No. 1 running back it is rare that he sees most of the carries in a season. It's not unusual to see two or even three-man rotations at the position where clubs can utilize each back to his strength.
The career of a running back on average is a lot shorter than other positions. No matter how good a back may be he is still one hit away from never playing again or drastically losing his effectiveness. I have always felt that a club should draft a quality running back every third year. Just because the back may be quality does not mean he has to go in the first round. The Ray Rice's, Matt Forte's and Jamaal Charles' of the league have shown us that. It is much smarter to draft an offensive or defensive lineman who has a chance to play 10 years then it is a running back in the first round.
There is always going to be a back that comes around that is special like an Adrian Peterson and I have no problem with taking that kind of a player high. But at the same time, the special college back has to be special at the next level and stay fairly clean injury wise in order to meet expectations. Darren McFadden was actually thought to be a better back than Peterson coming out but he hasn't had nearly the same type of career because of constant injuries.
Scouting running backs can be difficult. What you see on college tape doesn't mean he is going to be able to do the same things in the NFL. NFL running backs have a lot less room to maneuver than a college back does. In college, a back may see a hole that is 2 yards wide a few times a game. In the NFL he may see that same size hole only a few times in his whole career! Stats can be deceiving because of the style of an offense or the level of competition the back is playing against. A scout has to look for a back's play speed and ability to create. Can he get yards when nothing is there? Does he finish runs? Is he a fumbler? Can he catch out of the backfield and does he block?
The sum of the parts makes the whole and backs with a complete game usually have decent careers in the NFL.