August 02, 2011 -
Barry Dorey
Have the Bears made the right moves in free agency?
The clear winner in the first week of NFL business since the lockout ended has been the Philadelphia Eagles…at least on paper. I say on paper because these moves look great now but we won't for sure know how they work out until the season starts in six weeks.
Philadelphia traded Kevin Kolb for Dominique Rodgers-Cromartie and a 2nd-round pick, which was followed by the signing of Jason Babin. A few days later they got corner Nnamdi Asomugha and defensive tackle Cullen Jenkins…two Pro Bowl-caliber players for the icing on the cake. The Eagles are clearly "All In" for the NFC Championship. The weakest part of the Eagle defense last year was their secondary and with Asomugha and Rodgers-Cromartie to go with veteran Asante Samuel the Eagles may have the best group of corners in the league! It was great work by Howie Roseman and Andy Reid.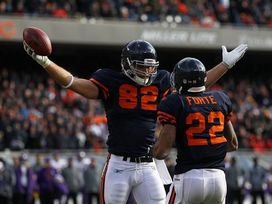 The Bears shipped TE Greg Olsen to Carolina for a third-round pick.
With all that being said about Philadelphia, the moves the Chicago Bears have made may put them into second place behind Philly. The nice part of the Bears moves is they haven't spent an outlandish amount of money to make them. The first move was the trade of Greg Olsen to Carolina. Let's face it, Olsen was not a fit in a Mike Martz offense. In Martz's offense, the tight end has to be a blocker first and a receiver second. Olsen's traits were just the opposite and he wasn't really fast enough to do what Martz wants receivers to do. Olsen may have timed in the mid 4.5's at the combine but he plays like a 4.65 in pads. He's a very talented player and should become very productive in Carolina and the move will be a positive for his career. My complaint on the deal was only getting a 3rd-round pick in return. If it turns out to be a high 3, then the deal looks a little better.
Soon after trading Olsen, the Bears signed punter Adam Podlesh and tight end Matt Spaeth. Podlesh is younger and has more leg than Brad Maynard and will be an upgrade. Spaeth fits what Martz is looking for in a tight end. He is a blocker first and has spent the last few years as Pittsburgh's blocking tight end. We all know how good Pittsburgh's run game is and Spaeth was a big part of that and he has receiving talent to go along with his blocking.
Roy Williams was considered an underachiever in Dallas but before he went to Dallas he was looked at as one of the best wideouts in the league while with Detroit. Who was his coach in Detroit? Mike Martz! In the NFL being the right fit for a system means everything. Williams is a fit for Martz's system and I look for him to put up numbers in Chicago like he did in Detroit. Don't forget, in Chicago Williams will be playing for his college position coach also (Darryl Drake)…the two are very close and Drake is an outstanding coach who will get the most out of Williams. Also, with a big receiver like Williams, Devin Hester and Johnny Knox become more dangerous to the opposition.
The Bears also signed two other former Dallas Cowboys in running back Marion Barber and receiver Sam Hurd. Hurd replaces the departed Rashied Davis as a role-playing receiver and an excellent special teams player. I think the signing of Barber will be a big addition for the Bears. Last year they signed Chester Taylor and he was a disappointment, running for only 267 yards and a 2.4 per carry average. Barber had a down year last year with 374 yards rushing but in the five previous years he ran for just under 5,000 yards and a 4.3 yards per carry average. With Felix Jones and Tashard Choice improving, Dallas felt they could part with Barber. Like Adrian Peterson, Barber is a very violent runner and at 28, he is three years younger than Taylor and has more size. He should be able to get the tough yards that Taylor couldn't. Matt Forte is still the bell cow in Chicago, but the acquisition of Barber should make Forte even better.
Amobi Okoye is a player that I really liked when he was coming out of college in 2007. He played well as a starter in Houston the last four years and at 24 he is still a very young player. With Houston going to Wade Phillips' version of a 3-4 defense, Okoye was no longer a fit. He will fit very nicely in the Bears' 4-3 where coordinator Rod Marinelli loves speed and quickness.
The Bears also signed New York Jets "bust" Vernon Gholston. As a top 10 pick, a lot was expected and he didn't produce. In saying that, it has to be mentioned that New York tried to play Gholston as a 3-4 outside linebacker the last two years. He couldn't do it. He is a natural 4-3 up field defensive end. He will get a chance to do just that in Chicago. The Bears' scheme is a perfect fit for Gholston's traits. The bottom line is if he can't play in Chicago's scheme, he can't play in the NFL. It will be interesting to see how he plays during the preseason. If the Gholston and Okoye signings work out, it will give the Bears 8 or 9 defensive linemen to use in a rotation. Though bigger than they have been, many of the Bears defensive linemen are small by today's NFL standards. Having a talented group to play in a rotation makes the overall defense better because you always have fresh bodies in the game.
Finally, on Saturday, the Bears gave longtime center and team leader Olin Kreutz a take it or leave it offer of $4,000,000 for a 1-year deal. Kreutz chose to leave it, and the Bears signed former Seahawks center Chris Spencer. Frankly, I was surprised that Kreutz walked away from that offer. He will have trouble making anywhere near that kind of money going forward. Kreutz was near the end of his career and from a physical viewpoint the Bears have probably upgraded themselves at the position. Spencer is 6 years younger and 25 pounds heavier than Kreutz. No one, however, can replace Kreutz in the locker room as a team leader. He is one of the all-time great leaders in the history of professional football and as tough as they come. Some player/players is/are going to have to step forward and pick up the slack because there is a void in the leadership area.
While it was hard for the Bears to make the decision on Kreutz, New England's Bill Belichick has made a career of making similar decisions. He has let go of productive and popular players like Lawyer Milloy, Richard Seymour and Mike Vrabel and never looked back. These were unpopular decisions at the time but proved to be the right ones!