September 18, 2014 -
Greg Gabriel
Headed for the big time
In the 2014 NFL Draft, 12 wide receivers were taken during the first two rounds. The majority of those players were underclassmen who entered the draft early, meaning the senior class this year isn't as strong as we've seen in the past.
Alabama and Auburn, two SEC powerhouses, each has a junior receiver who, according to the scouting community, will be leaving school early to enter next May's draft. The two are Amari Cooper from Alabama and D'haquille Williams from Auburn. Both are ultra talented and similar to the type of receivers that have been prospering in the NFL recently.
Amari Cooper – Alabama
Cooper is a third-year junior who received significant playing time as soon as he stepped on campus as a freshman in 2012. Cooper went to high school at Miami Northwestern, a school that produces top Division I football talent year after year. He was rated as a four star player in high school and was recruited by some of the best programs in the country.
As a freshman in 2012, Cooper started nine games for the Crimson Tide and caught 59 passes for 1,000 yards and 11 touchdowns. Despite being bothered by injuries last season, Cooper still caught 45 passes for 736 yards and 4 scores. Through three games this year he's already amassed 33 receptions for 454 yards and two scores.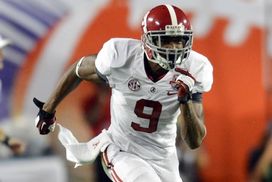 Cooper has already recorded 33 receptions in just three games this season.
Cooper has excellent size at about 6010 – 210 and with his long arms, he is able to play even taller. His play speed is in the 4.47 area and he is extremely smooth and fluid. Cooper has a very quick release and easily avoids or fights through jams. He is an excellent route runner who can make sharp cuts and gains separation easily. He uses cuts and change of pace to consistently get open.
Cooper has been used in a variety of routes (outs, slants, flags, etc.), but his go to route this year has been the bubble screen. He catches the ball very cleanly and is up field right away. Cooper has an instant burst to go along with top run instincts and he consistently gets big yardage after the catch.
Cooper is tough and courageous and will compete for the ball in traffic. He is also willing as a blocker.
Overall, Coper is a top talent and if he decides to enter the draft, he will be one of the first receivers selected. Being that he plays in an NFL-style offense, that puts him ahead of many other receivers in the class and should get him on the field right away.
D'haquille Williams – Auburn
Williams came out of high school at the same time as Cooper and was also recruited by many top programs. He choose the junior college route and dominated at Mississippi Gulf Coast Junior College.
Coming out of JC, Wiliams was rated as a five-star prospect and had his pick of the top schools in the country including LSU, Texas A&M and Alabama.
Williams has great size at about 6022 – 215 with very long arms and huge hands. He runs in the 4.48 area and is very smooth. Coming from junior college, Williams is a bit raw as a route runner, but he can put his foot in the ground and get separation easily. He is used on slants, comebacks, posts and screens. In man coverage he is difficult to cover because of his size, strength and athleticism.
With his huge hands, Williams catches the ball very easily and he has the upper body flexibility to turn and catch balls that are thrown behind him. He does a good job tucking the ball away quickly and turning up field.
As a runner after the catch, Williams demonstrates speed and power. While he is not overly elusive, he is a load to bring down because of his natural power. In the Arkansas game to open this season, Williams carried defenders a few times.
In his first two games as a Division I player, Williams has notched 13 receptions for 214 yards and a touchdown. His long reception was 62 yards on a post route against Arkansas.
Overall, while raw, Williams has a very high ceiling. Few have the natural traits that he possesses. Several scouts that I have talked to have said that he will be one and done at Auburn. It's his traits that will get him drafted high. For those interested in seeing him play, Auburn plays at Kansas State Thursday night on ESPN. Good luck to Kansas State trying to cover this guy.
Follow Greg on Twitter: @greggabe