December 07, 2011 -
Greg Gabriel
Heisman or not, Luck is the best player in college
Over the last few days I have read countless articles on this site and others about who will or who should win the Heisman Trophy. It seems like the odds-on favorite is Robert Griffin III, the great quarterback from Baylor.
I'm sorry, I can't buy it.
No disrespect to Griffin, but he is not a better football player than Andrew Luck. A bit more exciting player? Maybe, but not a better player. The last time I looked the Heisman was supposed to be awarded to the best college player in America, not the most exciting.
I have spent my entire adult life as an evaluator of college football players. I worked part time for the Buffalo Bills from 1981 through the 1984 Draft. I then worked for National Scouting for the 1984 college season before being hired by the New York Giants in January 1985. I stayed with the Giants as a scout until June 2001 when I was hired by the Chicago Bears as Director of College Scouting, a position I held until May 2010. So as you can see I have a lot of experience in evaluating talent.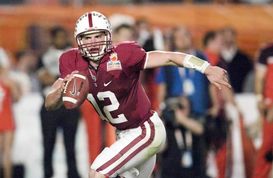 ICONAndrew Luck has gone 31-5 in the last three seasons as Stanford's starting QB.
Unlike many sportswriters who vote for the Heisman I don't have an agenda. I don't show area favoritism for a player in a certain geographic area. I give you an honest opinion based on my tape evaluations. If you were to poll many of the scouts, scouting directors or GMs in the NFL, they would tell you the same thing…there is no hidden agenda. With that being said, I would bet that if you asked all the player personnel people in the NFL to vote on who should be the winner of the Heisman Trophy it would be a landslide victory for Luck. How do I know this? I talk to many of these people every day!
The No. 1 pick in each draft is usually the player that most feel is the best player available to help lead their team to a Super Bowl. Because of the value of the position, a prospect that plays quarterback is in many cases the first player drafted. Last year, had Luck entered the draft he would have been the No. 1 pick by the Carolina Panthers. This year, barring a serious injury in a bowl game, Luck will be the first pick. What does that tell you? It says that the people who evaluate football talent for a living feel that Luck is the best player.
Let's look at some of the facts. Luck has been the starting quarterback at Stanford for three seasons. In those three seasons, Stanford has had a combined record of 31-5, including 23-2 over the last two seasons, with two BCS bowl bids. During that time, Luck has quarterbacked probably the most sophisticated/complex offense in college football. The Stanford offense is an NFL offense and is easily more complex than many in the NFL today. It is not an easy offense to learn, yet Luck runs it like a fine-tuned machine. It is a balanced offense that is 55 percent run and 45 percent pass. This year, Luck completed 70 percent of his passes for 3,170 yards, 35 touchdowns and 9 interceptions. Over his 3-year career, Luck has completed 66.5 percent of his passes for 9,083 yards, 80 touchdowns and 21 interceptions.
Griffin has been the starter at Baylor for a little over three years. He started as a freshman in 2008 but only played in three games in the 2009 season because of injury. In the games Griffin played, Baylor's record is 21-18, including 16-9 the last two years and no BCS bowl bids. The Baylor offense is a simple college spread that often but not always utilizes half-field reads and has fairly close to the same run/pass ratio as Stanford. Griffin's stats are a little better this year having completed 72 percent of his passes for 3,998 yards, 36 touchdowns and 6 interceptions. Over his career, Griffin has completed 66.9 percent of his passes for just over 10,000 yards, 76 touchdowns and 17 interceptions.
As you can see, their stats both for this year and over their careers are similar but the won-loss records aren't close. I would venture to say that Stanford's skill people aren't anywhere near as good as Baylor's but Stanford has a far better offensive line.
My feeling is that Luck gets criticized for being too good. Because he played so well in 2010, people expected him to be near perfect this year. While he wasn't perfect, he had a great season as evidenced by an 11-1 record and an invite to the Fiesta Bowl. I have evaluated quarterbacks a long time and it's my feeling that Luck is the best NFL quarterback prospect since Peyton Manning. That's not to say that Griffin is not a top prospect…he is, and he will also be a high first-round pick. In my ratings he is not even the 2nd best quarterback prospect; I have him 3rd behind Luck and Matt Barkley of USC. Many in the NFL feel the same. How can a player who isn't rated as the top player at his position by the NFL be given an award for being the top player in college? It doesn't make sense.