March 09, 2012 -
Greg Gabriel
How clubs strategize for free agency and the draft
Over the last few weeks, we have seen a number of mock drafts by various people in the media. If the truth be told, every one of them is worthless. Until we see how free agency goes starting next week, we will have no idea how the first round of the draft will look.
Last year the draft was a bit of an anomaly because we had no free agency before the draft. That was part of the reason so may quarterbacks went in the first round and the early part of the second. Clubs with a quarterback need felt they had to draft one because they had no idea if and when free agency would begin. With the new CBA, we are back to normal and we will have a good five weeks of free agency before the draft.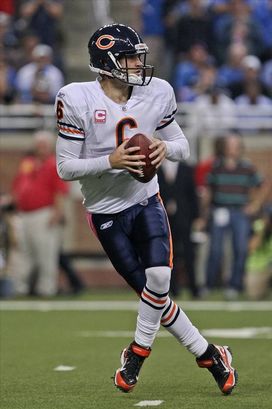 ICONAcquiring Jay Cutler changed the Bears' draft plans when the QB arrived from Denver.
Free agency and the draft go hand in hand. What player/players a club signs or who they lose will and can have a drastic effect on how they prepare for the draft. Trades also enter into the equation. When I was with Bears the year we traded for Jay Cutler, we were planning on drafting offensive linemen in the early part of the draft. Once the trade went down and we no longer had picks in the first two rounds we had to look at a different means of acquiring offensive linemen, and that was through the veteran free agent market. If you recall, that trade went down in the early part of April, only a few weeks before the draft. I had to spend the next few weeks looking at a totally different group of players for the draft because our needs changed and we no longer had high picks.
The strength of the draft also enters into the thought process when preparing for free agency and the draft. For instance, if a club has a need at corner, wide receiver and defensive tackle the front office has to look at both the draft and free agency pools when coming to a decision as to who to go after. If the draft class has a large number of quality defensive tackles and receivers but weak at the corner position then a club may decide that they will go after corners in free agency and wait for the draft to take care of the other needs. A problem can arise when all of a sudden you lose one of your own free agents that you were hoping to re-sign. Now you have to replace that player and that can change your entire thought process for both the draft and free agency.
You also have to look at the history of the draft when planning a strategy. For instance, if your club needs a corner, you better hope they draft one early because history says 12-15 corners will be drafted in the first three rounds. If you need an offensive tackle and you are picking at number 18 you can figure that the best case scenario is you get the 4th best tackle on the board because three will get drafted before your club picks. I would always go back 10-12 years and look at every draft to figure out the averages at each position. What can change the averages is trends in the game but still it only changes things slightly.
The one position that now seems to get drafted a little later than was the case 5-7 years ago is the running back position. In 2005, three running backs got drafted in the top 5 (Ronnie Brown, Cedric Benson and Cadillac Williams). Benson has had the best career of the three and has never been an All Pro. Since then only one running back has gone in the top 5 and that was Darren McFadden in 2008 when he was the 4th overall pick. In 2007 Adrian Peterson was the 7th overall pick. Last year the first running back drafted was Mark Ingram at 28. This year Trent Richardson is by most accounts the highest rated back and he probably won't go in the top 10. Where he gets drafted will depend on how the medical staffs feel about his recent surprise knee surgery.
An interesting little side piece as to how teams strategize will not be happening this year. For years, Rick Gosselin of the Dallas Moring News has listed his top 100 players. He will not be doing it anymore because he is now a columnist. There are many front office personnel around the league that talked to Gosselin on a regular basis leading up to the draft. This was because Gosselin used to talk to about 15-18 clubs to get an idea of where players would get drafted. His top 100 was as close to accurate as you could find. When front office types talked to Gosselin they never asked him to tie a player to a team but rather in what area of the draft would a certain player get drafted. In other words you could get a fairly good idea if a certain player was going to be a mid 3rd round pick or a low 2nd round pick. It's not to say that the information was spot on, but it did help with preparing your strategy for draft day.
The bottom line is this…don't put too much stock into the mock drafts you are reading every day. Information changes by the day. It is just now that clubs are getting all the information on the medicals at the Combine. There will still be follow up medicals on some players the first part of April. As clubs begin to sign and lose players via free agency, we can have a better idea as to what teams may be doing come draft day. The only mock drafts that may have any substance will be ones published after about the 20th of April.