October 19, 2011 -
Barry Dorey
How did the Bears get Hester?
As Director of College Scouting with Chicago in 2006, I, along with GM Jerry Angelo and head coach Lovie Smith, knew one thing going into the draft. We had to get Devin Hester.
We knew Hester didn't really have an every-down position (he had played RB, WR and DB while at Miami), but we also knew that he was an exceptional athlete with rare speed and return skills.
Going into that draft we had picks in the 1st, 2nd and 3rd rounds with all of those picks being late in the round. The other player we wanted was DB Danieal Manning. We knew we could get Manning in the 1st but felt it was too high to draft him. We also knew that with our 2nd round pick being late in the round we may not get him there and there was no way we could get Hester with our 3rd. So we decided to trade down from the 26th spot in the 1st round in order to pick up extra picks. What was surprising was there were a number of teams who wanted to be trading partners with us. It turned out Buffalo had the best deal on the table, giving us their 2nd and 3rd round picks for our 26th slot in the first round. After the deal, we felt we had the right picks to be able to draft both Manning and Hester. We then decided to draft Manning with the first 2nd round pick and Hester with the 2nd.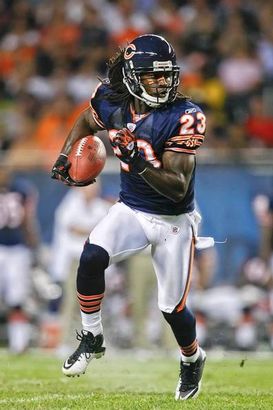 ICONDevin Hester has already scored 16 career touchdowns on punt returns and kickoff returns.
It almost backfired.
When I called Hester to inform him the Bears were drafting him he said, "For real? Tennessee called and told me they were going to draft me and then decided against it." The Tennessee general manager at the time (Floyd Reese) has since verified on many occasions that it was true. The player they took instead was running back LenDale White.
At the time we knew we were getting a player who had the potential to turn a game around with his return skills, but we would all be liars if we knew he was going to turn out as good as he has. It's not a question if Hester is the best return man of all time…he is! The question now is does he deserve to be in the Hall of Fame when he is done playing? I say yes.
This is only Hester's 6th season in the NFL yet he has already scored 16 touchdowns on either punt returns or kickoff returns (11 punts, 5 kickoffs), which is an NFL record. He also returned a missed field goal 109 yards for a touchdown against the New York Giants in his rookie year. As a receiver, he has caught 13 touchdown passes. I don't think there is any doubt that he has the best open-field running skills in football. It's not just his speed, he has rare run instincts and always seems to know where a defender is. In his short career, Hester has already returned kicks over 5,500 yards. As a rookie he told me that when he has the ball in his hands it's like everyone else is in slow motion. When you watch him with the ball in his hands, he may be right!
Opposing teams have to prepare for Hester more than any other return man in the game. It's because of that that more often than not, the Bears get good field position, especially when their opponents are punting. When a punter tries to kick it away there have been many cases when the kick has gone off the side of his foot and gone out of bounds way early.
Many have called the new kickoff rule the "Devin Hester" rule because not only was it supposed to prevent injuries, it prevents long returns. Yet if the kicker mishits a kickoff, the result is like we saw Sunday night: a long return for a touchdown.
Without a doubt, Hester is a game-changing player. His skills are rare. He has done in less than 6 seasons what no other player has done in the return game in the history of the game. There is no telling what his final stats will be. On Sunday while I was watching the Bears game I got a text from a scout who has been in the league more than 30 years. He said in his text that Hester keeps getting better with experience. I texted back, "Do you think he is a future Hall of Famer?" His reply, "He earned that 2 years ago!"
I agree.