July 20, 2013 -
Greg Gabriel
How high will they go?
College football training camps open in about two weeks with the season opening up in six weeks. With that in mind, NFL Draft fans will want to start getting a feel for players who just may become premium picks next May.
At this time, the odds-on favorite to be the Number 1 pick next year is South Carolina defensive end Jadeveon Clowney. Clowney may be the best pass rusher we have seen in years. He has a great first step, stays low and is extremely explosive. He can be tough to block even when double teamed.
Notre Dame has two defensive linemen (both juniors) who could very well become first-round picks. Nose tackle Louis Nix III is a fourth-year junior who will definitely enter the draft. He is just what the 3-4 teams look for in a nose. He has great size (6-3 and 350) and despite that size is very athletic. He can have a tendency to get tall but he plays with strength and power. He shows better than average pass rush skills for an inside player. True junior Stephon Tuitt had an outstanding season in 2012 and may join Nix in entering the draft. Tuitt is the ideal 5 technique in a 3-man front. At 6-6 and 320 he has the size to control the point and the pass rush skills to be a consistent NFL pass rusher.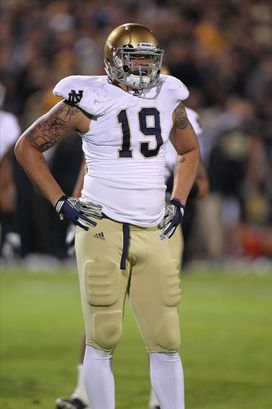 ICONThird-year sophomore Aaron Lynch is eligible to play at USF this fall.
Another underclassman who may come out is third-year sophomore Aaron Lynch of South Florida. Lynch had to sit out last year as a transfer but in 2011 as a freshman at Notre Dame he may have been the best freshmen defensive lineman in the country. As good as Nix and Tuitt are, neither has the talent Lynch has. Lynch is about 6-5 and 265 and is more of a 4-3 right end. The 3-4 teams may look at him as an outside linebacker.
At the linebacker position, Alabama's C.J. Mosley leads the way. At 6-2 and 240 he has the size, strength, speed and athleticism to play inside or out depending on the scheme. Mosley is an instinctive, physical player who makes plays. The top pass-rushing linebacker is UCLA's Anthony Barr. The 6-4, 245-pound Barr has speed off the edge and can be relentless. Another top inside 'backer is Michigan State's Max Bullough. Wherever the football is, you will find Bullough. He has great instincts.
In this past draft, many of the top junior defensive backs came out. Because of this it may be a little early to say who the premium prospects are. Still, there are some interesting players. Missouri's E.J. Gaines played well in his first year of SEC competition. Florida's Loucheiz Purifoy, Oregon's Ifo Ekpre-Olomu and Ohio State's Bradley Roby are other corners to keep an eye on.
On the offensive side of the ball, there are four quarterbacks who are at the head of the class at this time. Teddy Bridgewater from Louisville has the pole position going into the season, but Alabama's AJ McCarron, Georgia's Aaron Murray and Texas A&M's Johnny Manziel aren't far behind. Manziel is a great playmaker but he needs to overcome some serious immaturity problems.
There are some very interesting receivers for next year's draft. USC's Marqise Lee is a threat every time he touches the ball. We don't always see a player from Vanderbilt listed as a top prospect, but Jordan Matthews may be the best receiver in the SEC. Matthews caught passes for over 1,300 yards and 8 TDs in 2012. An interesting receiver to study is Rutgers junior Brandon Coleman. The 6-5, 220-pound Coleman had 43 receptions for 10 TDs in 2012.
Going into spring practice, Washington's Austin Saferian-Jenkins looked to be a top talent but he was arrested for DUI and is suspended. It remains to be seen how this will play out. Arizona's Chris Coyle is an interesting guy but at 6-3 and 225 he is more of an H-back type. Iowa's C.J. Fiedorowicz at 6-6 and 265 is more of your conventional "Y" tight end who can both block and catch.
As I wrote earlier this summer, there are two offensive tackles in this class that very well may be better players than the three guys drafted 1, 2 and 4 in last April's draft. Texas A&M's Jake Matthews and Michigan's Taylor Lewan both have top 5 potential. Other top offensive linemen include Alabama's Cyrus Kouandjio, North Carolina's James Hurst and Notre Dame's Zack Martin. They all have the talent to be premium picks.
Like every year, what things look like now and how they will look come draft time are two different things. None of these players have yet been put under the microscope so to speak. When they are studied more closely, evaluations will change. Some players will rise, while others will fall. And of course there will be a number of names we don't talk about now who will be highly thought of seven months in the future.