March 06, 2011 -
Greg Gabriel
How the medicals affect a player's draft stock
One of the most important parts but least publicized aspects of the combine is the medical. It's because of the medicals that the combine actually started. It was an efficient way to get complete medicals on many of the top college prospects without the prospect having to travel to a score of league cities to get medical exams. With the combine, everything is done in one place at one time. The combine is in Indianapolis because of its central location, dome stadium and the close proximity of many hospitals to get advanced exams and testing done if they are needed.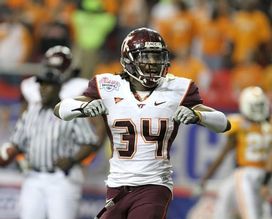 ICONHow will Ryan Williams' injury history at Virginia Tech affect his draft stock?
Clubs will have put a preliminary medical grade on players soon after they finish their physical exam, but until the team doctors have a chance to review MRI's and X-Rays they can't make a final determination. By the end of this week, the clubs will have most of the results of the MRI's.
As a director, I wanted the information as soon as it was available because I didn't want my scouts or coaches wasting time on a player that was not going to get by the medical staff. Time is too short to have any wasted minutes.
With all that being said, medical information is almost never made public, so when we put together lists of potential first-round players, etc., we do so with that thought in mind. Some players will drop because of medical conditions and we won't know that until draft day. Most players drop as compared to their conceived value for two reasons: medical or character. Also, each team is going to treat the medical conditions differently. A lot depends on whether or not the player has played with the medical condition, how well he has played with it and what is the chance of the condition getting worse. Some teams will look at how other players have done with similar conditions and use that as a basis.
When the doctors examine a knee or shoulder that has had previous surgery done on the joint, they first look to see if the joint is tight and stable. They also look for arthritic conditions. If the joint is tight it usually means that the player had a successful surgery and he should be able to go on with little or no risk. If the joint is loose, it may mean that the player will eventually need another surgery. Then they have to guess as to how long they feel the player can go without having a new repair done. If the joint is arthritic then it becomes a different story. Is it a mild arthritis or is it degenerative which means it will keep getting worse as there is wear and tear?
Doctors have told me that there is no cure for arthritis. The symptoms can be calmed down but they aren't ever going away. When the doctors look at the MRI's and X-Rays they have to determine how serious they feel the arthritis in the joint is. If they come to the conclusion that it is serious and it can have a drastic affect on the player's ability to play at a high level then you have to red flag the player. By that I mean the club can reject the player based on his condition or they downgrade him because of the risk. When you do this they take into account many things, such as how much practice will a player miss if the condition flares up? Will he need another surgery?
Not only are there orthopedic conditions that the doctors look at but also Internal Medicine issues. When Gaines Adams of the Bears died 14 months ago with a heart condition, the medical people starting looking for more advanced testing that they could do on the players at the combine. Prior to Adams' death, nothing had ever shown up on any of his previous medicals but obviously something was there, so the doctors were looking for some sort of advanced testing that they hadn't used before.
When examining a player's medical record, teams will look at family history of heart conditions, cancer, etc., to see if the player may have a medical condition that he previously didn't know about. There have been times when a condition has been discovered and because it was discovered early it can be treated and the prospect continues to play football without problems.
With the increased publicity on concussions, the medical people are looking very seriously at players who have had a history of concussions in high school or college. If the player has a known history it could very well lower his medical grade in the eyes of some/most clubs. That may not mean he won't get drafted but it could mean he may get drafted later than expected.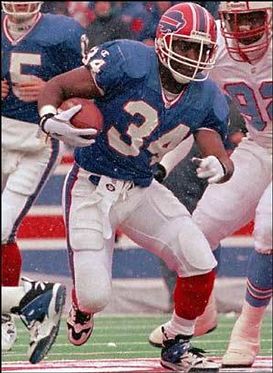 Thurman Thomas went on to have a Hall of Fame career despite some teams being scared off by his medical.
After the combine, most clubs have a meeting between the medical staff and the football front office to go over the findings from the combine. It is here that it is determined if the club rejects the player based on the medical findings or just downgrades him. When he is downgraded it means that the club may still want to draft the player but not as high as his playing ability grade says. It becomes a risk/reward issue such as, "I like the player but I won't take him in the first round based on the medical results, but if he is still available in the third round then he becomes interesting again."
With all the testing that is done, there are players who fool the experts and go on to have very productive careers. Two such players are Thurman Thomas and Anthony Munoz. Munoz was a highly thought of player out of USC but he had a series of knee injuries. Many teams either didn't pass him or seriously downgraded him on his medical because of the knee condition. Cincinnati decided to take the chance and still drafted him in the first round and he went on to have a Hall of Fame career.
Thurman Thomas had a torn ACL that was never repaired. With the ligament tear he ran for about 1,600 yards at Oklahoma State his final year. He was thought to be a top prospect, but many teams did not pass him on their medical because of the ACL injury. Thought to be a high first-round pick, Buffalo finally selected him in the middle of the second round and he also went on to a Hall of Fame career. To the best of my knowledge, he never had a knee problem as a pro until late in his career, yet he was playing without an ACL in one knee! Some can overcome much because of their attitude and character.