June 01, 2012 -
Greg Gabriel
How were this year's picks rated in high school?
Many assume that the players who were drafted in the first two rounds of this year's NFL Draft were top rated stars 3-5 years ago when they were coming out of high school. But that's not always the case. In fact, there were a few that were not rated at all by the recruiting services.
When I was with Chicago, I always went back to look at how the players we were interested in were rated as high school players. It would tell me how much the player had improved or "grown" as a college player. Many times the improvement has to do with the program the player is at in college. There are some college coaching staffs that do an outstanding job developing players. One of those programs is Boise State. Many of the kids they recruit are 2 or 3 star players, yet every year they seem to have a top 20 or even a top 10 team. This year was no exception. They had two players taken in the first round (defensive end Shea McClellin and running back Doug Martin) and both were rated as 2 star players in high school. They weren't the only 2 star players that went in the first round. The others were Dontari Poe, the defensive tackle from Memphis, and Chandler Jones, the Syracuse defensive lineman.
Four quarterbacks were taken in the first round, Andrew Luck and Robert Griffin III were both rated as 4 star players. Ryan Tannehill was a 3 star player when he signed with Texas A&M and Brandon Weeden was not rated when he came out of high school in 2002 (but he was a highly rated baseball player)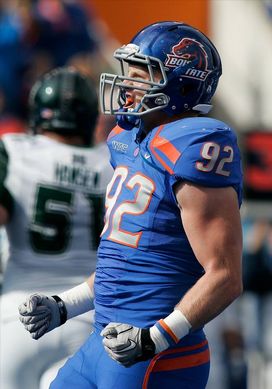 ICONShea McClellin was rated as a 2 star player in high school.
This year there were 9 other players rated as 4 star high school players. They were safeties Mark Barron and Harrison Smith, corner Stephon Gilmore, defensive tackle Fletcher Cox, defensive linemen Mike Brockers and Quinton Coples, linebackers Melvin Ingram, Donta Hightower and Nick Perry and running back David Wilson. Linebacker Bruce Irvin from West Virginia was not rated coming out of high school but was a 4 star recruit as a junior college player.
While every year there may be 15 to 20 players rated as "can't miss" 5 star players, only 4 of those players were drafted in the first round. They were running back Trent Richardson, tackle Matt Kalil, receiver Michael Floyd and corner Dre' Kirkpatrick.
The rest of the first round were players who just a few years ago were rated as middle of the road 3 star players. Four of those players developed into top 10 NFL draft picks. They were receiver Justin Blackmon, corner Mo Claiborne, linebacker Luke Kuechly and as mentioned before Tannehill. The other 3 star players were receivers Kendall Wright and A.J. Jenkins, offensive linemen Davis DeCastro, Kevin Zeitler and Riley Reiff, and defensive end/outside linebacker Whitney Mercilus.
The second round was equally diverse as far as high school ratings. There were 2 5 star players, 9 players rated as 4 star, 1 4 star junior college player, 11 3 star players, 6 2 star and 2 players with no rating.
The 5 star players were tackle Michael Adams and receiver Reuben Randle. The players rated as 4 star athletes were Courtney Upshaw, corner Janoris Jenkins, offensive linemen Corby Glenn and Peter Konz, receivers Alshon Jeffery and Ryan Broyles, linebacker Zach Brown, defensive tackle Devon Still and running back LaMichael James. Linebacker Lavonte David was given a 4 star rating as a junior college player but was a 2 star as a high school player.
The 11 3 star players were tight end Coby Fleener, offensive linemen Mitchell Schwartz, Jonathan Martin and Kelechi Osemele, receiver Stephen Hill, running back Isaiah Pead and quarterback Brock Osweiler. On defense the 3 star players were defensive linemen Jerel Worthy, linebacker Mychal Kendricks, defensive back Tavon Wilson and Casey Hayward.
Six players went from undeveloped 2 star players to second round draft choices. They were defensive linemen Derek Wolfe, Kendall Reyes, Andre Branch and Vinny Curry, offensive lineman Jeff Allen and linebacker Bobby Wagner. The two unrated players were receiver Brian Quick from Appalachian State, who was the first pick of the second round, and guard Amini Silatolu from Midwestern State in Texas.
What does all this tell us? As I have said and felt for years, the rating system of high school players is vastly overrated. There is no way you can properly predict how a 17 or 18 year old will develop. If a player has the natural God-given traits to go along with good coaching and the desire to be a great player, he can develop into a top draft pick. As was pointed out in this post it doesn't matter if the player is a 5 star recruit or has no rating at all. In fact if you look back at all the 5 or 4 star players over the years you will see that many never develop into starters much less pro prospects. Just as many low rated players turn out to be great college players and NFL prospects.