September 05, 2014 -
Greg Gabriel
How will it all shake down?
Every year since I started writing for the NFP I've posted season predictions and every year I've been nowhere close to being accurate. If I recall correctly, last year I had the Atlanta Falcons going to the NFC Championship game and we all know how poorly their season went. I think the only club I was even close with was the Carolina Panthers, who I had picked as a Wild Card team. With that said, I am trying once again, only this year I have a strong feeling that I am pretty close to accurate.
The AFC
AFC East – New England Patriots –</strong> This one was easy. The other three clubs may not finish winning records.
AFC North – Cincinnati Bengals – I went back and forth between the Bengals and the Ravens, but in the end, I feel Cincinnati has the better all-around team.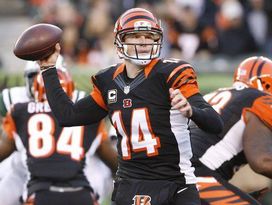 Will Andy Dalton and the Bengals find their way into the AFC Championship game?
AFC South – Indianapolis Colts – Like the AFC East, the AFC South is not very strong. Houston and Jacksonville will not be .500 teams and Tennessee may just barely get to .500
AFC West – Denver Broncos – As long as Peyton Manning stays healthy, the Broncos are the class of the division. Their defense has also shown improvement.
AFC Wild Cards – Kansas City Chiefs and Baltimore Ravens—It wouldn't surprise me if San Diego snuck by Kansas City.
AFC Championship – My shocker…Cincinnati over New England. Like I said above, Cincinnati is the better overall team.
The NFC
NFC East – Philadelphia Eagles – Just like the AFC East, the NFC East is weak. The Eagles will win by default. The other three clubs will struggle.
NFC North – Chicago Bears – As long as Aaron Rodgers is quarterbacking Green Bay, the Packers will be in the race. However, the Bears have rebuilt their defense and Jay Cutler will show more improvement under Marc Trestman.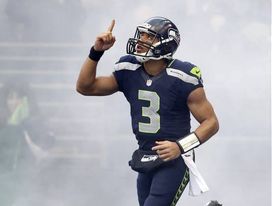 Russell Wilson and the defending champs look like a real tough out after Thursday night.
NFC South – New Orleans Saints – The Saints have the best offense in the NFC and will be tough to stop. Tampa Bay will improve but they aren't a playoff team just yet. Cap problems hurt Carolina too much this year. They will be back in 2015.
NFC West – Seattle Seahawks – I don't see the Seahawks having a Super Bowl letdown and San Francisco has injuries that will hurt them.
NFC Wild Cards – Green Bay, San Francisco
NFC Championship – Seattle over New Orleans – If Seattle gets home field advantage, the defending champs are headed back to the Super Bowl.
Super Bowl – Seattle Seahawks
I know how difficult it is to repeat in the National Football League, but Seattle has done a great job building this team. They found the right players to fit both their offensive and defensive schemes and Pete Carroll is one hell of a coach.
Follow Greg on Twitter: @greggabe