September 06, 2014 -
Greg Gabriel
Impact rookies: AFC
Perhaps it's their draft position or maybe it's just that some AFC clubs need their rookies to step up immediately, but whatever the case may be, we're expecting more first-year players to make an immediate impact in the AFC over the NFC. Here's the rundown:
Jadeveon Clowney, Pass Rusher, Houston Texans: It goes without saying that the first pick in any draft should make an impact right from the jump. Clowney was moved from a down defensive end in college to a standup outside linebacker in the NFL. Still, he will play with his hand in the dirt quite often this season. With his explosive pass rush ability, Clowney should threaten a double-digit sack total as a rookie. Just look at the tape of his second series in the Atlanta preseason game to see what I mean.
Sammy Watkins, WR, Buffalo Bills: Buffalo surrendered a small ransom to move up in the draft in order to select Sammy Watkins. With new ownership coming in shortly, Watkins has to step up in a hurry because the franchise gave up next year's first round pick in order to land the Clemson standout. Watkins had some problems with a rib injury during the preseason, but he is ready to go and will start this weekend at Chicago. Watkins has the talent to be the Bills' top receiver this season.
Calvin Pryor, SS, New York Jets: While the Jets offense may take some time to get moving, that shouldn't be the case with the team's defense. Pryor brings a physical presence to the back end of the defense that will help an already strong unit become even tougher.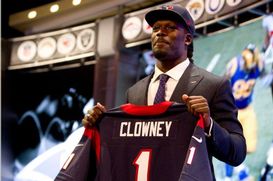 Clowney should make a big splash for the Texans right from the start.
Ja'Wuan James, RT, Miami Dolphins: The Miami offensive line was a mess last year, but through free agency and the draft the Fins are hoping that they have improved it. One of the new members is first round pick Ja'Wuan James, who gets the start at right tackle. James played steady football during the preseason and will be an asset right from the start.
C.J. Mosley, ILB, Baltimore Ravens: Predictably, the Baltimore defense hasn't been the same ever since future Hall of Famer Ray Lewis retired. While I'm not saying that Mosley is the second coming Lewis, his physical play will give the Baltimore linebacking unit something it desperately needs. I look for Mosley to put up some big numbers this year.
Justin Gilbert, CB, Cleveland Browns: No, Johnny Football is not my rookie impact player in Cleveland. I watched Gilbert in a few of the Browns' preseason games and if how he played is an indication, the Browns may have one of the best corner combo's in the NFL in the very near future. Gilbert has all the traits needed to be an NFL star.
Derek Carr, QB, Oakland Raiders: Carr was the fourth quarterback taken in this year's draft, but he is the only rookie signal-caller starting the opener. I had Carr as my top QB prospect in this year's class and he showed during the preseason that I may be right. I've read some criticisms where people think Carr will end up like his brother and fail because he is playing on a weak team. Don't believe it. Derek is not David and the only similarity the two share is blood. Derek is more talented than his older brother and will learn from what happened to David.
Ryan Shazier, ILB, Pittsburgh Steelers: While Shazier doesn't have the natural bulk possessed by some of the better 3-4 inside linebackers, he has rare speed and athleticism for the position. He still needs to be a little more physical at the point of attack, but with his instincts he will make a ton of plays. Shazier is already excellent in coverage, which is something that many rookie linebackers struggle with. My gut feeling is that Shazier will turn out to be a great pro. The Steelers' second-round pick, DT Stephon Tuitt from Notre Dame, is not a starter, but will get a lot of playing time as a rookie.
Marqise Lee, WR, Jacksonville Jaguars: With WR Justin Blackmon suspended, the Jags need one of their two rookie receivers to step up. Lee was excellent during the preseason and it wouldn't surprise me if he ends up as the Jags' leading receiver in 2014. With his speed and run instincts, Lee is a threat to go the distance once he gets in space.
De'Anthony Thomas, RB, Kansas City Chiefs: Thomas won't be a starter, but should fit very nicely as a role player in Andy Reid's offense. The Chiefs plan to use him as a running back, in the slot and as a returner. He has great speed and open field running skills and will be a threat every time he touches the ball. Expect a lot of big plays from Thomas as a rookie, as Reid will find ways to utilize his skills.
Follow Greg on Twitter: @greggabe