September 04, 2014 -
Greg Gabriel
Impact rookies: NFC
Regardless of what many in the media write, clubs don't expect all of their rookie players to make a serious impact during their first year in the professional ranks. That said, here are a few rookies that will have an impact for some NFC clubs right from the start of the season.
Zack Martin, OG, Dallas Cowboys: Martin gets the start at right guard for the Cowboys. He was inserted into the starting lineup during OTAs and hasn't lost a step since. Martin doesn't have great natural size at about 6'5 – 310, but he is a very good athlete and technician. With the preseason having concluded, Martin is playing like a young vet, not a rookie.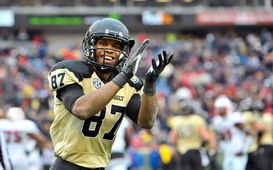 Matthews caught 206 passes over his final 26 games at Vanderbilt.
Jordan Matthews, WR, Philadelphia Eagles: Selecting Jordan Matthews in the second round of the draft was a great move by the Eagles. Watching tape of the young wideout at Vanderbilt, I felt he was a first round talent. While Matthews struggled in Philly's opening preseason game against Chicago with dropped passes, he has been strong ever since. The following game against New England he rolled up nine receptions for over 100 yards. Jordan may not be a starter early in the year, but he will get significant playing time every game and will have an impact on the result of each matchup.
Justin Britt, RT, Seattle Seahawks: Britt was Seattle's second round draft pick and with his play during the preseason, he has earned the starting right tackle spot. Many draft analysts thought the Seahawks reached for Britt by selecting him in the second round, but that wasn't the case. He was a very consistent performer while at Missouri earning high grades each week and that play has carried over to his rookie year. Barring injury, Britt has all the tools to be a starter in the league for years to come.
Chris Borland, ILB, San Francisco 49ers: With NaVorro Bowman out with an injury, Borland gets the nod at inside linebacker for the 49ers. When you examine his height, weight and speed (5114 – 248 – 4.83), Borland doesn't look like an NFL linebacker until you turn on the tape. He has great instincts and plays bigger and faster than he measures. While he won't make up for the loss of Bowman, he will play hard and be an important part of the Niners defense as a rookie.
Aaron Donald, DT, St. Louis Rams: Donald won't be a starter, but he will take the field as part of the Rams' nickel package as an inside pass rusher. St. Louis already possesses one of the best pass rushing units in the NFL and with Donald inside, they got even better. Donald has an explosive first step and is very powerful. With Robert Quinn and Chris Long being double-teamed often, Donald will be in a one-on-one situation and will be tough to block. Don't be surprised to see him record a high number of sacks as a rookie.
Eric Ebron, TE, Detroit Lions: Ebron isn't listed as a starter, but when the Lions go to a two tight end set, the North Carolina product will be in the game. I don't think you will see him lined up tight but instead flexed out where he will create some matchup problems for the defense. With Calvin Johnson assured of being double-teamed, Ebron will almost always be in a one-on-one situation. With his size, speed and athleticism he has the potential to put up big numbers in 2014.
Jake Matthews, LT, Atlanta Falcons: Matthews was slated to start at right tackle for the Falcons until left tackle Sam Baker was lost for the year due to injury. Now Matthews has to play on the left side. The good news is that he had a few weeks to prepare for the move and the position is not foreign to him. He played left tackle at Texas A&M last year. My personal feeling is that Matthews will become a fixture at the left tackle position for Atlanta and will play strong football right from the jump.
Brandin Cooks, WR, New Orleans Saints: Cooks gives New Orleans an explosive inside receiver and with Jimmy Graham also inside much of the time, the great New Orleans offense is now even better then before. With Cooks' speed and run-after-catch ability he has the traits to score on any given play from anywhere on the field. Before the season is over, Cooks may be the Saints' second most productive receiver.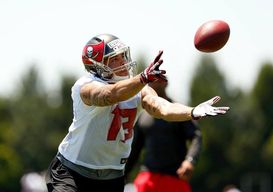 Evans could wind up posting bigger numbers than Vincent Jackson this season.
Mike Evans, WR, Tampa Bay Buccaneers: Looking at the Tampa Bay receiving unit, Evans will probably be the Bucs' top receiver before the season is six weeks old. He has more physical talent than any other receiver on the team's roster and once Evans gets adjusted to the speed of the NFL game, he could put up some big numbers. He has the talent to be a Brandon Marshall-type receiver in the NFL.
Kelvin Benjamin, WR, Carolina Panthers: Benjamin has to make an impact as a rookie because the Panthers don't have much else at the position. Jerricho Cotchery and Jason Avant are capable veterans, but neither has the explosiveness that Benjamin possesses. At 6050 – 240, Benjamin is as big as any wide receiver in the NFL. He is strong and plays much faster than he times (4.6). I'd look for Cam Newton to throw Benjamin's way quite often this season.
Follow Greg on Twitter: @greggabe