October 28, 2011 -
Barry Dorey
Indy's possible Manning-to-Luck connection
Let's take a look at some NFL and college news and notes.
Phil Simms on Peyton Manning
In a USA Today article, Michael Hiestand discusses Phil Simms' statement on Showtime's "Inside the NFL" that there is no way that Peyton Manning lets the Colts draft Andrew Luck. I have known Simms since I started working for the Giants in 1985 and I have the utmost respect for him. But in my view Simms was way off with that comment.
If the Colts are in position to draft Luck there is nothing that Manning can do or say to change their minds. Manning has not played football in almost a year and has had two surgical procedures on his neck since his last game. Just the fact that he had to have a second procedure tells us that the injury is serious. At 35 years of age there is a chance that Manning's career may be over or at best he only has a few years left. Because of that he is in no position to dictate. The Colts could let Luck sit for a year or two just like the Packers did with Aaron Rodgers and when Manning retires hand the job over to Luck. It would almost be unfair to see the Colts go from Manning to Luck…two of the best quarterbacks drafted in the last 20 years!
West Virginia to the Big 12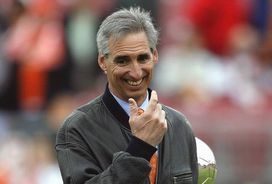 AD Oliver Luck and the Mountaineers are headed to the Big 12.
The other day it looked like West Virginia was a sure shot to be a member of the Big 12 by the end of this week. Then Louisville got involved and everything was put on hold….until the Mountaineers officially made the move to the Big 12 today. I will say that with Syracuse, Pittsburgh and West Virginia leaving the conference, the Big East is dead as a major football conference. Sure they may add Air Force, Navy and Boise St., but reality is they have lost too many strong schools to be a factor in National Championship competition. I would think they could lose their automatic BCS bid because the conference just wouldn't be strong enough.
Missouri to the SEC
I don't know why Missouri would want to leave the Big 12 for the SEC. Their program is good enough to compete for the Big 12 title every year but that wouldn't be the case in the SEC. Over the years I've been to Missouri many times as well as all of the SEC schools and there is no way Missouri can compete with the SEC schools on the football field. They would be in the bottom tier year after year. They don't have the recruiting base needed. While Kentucky is a force in basketball it's an also-ran in football and I can see Missouri in the same category.
Bears release Chris Harris
On Thursday, the Bears released veteran safety Chris Harris. The Chicago media has had a lot to say about the release both pro and con. Yes, Harris was very popular in the locker room and a team leader, but the bottom line is he didn't produce on the field this year and lost his starting job. In today's NFL, if a player is going to be a backup at certain positions then he has to be a top special teams player. In the case of Harris, he had no special teams value. Most teams in the NFL can't afford to have a backup safety who isn't a core special teams player. It becomes a wasted roster spot. Here's hoping that Harris finds work with another club but unfortunately it may be the same story — no special teams value, no job. It's the harsh reality of playing in the NFL.
Can Notre Dame salvage its season?
On Wednesday, my colleague Dave Miller wrote a post on whether Notre Dame could still salvage its season. I agree with much that he wrote. Having followed Notre Dame closely this year I feel the Irish will finish with an 8-4 record and go to a mid-level bowl. Many will say that an 8-4 record is not satisfactory at Notre Dame and it isn't. The plain truth is the Irish don't have the upper class talent to compete with the best teams in the nation at this time. The current senior class has only two players who have a chance of being premium draft picks in the NFL draft next April — receiver Michael Floyd and safety Harrison Smith. There are a few others who are NFL prospects but they are down the line types.
When Brian Kelly took the job at Notre Dame last year he saw the lack of top talent on the roster and has since gone out to recruit what he sees as "BCS" type talent. That can't and won't be done overnight. He has really only had one recruiting class and that was this current crop of freshmen. The 2010 freshmen class was mainly former coach Charlie Weis' recruits except for 4 or 5 players. If this year's current freshman class is an indication of how Kelly can recruit then I would say in 2013 Notre Dame will compete for a National Championship. There are already 5 or 6 players who are playing as true freshmen that have the talent to be NFL players. As good as they are, they are still freshmen and a couple years away from hitting their ceiling as college players. The Irish faithful have to be patient because being on top of the college football world still may be two years away.